Last night, Twitter's logo was changed from its signature blue bird to a dog icon, and everyone but the terminally online may have wondered why. This dog picture is the emblem for dogecoin, a cryptocurrency that Twitter CEO Elon Musk has previously openly supported.
Even the most dedicated Twitter users may be scratching their heads over last night's decision to replace the company's iconic blue bird with a cartoon dog. Dogecoin uses this image of a dog as its emblem, and Elon Musk, the owner of Twitter, has been vocal in his support of this cryptocurrency.
A communication thread between Musk and the account WCBChairman, dated March 2022, was posted on April 3, just after the logo change. It was suggested in the chat that Musk buy Twitter and replace its logo with the dogecoin dog, which is precisely what happened.
Musk, the world's second-richest person, explained the Doge logo change on Twitter on Monday, saying, "As promised" — with a screenshot of an exchange he had in March 2022 with a Twitter user who goes by @WSBChairman.
As promised pic.twitter.com/Jc1TnAqxAV

— Elon Musk (@elonmusk) April 3, 2023
Several users have assumed that Twitter's lack of technical support employees was responsible for this April Fool joke being posted late.
Musk allegedly fired a senior engineer at Twitter in February because of the declining popularity of his account. After Musk purchased the site in October 2022, there have been numerous reports of fired employees and layoffs.
Top articles about Elon Musk do changes on Twitter have been covered. Here are some links you can click on to learn more:
Why Does Twitter's Logo Feature a Dog?
Dogecoin's value has increased by about 30% since the logo change. In 2022, a New York crypto investor sued Musk for $258 billion (£207bn) because Musk inflated the cryptocurrency price as part of a pyramid scheme. Instead of offering investments or selling items, this fraudulent business model entices people to join by promising them money or benefits if they bring in recruits.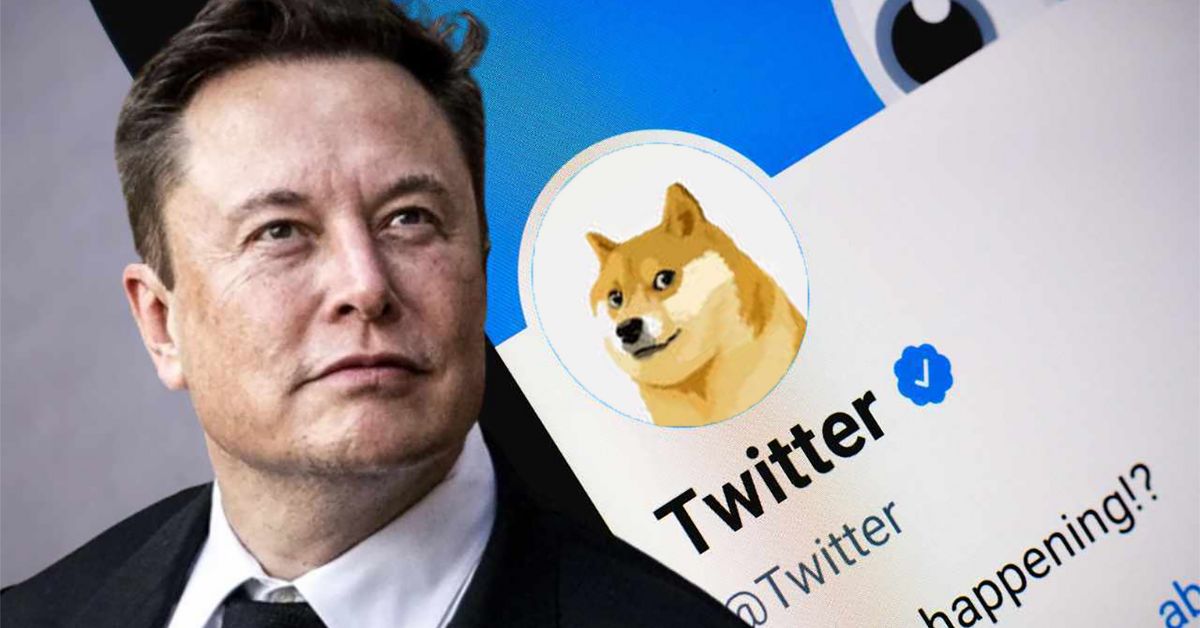 On April 1, Musk asked a US judge to drop the case, saying: "There is nothing unlawful about tweeting words of support for, or funny pictures about, a legitimate cryptocurrency that continues to hold a market cap of nearly $10 billion. (£8bn)."
So there is the backstory of why the logo was changed. Musk has committed the same behavior that this is about, except on a larger scale, as part of his assertion that the 2022 case is baseless.
"The new CEO of Twitter is amazing," Elon Musk wrote on Twitter on February 15, 2023.
The new CEO of Twitter is amazing pic.twitter.com/yBqWFUDIQH

— Elon Musk (@elonmusk) February 15, 2023
The Shiba Inu seen on the Dogecoin logo inspired a meme that went viral between 2010 and 2013. Billy Markus and Jackson Palmer, software engineers at IBM and Adobe, respectively, created Dogecoin as a prank in 2013 when the meme peaked in popularity.
In interviews and on Twitter, Palmer has expressed his view that cryptocurrencies are nothing more than a "get rich quick" gimmick.
We have covered the most popular articles about Elon Musk's Twitter overhauls. These are some resources that will help you learn more:
"I believe that cryptocurrency is an inherently right-wing, hyper-capitalistic technology built primarily to amplify the wealth of its proponents through a combination of tax avoidance, diminished regulatory oversight, and artificially enforced scarcity," Palmer tweeted in 2021.
Frequently Asked Question
Why is the Twitter Logo a Dog?
On Tuesday, April 20, 2021, this mobile phone app screenshot showed the Dogecoin logo in New York. Dogecoin's price increased by almost 30%. ON MONDAY, Twitter CEO Elon Musk updated the app's logo from a blue bird to a Shiba Inu dog, a symbol typically connected with the coin.
Is the Doge Meme a Real Dog?
Several of the meme's other characters are based on photos of real canines. Cheems is based on the picture of a Hong Kong dog named Balltze, who was adopted at the age of one and will be nine years old in 2020.
Has Elon Musk Changed Twitter Logo?
Twitter's eccentric CEO Elon Musk altered the company's signature "blue bird" emblem to the "doge" meme on Tuesday, April 4th.
What Does the Dog Icon Mean?
The Dog Face emoji portrays a dog's face, the most popular pet in the world. It is often used to refer to dogs, puppies, idioms and metaphors about dogs, and pets. It is usually used in conjunction with the Dog emoji.
Why is Doge Called Doge?
The word came from the Venetian language and was introduced to English via French. Doge, like the related English word duke, as well as the Italian duce, Duca (masculine), and duchess (feminine), all derive from the Roman dux, which means either "spiritual leader" or "military commander."
Make sure to follow us on Twitter to stay on top of all the breaking news and other changes, and tell us in the comments section what you think about Twitter's new logo.