A lot has happened, both in front of and behind the camera, that deserves recognition. A year after becoming engaged to a former co-star, Shantel VanSanten's character, Nina, becomes pregnant in an episode of FBI.
FBI is a crime drama on CBS that focuses on the New York City field office of the FBI and its agents' personal and professional life. Both FBI: Most Wanted (2020) and FBI: International (2021) are spinoffs of the original series, which began in 2018. When Maggie Bell was poisoned by sarin gas on the job, VanSanten plays her replacement, Nina Chase, an FBI Special Agent. Season 5 finds Nina, who joined the FBI in Season 4, beginning a relationship with fellow agent Stuart Scola, with whom she works covertly.
Nina's pregnancy with Scola's child was disclosed in season 5, episode 6. This was less than a year into their relationship. Find out how Shantel VanSanten's pregnancy plotline on FBI reflects the real-life milestones of her relationship.
Is Shantel VanSanten Pregnant in Real Life? Like Her FBI Character Nina
Is Shantel VanSanten, like her FBI character Nina Chase, expecting a child? The apparent response is negative. Nina tells her boyfriend and fellow FBI agent Stuart Scola that she's expecting their child in "Double Bind," the sixth episode of season five. Nina announces, "I'm pregnant."
"Last night, I found out," Nina says she recently went to the doctor because she is pregnant. I was afraid I had the flu. That I was [pregnant] wasn't even a thought. The paternity of Nina's kid is later confirmed to be Scola's. Nina says "I don't know" in response to Scola's question about whether or not she plans to keep the kid.
Later in the episode, Nina reveals that she will be transferred to the FBI's white-collar branch from the criminal division. "This is going to be my last case with you guys for a while," Nina says. "I need to take some time and clear my head. But I'm just going to go down to the white collar. I'm going to take down all the dangerous dudes on Wall Street there who are doing insider trading." She continues, "I'll be two floors down. Don't be emotional."
When they walk to the elevator after the meeting, Scola presses Nina for the actual reason she's quitting the criminal section. "Will you talk to me? What's going on? Why are you leaving?" Scola asks Nina, who responds, "I just need some time to figure things out. What to do with my life." Scola then asks, "So…what about the baby?" Nina responds, "I don't know. I just need some time."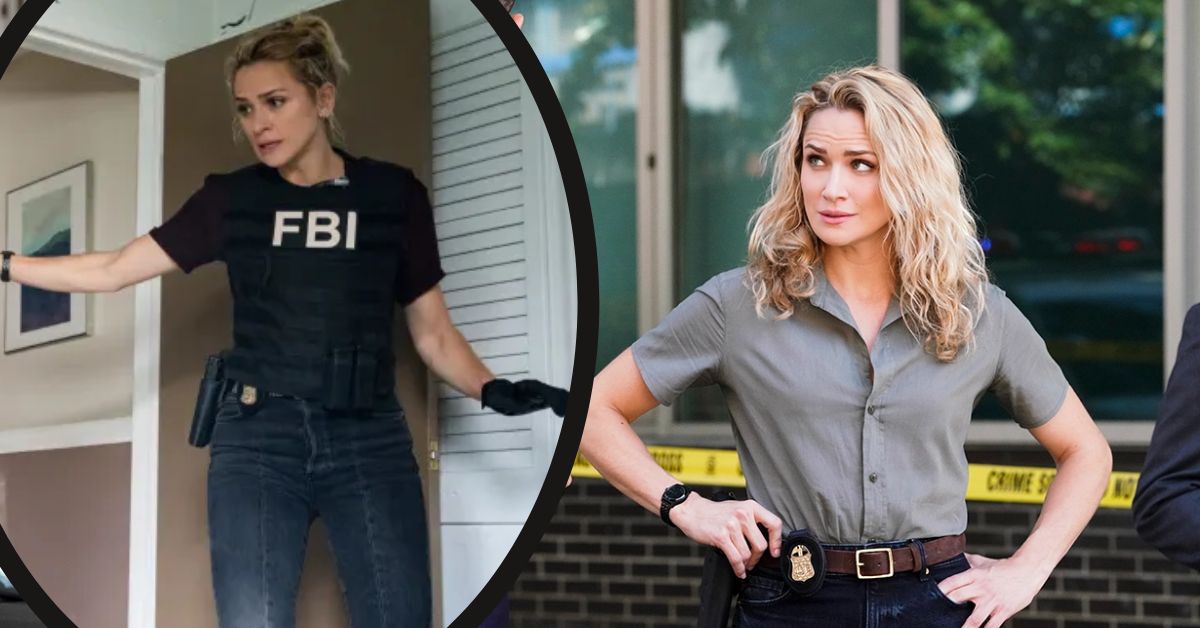 FBI executive producer Rick Eid told TV Insider in November 2022 that VanSanten was able to continue her relationship with Scola while taking a sabbatical from the FBI because of Nina's pregnancy. "We didn't want to kill Nina off. She's been an incredible addition to the show, and intertwining her story with Scola's allows us to keep her character alive," Eid said.
"It also gives Scola's character another dimension; he's now facing fatherhood on top of being an FBI Agent." Eid continued, "Though Nina is leaving the team, she's still an FBI agent, and her relationship with Scola will continue in some capacity. We'll see her again soon."
We've covered your favorite celebrities' pregnancies. Check out the links below for further information:
In the April 2023 crossover event between FBI, FBI: Most Wanted, and FBI: International, Nina was shot while assisting the Fly Team in their raid of a residence in Italy where terrorists were hiding out. Scola goes to the hospital to see how Nina and the baby are doing after the shooting.
"How do you feel?" Scola asks Nina, who responds "I've been better." Scola asks, "What about the baby? Is he OK?" Nina responds, "I think so," placing Scola's hand on her bump. "Felt him kicking." Scola then tells Nina, "I love you," to which Nina responds through tears, "I love you. A lot."
Actor John Boyd, who has portrayed Scola on FBI since its first season, told TV Line that Nina's shooting put them "in a situation that is catastrophic, and people grow closer from that." He continued, "It deepens their relationship a great deal, and hopefully they make a decision to be together and to love one another."
Is actress Shantel VanSanten, like her FBI character, expecting a child? There is no proof that VanSanten, like Nina, is pregnant. VanSanten doesn't appear to have a social media presence beyond her role at the FBI; her Facebook page hasn't been updated since 2011. VanSanten's absence from FBI Season 5 does not appear to have been motivated by her actual pregnancy.
VanSanten starred as Karen Baldwin in For All Humanity, an Apple TV Plus series whose third season was shot around the time when the fifth season of FBI was being produced. In American Murderer, which came out in October 2022, right around the time Nina left the FBI, VanSanten played the role of Jamie Brown.
Boyd hinted at what might be ahead for Scola and Nina in an April 2023 interview with TV Insider.  "The next step is just sort of the focus on processing what happened to them and her recovering. I think it's focusing on her recovery, and we don't exactly know yet what their decision is," he said.
"I hope the audience wants them to be together, and I know that I think that Scola wants them to be together. But I think there's always a part of Nina — what's interesting about these characters is just, do we get to have that life? Is it something that would work? Is it possible to do this right?"
He continued, "That's the story that we're telling is that it's not just to get the girl in the end. There's something deeper about what these people do and how they care about each other and that's what's important in their story after these three hours is that they know that they love each other in a way that they didn't understand before."
Who is Shantel VanSanten Dating?
When did Shantel VanSanten last date? On the filming of the 2017 Hallmark film Love Blossoms, VanSanten met her future fiance, actor Victor Weber. Less than two years before Nina's pregnancy was announced by FBI, the couple got engaged on February 9, 2021.
"It was the most perfect, wonderful day of my entire life," VanSanten told People at the time of the proposal. "And I can't wait to marry my best friend." She continued, "Relationships aren't easy — you have to fight for it, you have to work at it. We've done that and we've put in the work and now feel settled. I'm excited that we get to begin forever together."
VanSanten added to People that she and Webster were planning a wedding that would include guests from all across the country, including Webster's family in Minnesota and Texas and VanSanten's pals in California. "We have lots of ideas we're tossing about," she said. "Who knows where we'll land, but we're such adventurers and just love traveling together. So I feel like that'll have to be some sort of part of it."
We've covered the most important posts on your favorite celebrities' pregnancies. If you wish to learn more about them, follow the links provided below:
VanSanten also mentioned to People that she and Webster were thinking about taking another cross-country road trip in 2021 to see family.
"If you can go on a 42-day road trip with your partner and not kill one another, I think we're good," she said, adding that her relationship with Webster, who also starred as Nicholas Alamain on Days of Our Lives, is still a "total surprise" to her. "I would never have known it was going to be him," she said.
"That's the biggest surprise to me — I never had a picture of what I wanted in my life, and my heart has always been very open. But I remember meeting him and now looking back on our journey to where we are now, and it's a total surprise. I love him more and more with every breath."
To stay up-to-date with all the breaking news and top stories, bookmark Leedaily.com and check back regularly.