Devon Lee Carlson, an influential American model and co-founder of Wildflower Cases, has been in the news lately because of rumors about her new boyfriend. Devon has become a sought-after figure in the fashion and entertainment worlds because of how beautiful she is, how unique her style is, and how many people follow her on social media.
Fans and followers have been excitedly guessing who the lucky guy might be and what the future might hold for the new couple. Join us as we dive into Devon Lee Carlson's new relationship and look into the latest rumors and facts about her new boyfriend.
Devon Lee Carlson New Boyfriend: Who is Devon Lee Dating?
It's rumored that Devon is now dating Duke Nicholson after splitting up with The Neighbourhood vocalist Jesse Rutherford, who is also allegedly now seeing Billie Eilish. Before delving into the specifics of their relationship history, it is important to note that there isn't much proof that Duke and Devon are anything other than friends.
And as everyone is aware, Bella Hadid experienced this exact circumstance in the year 2020. If you don't remember, Devon and Bella went on a trip to a private island to celebrate Bella's 24th birthday while Duke was reportedly dating Bella in October of 2020.
Check out more celebrities' dating life details we have covered on-site:
Although Bella's agents denied these rumors, saying that Bella and Duke "met once through common acquaintances but have not been in touch since," it's possible that they mistook Bella for another lovely brunette in that group.
The Réalisation Par model was photographed seated next to the actor at a Burberry dinner in New York City, which reignited the dating rumors between Duke and Devon.
Duke and Devon were seen together at Devon Lee's Réalisation Par partnership debut as well as other Los Angeles locations. Nevertheless, it wasn't until late last week when Devon shared a photo dump soft launch of herself and Duke on her Instagram that many began to take the rumors more seriously.
Devon Lee shared a post on Instagram:
View this post on Instagram
Duke is pictured in the photo posing next to Devon while donning a short dress that says, "Don't Judge A Girl By Her Clothes" (fierce). As much as we'd like to root for this couple, we'll have to wait till Devon or Duke confirms the romance rumors for themselves.
Devon is renowned for being the epitome of the rockstar girlfriend look and is known to only date musicians, so we'll take Duke releasing a track on Spotify as a clue that there is more going on here than first appears to be the case.
Who is Duke Nicholson?
Except for the fact that he is an actor, 23 years old, and Jack Nicholson's grandson, little is known about Duke Nicholson. Although having a few acting roles to his belt, including one in Jordan Peele's Us, he is best remembered for his cover appearance on Lana Del Rey's NFR! album, which caused hordes of 2014 Tumblr girlies to fall head over heals for him.
Nicholson informed The Hollywood Reporter about the record cameo "My buddy Lana called to tell me that the album cover would be finished tomorrow. You desire to be included? ". I didn't try to analyze things too much; I just went with it, he continued.
The son of legendary actor Val Kilmer and model Luka Sabbat, Jack Kilmer, and another nepotism baby, Duke, are good pals. Regardless of whether Duke and Devon are dating, you should keep an eye out for this up-and-coming actor. If only Devon would launch hard right away.
Devon Lee Carlson and Duke Nicholson Have Been Spotted Together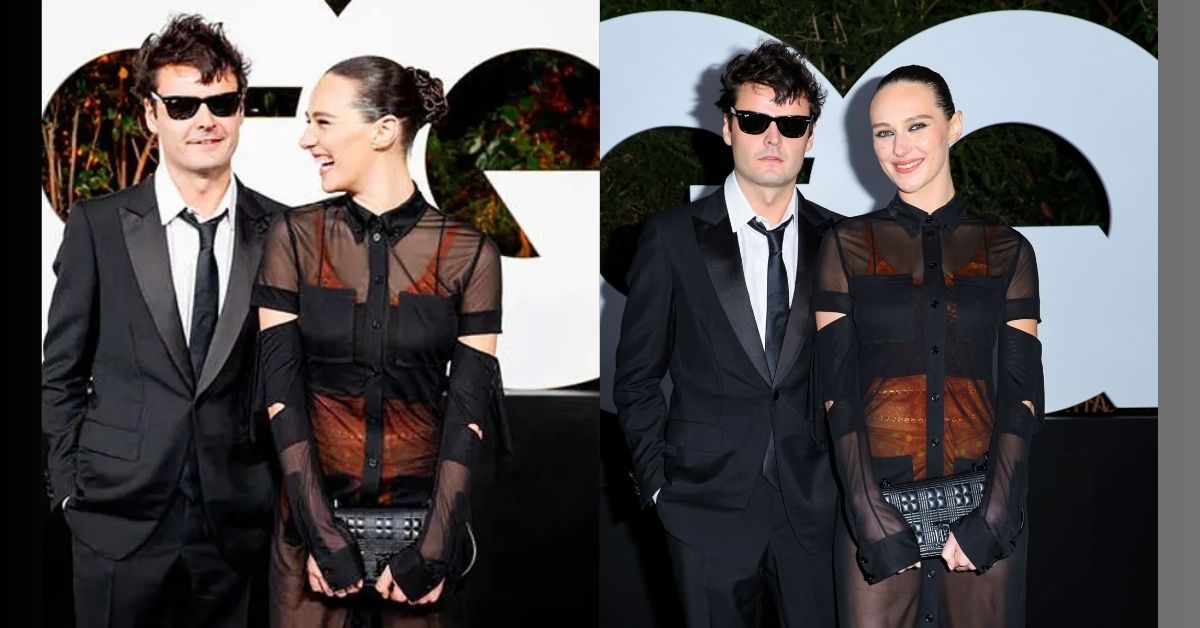 Carlson said that she and two other pals were going on a date in a video posted to YouTube on September 5. Carlson can be seen seated next to Nicholson, 23, in the video of the event. In a recent video to advertise her new line with Realisation Par, Nicholson is also pictured with Carlson.
In August, Lana Del Rey and several friends, including 28-year-old Carlson, were spotted at a get-together supper to celebrate Nicholson's birthday. Nicholson is most recognized as the star of Del Rey's "Norman Rockwell" music video in addition to being the grandson of Hollywood royalty.
One of Carlson's close pals, Bella Hadid, was allegedly Nicholson's girlfriend in 2020, though sources later refuted the allegation. Carlson reportedly joined Hadid for her 2020 birthday getaway, despite the fact that she was still dating Rutherford at the time. Nicholson is said to have traveled with Hadid.