A fan spotted Angelina Jolie and actor Paul Mescal getting coffee together in London, and the two quickly revealed their unexpected friendship.
The A-lister, who recently divorced husband Brad Pitt, was spotted having a conversation with the Irish actor, known for his role as Connell in "Normal People," at the Almeida Café & Bar.
Jolie's daughter Shiloh, who is 16, joined the stars and seemed interested in what was being said.
After seeing Mescal as Stanley in "A Streetcar Named Desire" at the Almeida Theatre earlier that day, the mother and daughter arranged to meet up with him.
The fan who caught the unlikely meetup sent their snap to the fan account @paulmescalpics, which wrote on its Instagram Story, "Angelina Jolie saw 'A Streetcar named desire' yesterday and after they grabbed a coffee at the @almeida_theatre Cafe."
Angelina Jolie and her daughter Shiloh went out for a coffee with Paul Mescal after seeing his play "A Streetcar Named Desire" at Almeida Theatre.

December 29, 2022. pic.twitter.com/ojudnrtGc0

— best of angelina jolie (@bestofajolie) December 30, 2022
The friendly get-together occurred only days after reports surfaced about the "Lost Daughter" star's breakup with his rumored fiancée, Phoebe Bridgers. After two years of dating, fans speculate that Mescal and the "Motion Sickness" singer, who is 28 years old, broke up.
The latest news about the relationships and dating lives of your favorite celebs has been extensively covered on our site. follow the links below:
Dating rumors began swirling in August 2020 after the couple was seen on a tropical getaway. They first appeared on the red carpet at the LACMA Art+Film Gala in November 2021.
But last month, their affair made news after Bridgers was caught spending time with comedian Bo Burnham.
The rumored new couple hit the internet when The 1975 frontman Matty Healy uploaded a picture kissing Bridgers while Burnham stood behind them with his eyes closed.
View this post on Instagram
The pairing came as even more of a shock because Burnham, 32, has been dating filmmaker Lorene Scafaria for nearly a decade.
Newly Single Paul Mescal Sparks Romance Rumours on 'Coffee Date' With Angelina Jolie
Paul Mescal, star of NORMAL PEOPLE, was photographed having coffee with Angelina Jolie in London.
After seeing him in A Streetcar Named Desire at the Almeida theatre, the Irish actor Paul, age 26, was photographed chatting with the Hollywood starlet, age 47.
The two people were deep in discussion in the theater's coffee shop, which was otherwise deserted. Angelina and Shiloh, whom she shares with ex-husband Brad Pitt, 59, were along for the trip. Shiloh is 16 years old.
Paul, who is said to have broken up with singer Phoebe Bridgers shortly after engagement rumors surfaced, wore a red T-shirt; Angelina, a chic black trench coat; Shiloh, a jacket and a beige beanie hat.
At the Almeida Theatre, Paul plays Stanley Kowalski opposite Lydia Wilson's Blanche in a scorching revival of the Tennessee Williams classic. After Phoebe was spotted getting cozy with Bo Burnham in New York, rumors began to circulate that the actor was single.
Nevertheless, Paul was noticeably absent from a recent performance photo from 1975, which included Matty Healy kissing Phoebe in front of Bo.
Phoebe and Paul began dating in 2020, and by December 2021, they had made their relationship Instagram official. After meeting online in confinement, Mescal gave GQ Magazine some background on their budding affair.
Paul said: "To have someone to lean on through such a mad, mad time has been invaluable. I don't know where I'd be without her."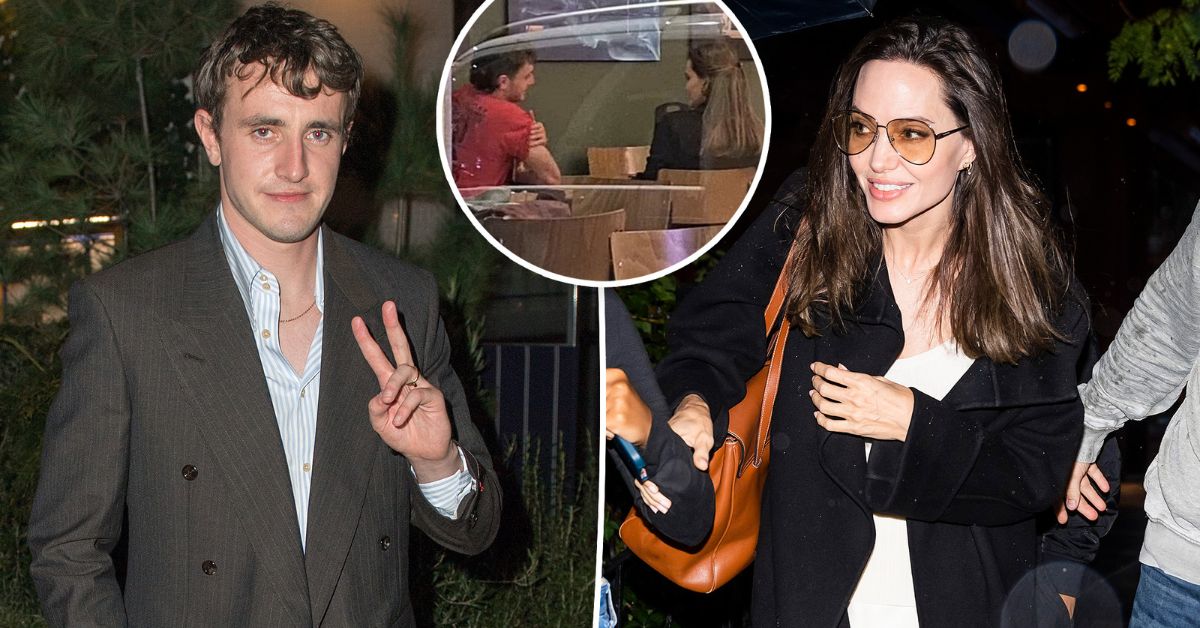 According to Today: "In May (2022), they attended the Met Gala together and Mescal was photographed wearing a ring on his left hand, a possible hint that the two had taken the next step in their relationship."
It has been reported that Phoebe introduced Paul as her fiance at a party in California last year. While Phoebe was performing, Paul was seen hanging out at the event with his Normal People co-star Daisy Edgar-Jones, who was also in attendance and sporting an incredible mustache.
Recent popular posts have focused on the personal lives and relationships of your favorite celebrities. use the following links:
She told NME magazine she "got a little pitter-patter in my heart" when she realized he was following her on Instagram.
They attended the Los Angeles County Museum of Art and Cinema Gala together in November 2021, where they walked the red carpet together before making their Instagram relationship official the following month. Another adorable photo of the couple was posted by her for Valentine's Day this year.
However, Phoebe recently participated in Amelia Dimoldenberg's Chicken Shop Date, where she discussed her recent heartbreak. She said: "You just have to do it, and it's going to end at some point, but you can't make it end. That's my thing."
Visit Leedaily.com for the most up-to-date information on all of your favorite celebrities.