God of War Ragnarök, like its predecessor, launched without a New Game+ feature, forcing players to wait a few months before they could experience the game again and replay the thrilling climax of Kratos and Atreus' Norse Odyssey. The long wait was well worthwhile, as the New Game Plus option adds a lot of fun new content for players of the series.
God of War Ragnarök, like many other PlayStation-exclusive games, features a solid New Game Plus mode. Many new armor sets and harder versions of some of the game's toughest boss encounters are among the many additions. Nevertheless, as players will soon discover, that is merely scratching the surface.
God of War: Ragnarök: New Game Plus Guide
It should go without saying that to access New Game+, players must have finished the main plot. If they haven't already, they should update to version 4.000.000 or higher. Once these conditions have been completed, players can begin a New Game+ playthrough by choosing the appropriate option from the main menu.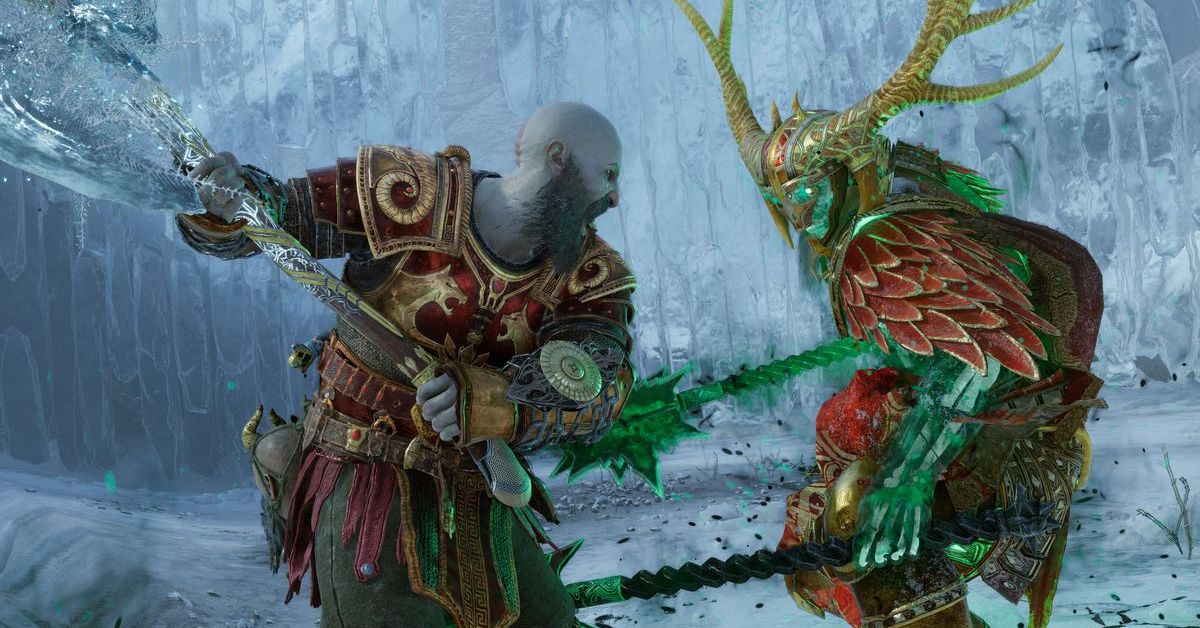 After this is done, the player will be asked to choose an existing save file before a new manual save is created. Now, users should select their most recent saved file, as it will influence what data is transferred. Players will be prompted to select a difficulty level after they have created a new manual save.
The "Give Me God of War" difficulty option is only accessible via this menu, just like in normal playing, but players can adjust the difficulty level after they've begun the game if it's too difficult.
Other articles cover new series release dates. Read below to find out when your favorite game releases:
What Carries Over in God of War Ragnarök's New Game Plus Mode?
The player's armor and the Draupnir spear, among other items, survive the transition to New Game Plus in God of War: Ragnarök. Nevertheless, players won't have access to Sonic or Hex arrows right now, and they won't be able to visit locations that need the Draupnir spear until Chapter 10 is unlocked. Kill Labors and Ratatasks, as well as any enchantments or skills you may have, will remain intact.
What's New in the New Game Plus Mode in God of War Ragnarök?
God of War Ragnarök's New Game+ feature, like that of the last God of War game, will let players acquire several different sets of new armor. Kratos wears the Armor of the Black Bear in the game's prologue, and the Spartan, Ares, and Zeus set all return as well.
The third set will be available immediately upon starting the game, while the previous two can be purchased using Hacksilver from any of the game's workshops. The Zeus armor set may only be obtained by first defeating Valkyrie Queen Gna and several other Asgardian holdouts.
In addition, a unique shield honoring Kratos' Spartan roots will be made available to players. You may buy the Spartan Aspis shield and a variety of new color schemes for several of the game's existing armor sets with Hacksilver from the Huldra brothers. But to get your hands on the Berserker Armor, you'll have to take on the Berserker King in NG+ and emerge victorious.
Players can customize the appearance of their armor sets and upgrade some items to Level 10. In exchange for doing so, players will receive Gilded Coins that may be spent on a variety of powerful enchantments. They are like duplicates of Kratos's original Armor and Shield Ronds, allowing for extremely potent builds.
The following articles detail the upcoming release dates for a variety of video games:
In addition to the Spartan Armor, a new set of enchantments known as Burdens can be used to increase the difficulty of the game. Most players, however, will want to increase their stats rather than decrease them, thus they should focus on defeating Berserker Souls and opening Nornir Chests to obtain new stat-boosting enchantments and Yggdrasil Dew, respectively.
On the two most challenging settings, players may expect more difficult boss fights with new attack patterns and Runic Armor. A new platinum tier has been added to Kill Labors and Ratatasks, and the arena in Niflheim now features all of God of War Ragnarök's allies. In addition to being able to skip cutscenes and cinematics by pressing and holding the X button, players can switch to a black-and-white render mode.
God of War Ragnarok is available now for PS4 and PS5. Check out our Twitter feed for updates on our upcoming gaming articles!