Mario first appeared in a video game in 1981 as the protagonist of the arcade classic Donkey Kong, however at the time he went by the name "Jumpman." Since then, he has undergone quite a transformation, making appearances in more than 200 video games, a Saturday morning cartoon, and two recently released films. And the popularity of Donkey Kong not only brought the world one star, but also its creator, Shigeru Miyamoto.
Miyamoto has been credited as the creative force behind Mario, Zelda, Star Fox, Pikmin, and many more Nintendo titles for decades. He has attained a degree of icon status in the video game business that few can match. Yet, he wasn't acting alone.
Beginning with Super Mario Bros. in 1985, Miyamoto started working with composer Koji Kondo. Kondo's keyboard arrangement for the game would go on to become a masterwork in understated elegance, sticking in players' brains for decades.
Walt Disney (Miyamoto) and John Williams might be the two most obvious industry comparisons (Kondo). Both game design and visual direction were pioneered by the former, and they arguably rescued the entire medium. The latter gave virtual worlds life with songs that were just as captivating as the gameplay. Together, they contributed to the history of Nintendo by creating some of the most iconic music and characters in popular culture.
They are currently attempting to spread that legacy to audiences who may never pick up a controller as well as a whole new generation. The Super Mario Bros. Movie, a collaboration between Illumination and Nintendo, exudes a labor of love in almost every way, in large part because of the creative contribution of Miyamoto and Kondo.
Miyamoto collaborated with the Illumination creative team to find the ideal angle to power up Mario for the big screen. He brought his stewardship of the brand to the movie in the same way that he did to the recently launched theme park. Kondo contributed his knowledge and nearly four decades worth of arrangements to the film's score, working with composer Brian Tyler.
Rolling Stone sat down with the writers after the movie's LA premiere to talk about the challenges of adapting their work, Bowser's fingers fitting into piano keys, and how success can occasionally be a burden.
Amazing Details You Never Knew About Your Favorite Shows:
Why is this the ideal moment for Mario to enter the world of film?
Miyamoto: Well, up until approximately ten years ago, Mario had only ever been made for video games. Also, Mario was a fictional character we developed for use in future video games. And for that reason, we didn't include any external details that were superfluous to the game because they might later become restrictions.
What is Mario's favorite food, for example? "Is there a brother for Mario?" "Is there a sister for Mario?" All of those inquiries were superfluous. That is not what we did. Yet, when it comes to movies, [that kind of] incidental data and information becomes vital. We, therefore, had to sort of wrestle with that.
We began to focus on the idea that we wanted people to enjoy and adore Nintendo as Nintendo, not especially as any one game, about ten years ago, after this time period when [people were saying], "It's either Nintendo, Sega, Sony, or Microsoft." After all of that finished. Together with Mr. Iwata, we also determined that we wanted to change our direction and adopt a more IP-focused strategy. The idea of making movies, theme parks, and other such things was included in that kind of approach.
Why was Illumination the best collaborator to make this happen?
Miyamoto: After deciding to adopt a more IP-focused strategy, we discussed potential partners. However, our meeting with Chris [Meledandri] was unique in that, as we got to know one another, we discovered that our philosophical perspectives and approaches to coming up with new ideas are very similar.
We chose to collaborate in order to develop something fresh because we believed that this would be a wonderful match. And it was simply this kind of collaborative effort between these two separate creatives until we ultimately chose to make a new movie, after which everything else just went according to plan.
There have been instances where people have approached Nintendo, the game's original developers, and said, "Here's the kind of movie you want to produce. Here's how we can make this a business, too. And it was at that moment when we switched tactics that we first began to think Nintendo should be the one making stuff like this.
Chris wasn't the type to say, "Hey, let's do a Mario movie." This kind of paradigm shift and change in how we approach creating anything was what truly made this relationship work. It was like, "Let's create something new."
What was it like working with musician Brian Tyler to create the music for the movie, Kondo-San?
Kondo: Brian [Tyler], of course, composed the entire movie from beginning to end. He absolutely needed to take charge of that procedure, in our opinion. My contribution to him was to provide him with a list of video game tunes that I believed would go well with the various movie sequences that I had viewed.
Brian then decided to implement some of those ideas. Then he incorporated several musical phrases. He used those, incorporated those lines into the overall soundtrack, and reorganized the pieces such that they complemented the entire movie.
I didn't give clear instructions such as, "Use this music in this scenario," etc. And the reason for that is that I didn't want viewers to lose interest in the movie by hearing gaming music that wasn't perfectly suited for that specific scene. Hence, they were merely my opinions about what I believed would be helpful, and Brian was able to include those ideas once more into the general structure of each scene. Once more, he simply created this truly outstanding piece of work.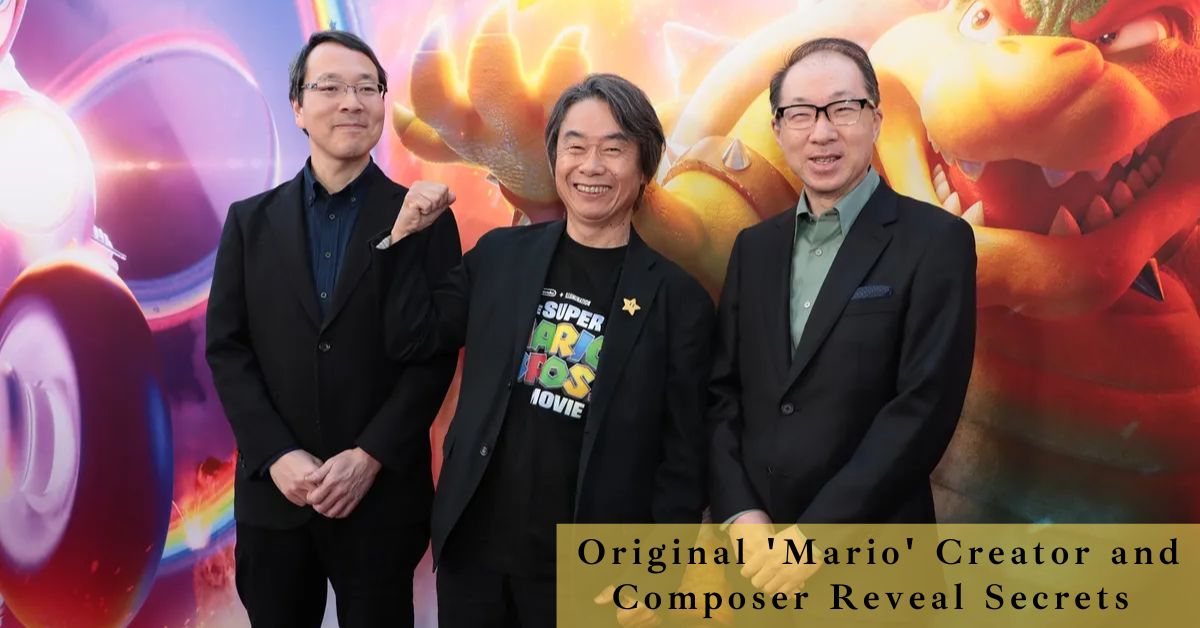 The ratio of specially written music for the movie to the popular song needle drops is just right. What factors were there in the balance?
Kondo: In terms of the licensed music from outside sources, I honestly believe that is up to the [directors]. And in this instance, in my opinion, they made a decision that seamlessly fit into the larger framework of the movie.
Are there any songs that you wished were included in the movie?
No, Kondo, I want to compose all the music myself! [Laughs]
Miyamoto: Temporary licensed [tracks] were inserted into the movie. So [we] went in and attempted to swap them out with songs that were specially written for the film. But, there were still several instances where we thought the licensed music performed better, so those were kept.
Another issue we considered was the fact that none of the music composed for the film, including the Nintendo music, had lyrics or vocals. We reasoned that it could be strange to have a movie score devoid of these elements. To provide vocal lyrical respite in the musical score, we've kind of relied on the licensed music.
Was there a disagreement within the company on whether to bring back "The Plumber Rap" or "The DK Rap" at that point?
Miyamoto: The screenplay writer and the director actually determined early on that they wanted this to be included. It was also a unanimous choice on our end since we conducted some of the PR work in New York to unearth those tunes, so there was a lot of nostalgia there.
A moment near the beginning of the movie mimics the side-scrolling gameplay of classic Mario games. What obstacles did you have to overcome to translate the visual language of a video game to the screen?
Miyamoto: Playing a Mario game is a challenging experience, in my opinion, especially when we're talking about video games in general. When we first started, it was quite challenging for us to take the abstract concept of what an action Mario game would be like and then graphically recreate it. And it was challenging. Yet, as we worked on the film, we managed to create a couple of scenes that really kind of captured that.
As you mentioned, examples include the opening scene where the characters are sprinting down the street or even the course that appears to have been created using Mario Maker. And as we were sort of finishing up those scenes, it really dawned on us that even if we just used things that appeared and looked familiar to people who had played the games, like the assets and other things, we were able to create something that was convincing and felt good, and I think after that it became a lot easier to handle and a lot easier to think about.
In the movie, Bowser [Jack Black's character] is described as having a slightly Neil Diamond-Esque, tortured-soul vibe. What kind of musician would Bowser be if he were a video game character?
Kondo: Bowser, in my opinion, has a variety of personalities depending on the game we're talking about or receiving him from, so I believe he would go very well with the game itself.
When the notion of Bowser playing the piano first came up, we wondered, "How big is the piano has to be to have his fit? Miyamoto: Talking about the fact that Bowser himself plays the piano was a key aspect. Will his hands become entangled in the keys? Will he be able to press the appropriate keys? All of this uncertainty and skepticism surfaced, but what really convinced us was the picture of Bowser hunched over the piano.
The Amazing Details You Missed:
The notion that Mario and Luigi have this incredibly developed family is one of the most unexpected aspects of the movie. What method did you use to introduce those characters?
As I have indicated, we [actively attempted] to avoid including any extraneous elements in the video games. We considered it to be quite significant that there are other Italian immigrants in Brooklyn who live in the same home as a family and have an at-home, family sense. And around 20 years ago, Mr. [Yichi] Kotabe, an illustrator, created an illustration of the Mario and Luigi family tree. We, therefore, based it on that. Then Illumination took it and gave it its own unique flavor and touch.
The parents of Mario were based on some extremely old illustrations that we had. After that was decided, the question, "How do the brothers fit within their family? ", was great on its mind. And how do Mario's parents—his father and mother—get along?
Then, as a result of that, it [kind of] affected how Cranky Kong would interact with Donkey Kong. We also had Francis the Dog's parents, a wealthy pair. Pauline was also present, although as you may know, the only "new" characters that we invented are probably some of the TV characters. Everything else was produced using resources we already possessed.
Since Mario has been around for more than 40 years, the movie makes references to a variety of characters, from Lumas from Super Mario Galaxy to Spike from Wrecking Crew. How did you choose which periods in Mario's history to draw influence from?
Miyamoto: To start, we were lucky that the Illumination directors, the writer, and pretty much the entire staff were so knowledgeable about and passionate about Mario. Actually, I doubt I know as much about it as they do. People would essentially dump items like these into the process or ask,
"Do you have any materials that are about this thing that I want to reference?" or things of the sort. The only challenge was having to filter through the 40 years' worth of content we've amassed in combination with this group of, essentially, fans that want to make this.
You alluded to Spike from the Wrecking Crew. When that notion first arose, we said, "Well, that sounds like fun. A lot of fun would ensue from seeing that. For another illustration, I was considering where we should put Donkey Kong in New York, but the concept of putting him on his planet, the Mushroom Kingdom, was kind of a large step — and an adventurous move — that we couldn't have dreamed of.
And when it comes to Easter eggs, there are literally endless numbers of them. You'll need to watch it more than five times, in my opinion. Five times probably won't be sufficient to cover everything.
Kondo: There are a ton of sound effects, not just in [the film realm], but also ones that are included in the music.
Miyamoto: I believe we gave the crew maybe more than a hundred sound effects. In the Japanese version, every "Wahoo!" has a different voice, including Mario's jumping sound. It's typically the same voice throughout the game. We enjoyed doing all of that very much.
Kondo: It'd be fascinating to see how many people notice that the ringtone on Luigi's phone changes when he receives a call. I'm not sure if you took notice of that. That is the GameCube's power-up sound effect.
Adaptations of video games for film and television are currently at their prime in popular culture. What do you think about that fad, and where does Nintendo fit in?
Miyamoto: In my opinion, once Nintendo achieves success, it constantly seeks to innovate. I, therefore, hope it doesn't become as well-known! [Laughs]. Because for the time being, we really want to concentrate on our work on [this one] movie.