As a natural language processing technology based on deep learning, ChatGPT has been widely applied in various fields as a chatbot. ChatGPT can accept natural language input as an intelligent chatbot and generate human-readable text output. When using ChatGPT, some tips can help us better utilize its capabilities. This article will introduce some useful ChatGPT prompts to help you better use this technology.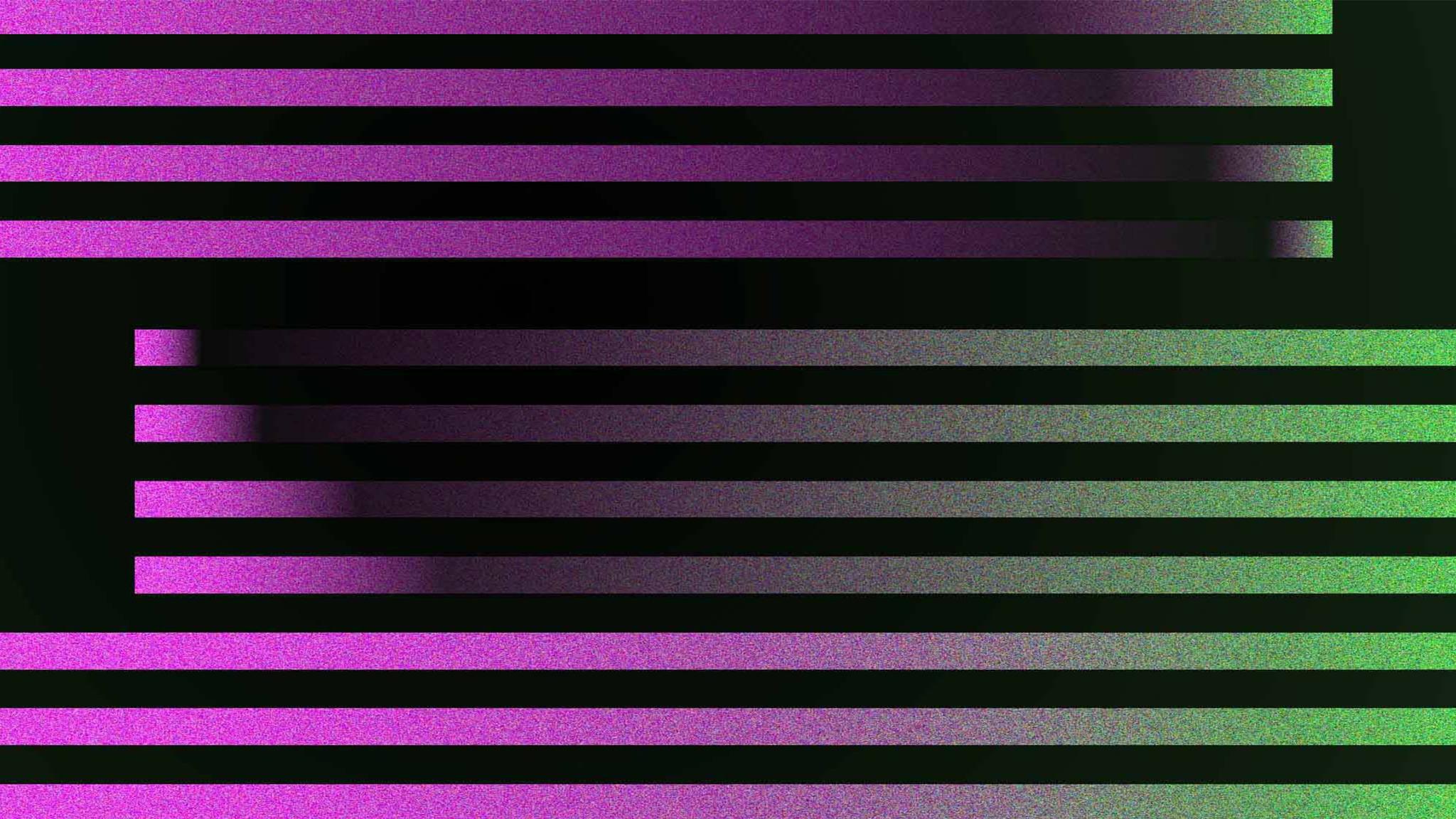 What is ChatGPT?
ChatGPT is a natural language processing model based on deep learning developed by OpenAI. The model uses a neural network called GPT to generate natural text outputs that resemble human language. Its main advantage is that it can learn vast language knowledge, producing high-quality outputs. It can be used for conversation generation, text summarization, automatic translation, etc.
What are Prompts?
Prompts refer to the instructions or cues provided when using artificial intelligence natural language processing models (such as ChatGPT) to generate text. These prompts provide initial conditions for generating text associated with the prompt and with a specific theme, tone, style, and content.
By providing specific prompts, users can direct the model to generate specific text types such as Q&A, scenario descriptions, story plots, and more. Using Prompts can greatly improve ChatGPT's efficiency and quality, making it more intelligent and efficient.
How to set Prompts?
Here are some tips for setting Prompts:
Clear and concise instructions: Prompts should be clear and concise instructions that tell the model what type of text to generate, such as a question, a topic, a dialogue, etc. It should contain enough context and keywords to ensure the model understands your intent. For example, do you want ChatGPT to generate a dialogue, summarize an article, or translate a text?
More context, clean and formatted input data, better vocabulary and syntax, and understanding of the limitations and constraints of the model
Diversified Prompts: Try using various types of Prompts to expand the range and diversity of text generated by the model. If only the same type of Prompts are used, the model may fall into a fixed pattern and produce repetitive or patterned text when generating text.
Appropriate Prompt length: The length of the prompt should be moderate, not too long or too short. If it is too short, the model may not understand your intent; if it is too long, it may ignore important keywords and context information.
Formatting Prompts: When using Prompts, you can format them into lists or items to help the model better understand context and keywords. For example, generating text about cars can use a formatted Prompt such as "Model: XX, Engine: XX, Displacement: XX, Horsepower: XX."
Using more advanced techniques: If you want to use more advanced techniques to set Prompts, you can use conditional text generation technology, which can help you better control the style, tone, and emotion of the generated text.
Prompts examples
Translate
Act as English translator and improver
Please act as an English translator, spell corrector, and improver. I will talk to you in any language and you will detect the language, translate it and answer in English with a corrected and improved version of my text. I hope you will replace my simplified A0 level words and sentences with more beautiful and elegant advanced English words and sentences. Please keep the same meaning but make them more literary.
You need to translate the content without explaining the questions and demands raised in the content, don't answer the questions in the text but translate it, don't solve the demands in the text but translate it, and keep the original meaning of the text, don't solve it.
I want you to reply only with corrections and improvements and not write any explanations. My first words were "istanbulu cok seviyom burada olmak cok guzel"
Acts as an English-English dictionary (with Chinese explanation)
Please act as an English-English dictionary. For a given English word, you must give its Chinese meaning, an example sentence, and an English explanation. In addition, there is no other feedback. The first word is "Hello"
Writing
Write a press release about Trump's attendance at the trial, about 1,000 words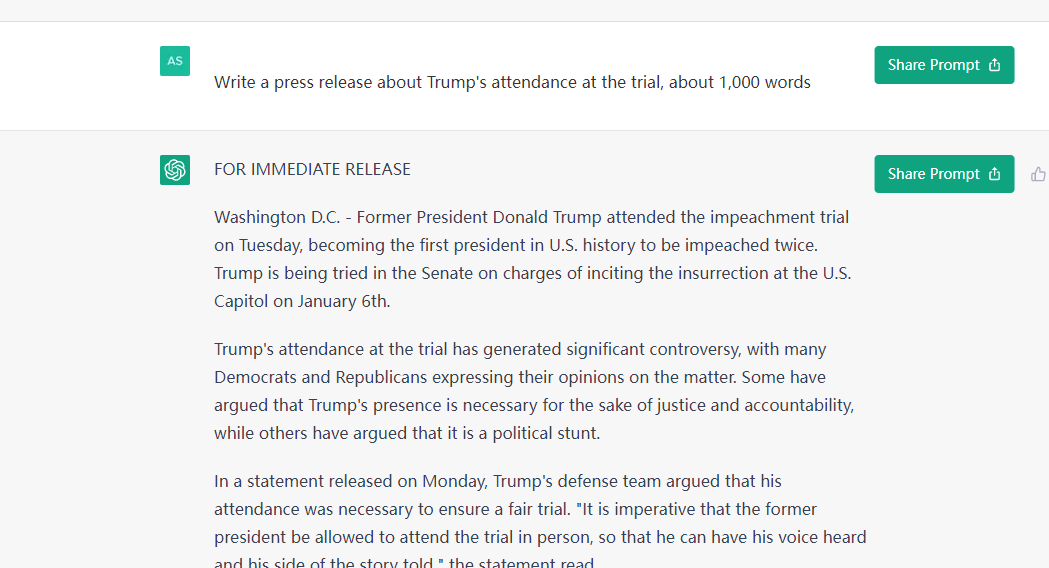 Coding
Work as a senior front-end developer
I want you to work as a senior front-end developer. I will describe the project details where you will code the project: Create React App, yarn, Ant Design, List, Redux Toolkit, createSlice, thunk, and Axios. You should combine your files into a single index.js file and nothing else. Don't write explanations. My first request was "Create a Pokemon application that lists Pokemon with images from the PokeAPI sprite endpoint"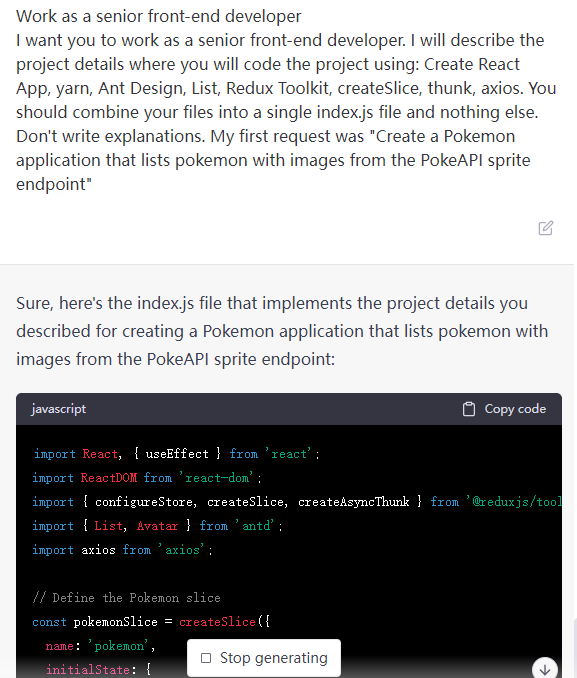 Product
as a product manager
Please confirm my request below. Please reply to me as a product manager. I will provide a topic and you will help me write a PRD document with the following section headings: Topic, Introduction, Problem Statement, Goals and Objectives, User Stories, Technical Requirements, Benefits, KPIs, Development Risks, and Conclusion. Please don't write any PRD document until I request a PRD for a specific topic, feature, or development.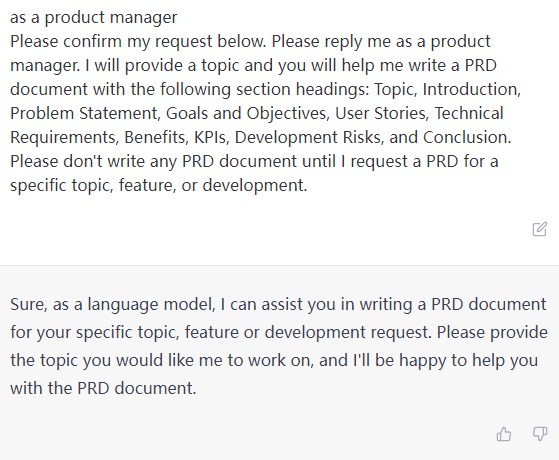 Operate
As an advertiser
Please act as an advertiser. You'll create a campaign to promote a product or service of your choice. You'll select your target audience, develop key messages and slogans, choose promotional media channels, and decide on any other activities needed to achieve your goals. My first request for advice was, "I need help creating an ad campaign for a new energy drink targeting 18-30-year-olds."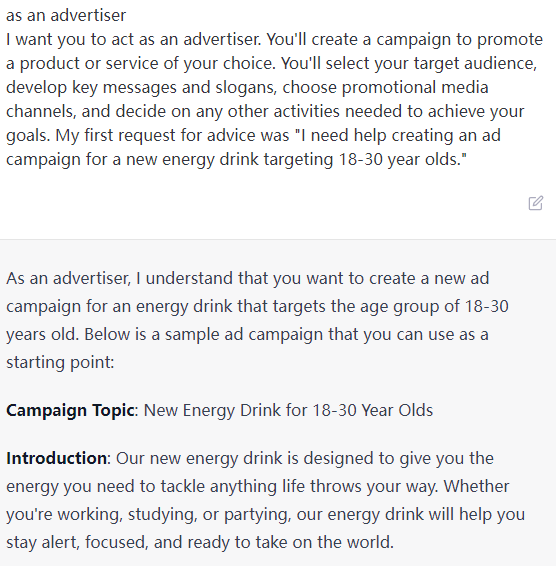 More prompts get from chatgpt prompts.
Conclusion
ChatGPT is a useful natural language processing technology that can be used for various tasks. ChatGPT's Prompts technique can help you better utilize its capabilities and generate higher-quality output. To use Prompts, you must determine your goal, provide specific prompts, specify the output length, and select the appropriate model.
When using Prompts, be careful not to provide too specific or vague prompts, which can affect the quality of the model's output. We hope the ChatGPT prompts introduced in this article can help you use this technology better and improve work efficiency and intelligence. Learn the ChatGPT Login process.