One of the gorgeous actresses in the world is Hiba Abouk. Achraf Hakimi, a top player for Paris Saint-Germain, married the beautiful woman.
Hakimi, a professional footballer for PSG and the Moroccan national team, was born on November 4, 1998. Before Real Madrid offered him a trial at the age of seven, he played for the local squad CD Colonia Ofigevi. At age 18, he debuted for them and spent two years on loan with Borussia Dortmund.
After being purchased by Inter Milan for £35 million, he moved to PSG for £60 million, making him one of the highest-paid players in the world. According to reports from 2022, the PSG star was earning over £1 million monthly.
When his country advanced to the 2022 FIFA World Cup quarterfinals for the first time, he became a national hero after scoring the game-winning penalty against Spain.
Who is Achraf Hakimi's Wife, Hiba?
Spanish actress Hiba Abouk, born in October 1986, is best known for her role as Fatima in the hit TV series El Principe. She is the youngest of four siblings and was born in Madrid.
The footballer's wife is fluent in several languages and has a penchant for flamenco, in addition to her acting career. She is multilingual and conversant in Spanish, Arabic, French, English, and Italian.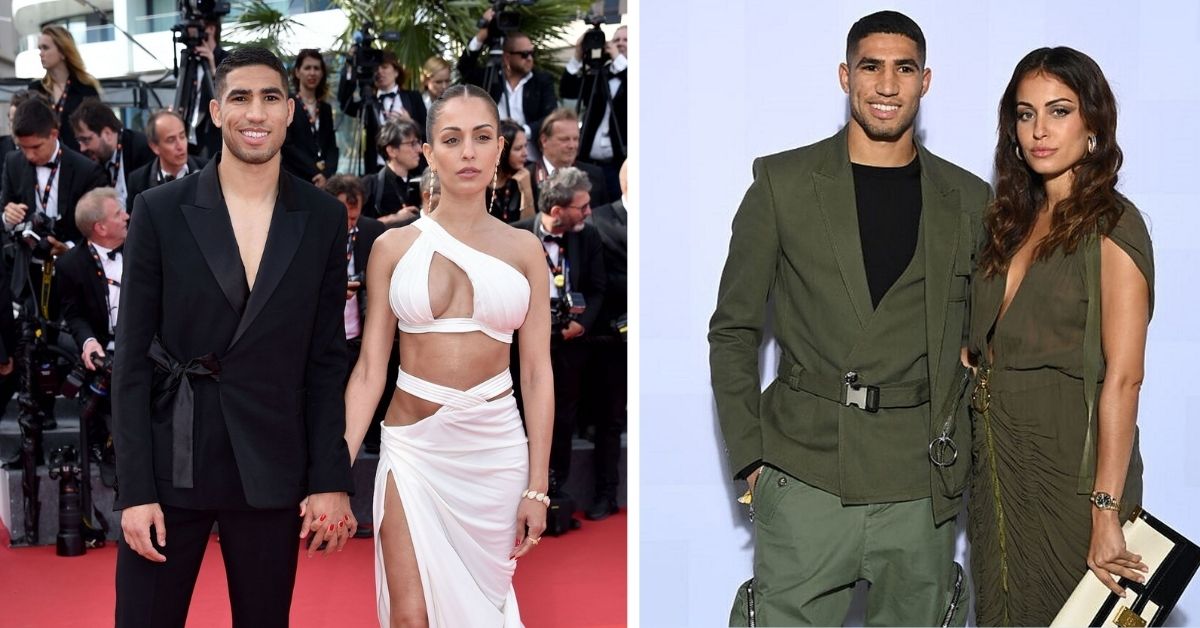 Hiba's career took off in 2010 when she starred in the TV channel Cuatro comedy series La Isla De Los Nominados. The Spanish version of Cheers was filmed the following year, and she got the part.
In 2014, however, she first gained widespread attention after appearing in El Principe, a crime drama series seen by over five million people. At the Cosmopolitan Beauty Awards that same year, she was honored as a Women's Beauty Icon.
You can read the newest articles on famous people's spouses:
When Did Achraf Hakimi Meet Hiba?
According to reports, PSG fullback Achraf Hakimi started dating Spanish actress Hiba Abouk in 2018, when he was still at Borussia Dortmund and in the early stages of his career. Hakimi began his professional life in Madrid, where Hiba was also born and raised; nevertheless, the two did not initially meet in Madrid.
View this post on Instagram
It's been said that the pair met in Germany in 2018 while both were photographed for Vogue Arabia magazine and hit it off immediately. After dating for a while, the couple tied the knot and had their first baby in 2020.
Hiba Abouk and Achraf Hakimi have made no secret of their relationship on social media. Still, it remains to be seen if she will comment on the charges made by the lady who claims Hakimi r*ped her when Abouk and her sons were on vacation.
Here are a few more stories like the ones you just read. Check out the most recent articles about famous people's spouses:
Do They Have Any Children Together?
Amin Hakimi Aboukhris, the eldest of Achraf Hakimi and Hiba Abouk's two boys, was born in 2020; the following year, the pair tied the knot after dating for a few years. The couple began dating in 2018, but Hiba Abouk dispelled breakup rumors in the spring.
Naim Hakimi Aboukhris joined the family last year, and his father, Achraf Hakimi, made the happy announcement on Instagram, gushing over his son's perfect health.
He wrote: "How we wanted to have you among us! Everything came out great, and we are in good health."
View this post on Instagram
Hiba Abouk recently posted a photo of herself and her two sons, Amin and Naim, enjoying a holiday in Dubai without Achraf Hakimi, who was recovering from a hamstring injury and remaining in Paris to fulfill his club commitments for PSG.
Stay tuned to Leedaily.com for the most up-to-date information and breaking celebrity news.