Kawhi Leonard, a former MVP with the San Antonio Spurs and Toronto Raptors, seeks to lead the Los Angeles Clippers to their first NBA title. Leonard's previous few seasons have been eventful, what with his dealing with injuries and load management. However, I want to zero in on Kawhi Leonard's financial situation in 2023.
Kawhi Leonard's Net Worth in 2023
Kawhi Leonard is worth roughly $80 million and has plenty of room to develop in the NBA. Leonard is now making over $42 million because of the four-year, $176.3 million contract he signed with the Clippers in 2021. The final year of his contract is a player option, but he will earn over $45 million in 2023–24 and nearly $49 million in 2024–25.
Leonard entered the NBA in 2011, signing a four-year rookie contract with the San Antonio Spurs worth around $8 million (with two team options). Leonard's 2014 NBA Finals MVP award came during his rookie contract with the winning Spurs.
Top articles on the wealth of famous people have been covered. To find out more, check out the following articles:
He got a maximum contract with San Antonio worth $94.3 million over five years following the 2014–15 season. The great player inked a three-year, $103.1 million deal with the Clippers in 2019 after winning a championship with the Toronto Raptors in 2018. After that, he struck the current agreement.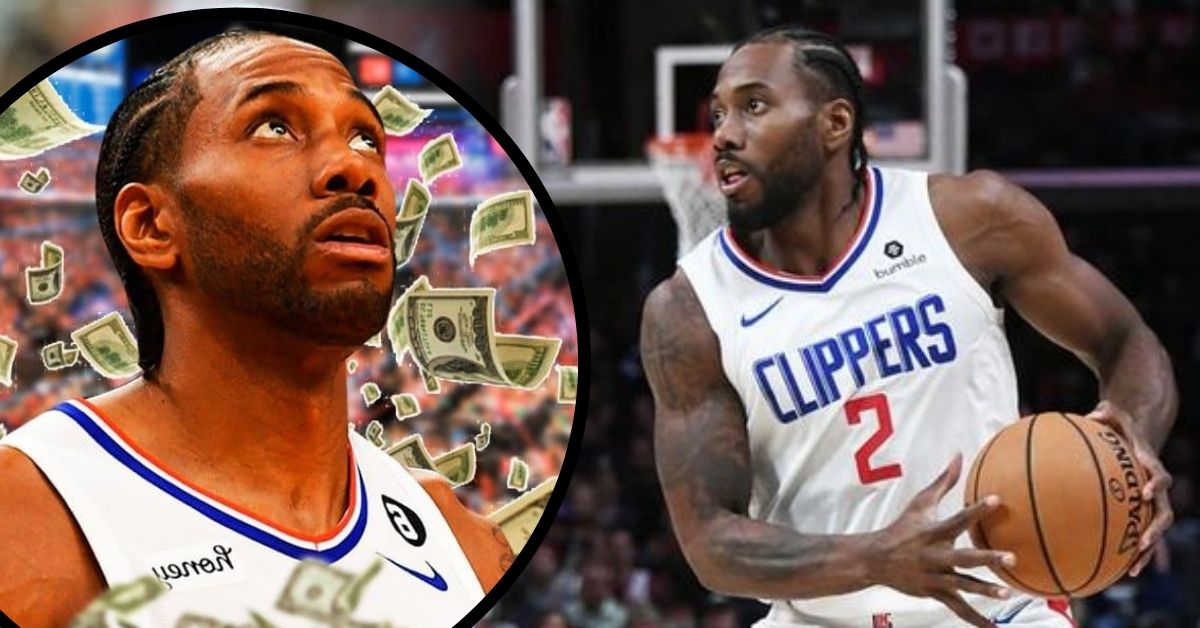 Kawhi Leonard's lack of endorsements can be attributed to his lackluster marketability. Companies aren't exactly clamoring to have Leonard as an endorser because of his reputation as a shy, low-key superstar. But there's no problem with that; he lets his play do the talking. His list of endorsed brands includes Jordan, Wingstop, and New Balance.
Leonard inked a seven-year endorsement agreement with Jordan Brand, reportedly earning less than $500,000 per year, just before his rookie season in 2011. According to reports, in 2018, Jordan Brand offered Kawhi a $42 million extension over four years. According to Leonard's representatives, the new contract reportedly didn't do justice to Leonard's achievements and stature in the league, as reported by ESPN's Ramona Shelburne.
Even yet, Leonard was able to secure a contract with New Balance that pays him "significantly more" than $5 million annually. He now holds one of the league's top-15 endorsement deals for shoes. Because New Balance required a top athlete to represent the brand, Kawhi made the proper choice.
Unlike Jordan Brand's advertisements, his New Balance spots accurately reflect his personality. And in 2019, Kawhi took Nike to court over the Klaw logo, alleging it was his own. Leonard lost the court case, unfortunately.
Leonard has been addicted to Wingstop's Mango Habanero wings since 2016 when he struck an endorsement arrangement with the company. When Leonard misplaced some coupons, he began to worry.
There have been a lot of significant reports about how much money famous people have. Check out the following pages to learn more:
Leonard has been expanding his interests beyond the basketball floor. A joint music project between the Clippers player and YoungBoy Never Broke Again and Rod Wave had been previously revealed.
Kawhi Leonard might increase his wealth by winning a championship with the Los Angeles Clippers if he returns to the floor. After winning a title with the Raptors in 2019, Leonard joined Paul George and the Los Angeles Clippers, but his time there has been largely unsuccessful.
The Clippers blew a 3-1 series lead to the Denver Nuggets in the 2019-20 season. Leonard suffered an ACL tear during the playoffs that season, and the Los Angeles Lakers lost the Western Conference Finals to the Phoenix Suns. Leonard then sat out the entire 2021–22 season to heal from a knee ailment.
Leonard and the Clippers will have more difficulty making the playoffs in 2022-2023 without George. Los Angeles is a title contender when healthy, but injuries have plagued the team during the Leonard-George period.
Leonard plans to use this latest challenge as motivation to claim victory finally. If he does, Kawhi's LLeonard'swealth in 2023 will increase significantly.
Stay in touch with us on Leedaily.com to get the latest news on your favorite stars' worth.