On Thursday morning, the largest and most powerful rocket in history, SpaceX's Starship, lifted off from the southernmost tip of Texas. Minutes later, while waiting for stage separation, it had a failure, which SpaceX webcast hosts described as a "rapid unscheduled disassembly."
Four minutes into the flight, the rocket began to tumble and eventually burst, sending it crashing into the Gulf of Mexico.
It took some time to determine what went wrong. Congratulations to the entire team at @SpaceX for a successful Starship test flight! "Congrats, @SpaceX team, on an exciting test launch of Starship! Learned a lot for next test launch in a few months," SpaceX creator Elon Musk tweeted shortly after.
Congrats @SpaceX team on an exciting test launch of Starship!

Learned a lot for next test launch in a few months. pic.twitter.com/gswdFut1dK

— Elon Musk (@elonmusk) April 20, 2023
On Twitter, SpaceX announced that its employees would keep analyzing data and preparing for the next test flight.
"With a test like this, success comes from what we learn, and today's test will help us improve Starship's reliability as SpaceX seeks to make life multi-planetary," it said.
We have put some other articles about SpaceWorld below. Check out the list below if you want to read more about space:
After Monday's aborted launch owing to a fuelling issue, today's launch was the first time the two components of the Starship had been launched simultaneously.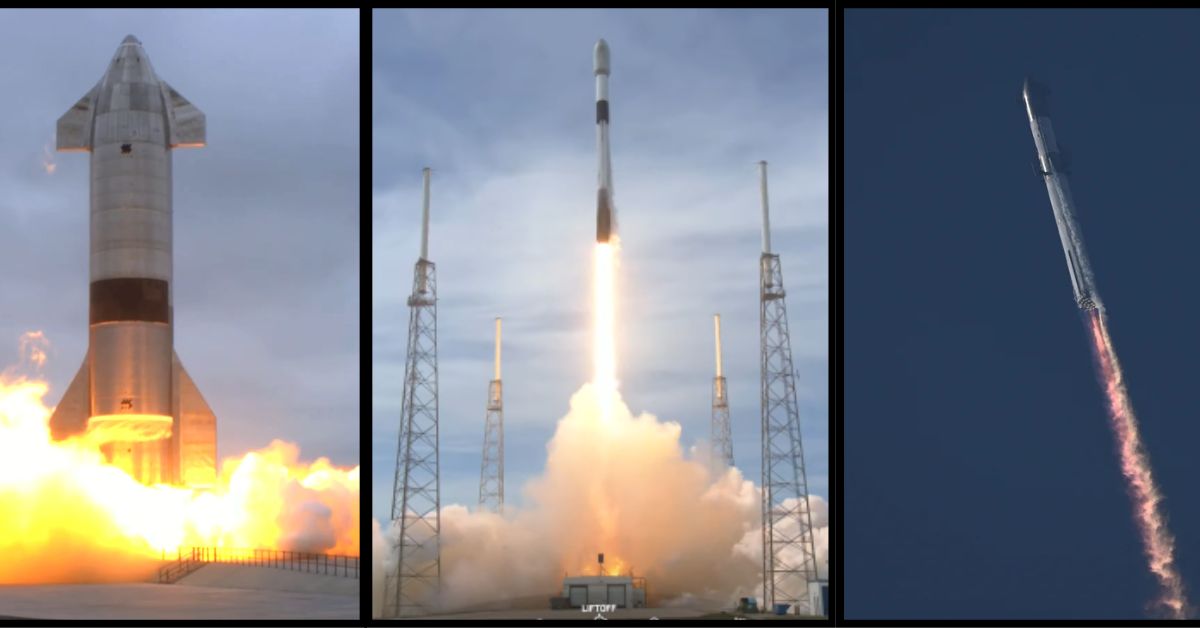 The launch was aborted because a valve used to pressurize the first-stage rocket got jammed. Even though Starship is built to be recycled, there is no way to bring back the approximately 400-foot-tall rocket.
If all went according to plan, the Super Heavy first-stage booster would splash down in the Gulf of Mexico. This is the very first flight of the Super Heavy. The spaceship on top would fly over the Atlantic Ocean and land in the Pacific Ocean, close to Hawaii.
The flight was scheduled to last only 90 minutes. SpaceX posted a video clip on its official Twitter account. You can see the video in the tweet below.
Liftoff of Starship! pic.twitter.com/4t8mRP37Gp

— SpaceX (@SpaceX) April 20, 2023
With its 16.7 million pounds of thrust, the Starship will be used by SpaceX to transport humans and cargo to the moon and Mars. Neither humans nor satellites were on board for this flight test.
Upper stages in their early iterations were launched into space and successfully upright landed for the first time in 2021.
To Musk's mind, one of the Starship fleets currently being built has an 80% chance of reaching orbit by the end of the year. In his estimation, achieving full and rapid reusability will take a few years.
On Friday, SpaceX received a launch permit from the Federal Aviation Administration. The duration of this license is five years.
Starship has cleared the pad and beach! Vehicle is on a nominal flight path

— SpaceX (@SpaceX) April 20, 2023
The American Bird Conservancy protested the agency's ruling, claiming that the company's operations harmed critical coastal bird habitats by displaying a photo of a plover near rubbish in Boca Chica.
"Space X operations continue to damage important coastal bird habitats at Boca Chica in south Texas," Mike Parr, the president of the American Bird Conservancy, said in a statement. "We believe that Cape Canaveral offers a much lower environmental impact option and is underutilized with less than one launch per month despite having six active launch pads and more pads that could be made available."
The next NASA moonwalking crew might launch as soon as 2025, and wealthy visitors are already making reservations for lunar flybys.
We have put some other articles about SpaceWorld down below. Check out the list below if you want to read more about space:
Frequently Asked Questions
When will the SpaceX starship launch?
SpaceX has a 62-minute window on April 20 to launch the Starship SN24 spacecraft and Super Heavy rocket, beginning at 9:28 a.m. EDT (1328 GMT).
Did SpaceX starship blow up?
Elon Musk's SpaceX rocket business launched its massive Starship on Thursday. It exploded. However, it was a successful launch that could lead to investors owning a piece of the privately held aerospace behemoth sooner than they might imagine. Thursday was the company's second effort.
What is the purpose of SpaceX starship?
Elon Musk, CEO of SpaceX, described Starship as the vehicle that underlies the company's primary mission: to take humans to Mars for the first time. NASA has its rocket design. The first flight test is anticipated to cover nearly one full orbit of the Earth, finishing with a splashdown off the coast of Hawaii.