Zendaya went to a concert for the first time in more than five years on Saturday. She did so as part of a surprise set with Labrinth at Coachella, which included two songs from her HBO show Euphoria.
The fashion queen and Spider-Man: No Way Home star came out at the end of Labrinth's set in the Mojave Tent at Coachella. She sang "All for Us" and "I'm Tired" from the first and second seasons of the show, respectively. The music event posted a video of the performance, which took place on the second day of the second weekend, to its official Instagram account.
In an Instagram Story about the "magical" night, Zendaya said that it had been years since the Euphoria star had been on stage to sing live during a planned set. "Thank you all for being so happy to see me back on that stage. "It's been a long time, so I really appreciate it," she said in a story she recorded early in the morning after a show before going to sleep.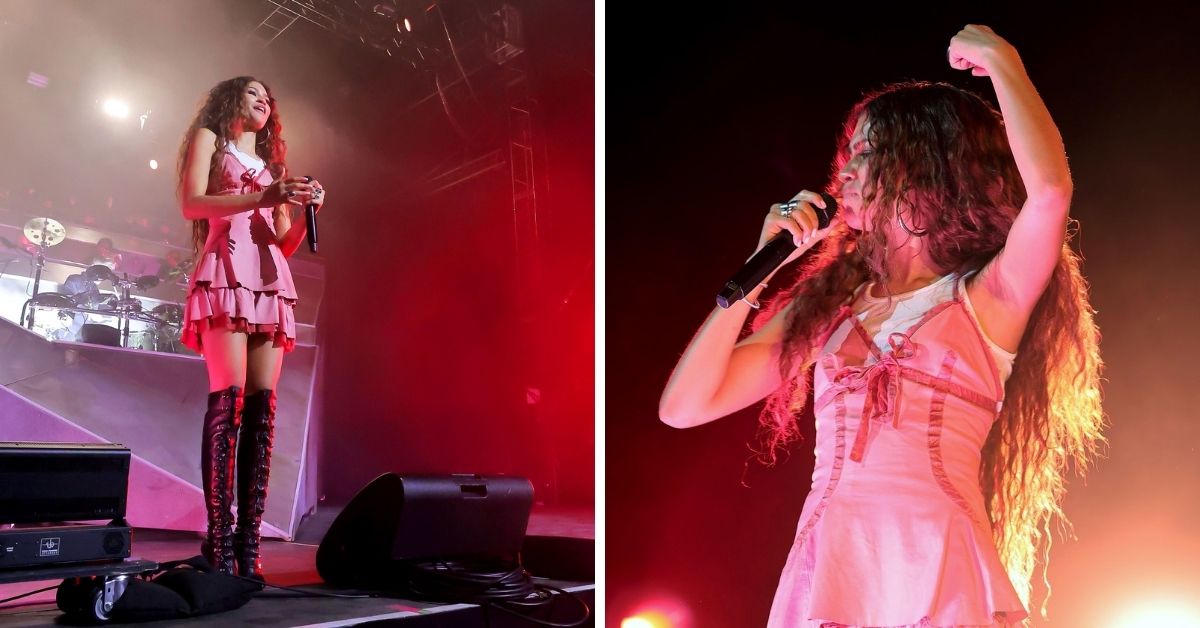 In the same video, the actor and producer talked about how well her performance on stage was received and thanked the "gorgeous" crowd for being there. "I have never heard screaming like that in my entire life. As soon as I turned the corner, I couldn't hear anything," she said of the "special" and "so, so cool" moment, during which the crowd sang along. "I don't know what happened. I don't know what I sounded like but I just was like, 'You know what? I'm just going to have fun."
These Articles Have Made a Lot of Noise Recently:
"I just want to say thank you again for such a magical beautiful night," she said, referring to a written comment from an earlier story. "Thank you to Lab for inviting me and making all this happen so last minute."
In this written statement, Zendaya thanked Labrinth for giving her the "most beautiful safe space" for her return to the stage. She also thanked the crowd again for their "love" and support, which she said, "made all my nerves melt away."
In answer, Labrinth shared the statement on their own Instagram Story. The British artist, rapper, songwriter, and record producer wrote, "Thank you for blessing the stage with your fire energy!!" "This was a party about growth and new starts."
Zendaya shared a video of the concert on Instagram Stories, watch it below:
Zendaya on Instagram Stories, "Wish y'all could understand how loud it was last night… when I tell you this is exactly what I heard in my ears, my mic picked up every single one of you 💫 So thank you for singing along, it was one of the only ways I knew what I was singing lol" pic.twitter.com/d9HelPbDZT

— Zendaya Updates (@Zendaya_Updated) April 23, 2023
Both Zendaya and Labrinth are very important to the music of Euphoria. In fact, Labrinth wrote and produced the original score for the HBO show. They worked together on several songs for the show, like "Still Don't Know My Name," which was nominated for an Emmy and for which Labrinth wrote the words with Zendaya and Muzhda Zemar-McKenzie, and "All For Us," which he sings with Zendaya and became a big hit.
Labrinth's work on the show's original music earned him four Emmy nominations and a win for "All for Us" in the category for best original music and lyrics.
This is not the first time that Labrinth has made a surprise showing at Coachella this year. During the first weekend of the festival, he got Billie Eilish on stage to sing "Never Felt So Alone," which has since been posted in its entirety on his YouTube account.