James Corden is a well-known English actor, comedian, and TV host who has had a hugely successful career on US television. However, James Corden's wife Julia Carey has also had a successful career in show business, and a well-known actor brought them together.
After eight years, Corden said he was leaving The Late Late Show in April 2022, and his last show would be in the spring of 2023. Since then, it has come out that he left after such a long time because he wanted to spend more time with his wife and their three children.
"That last show will be a mess. During an episode of The Drew Barrymore Show, he said, "I will cry my eyes out." "But I will know deep down that putting down roots in London is the best thing for me and the best thing for us as a family." And everything about it feels just right." The story of how the famous pair met is really sweet. Here's everything we know about James Corden's wife, whom he calls "Jules."
James Corden Instagram Post:
View this post on Instagram
Check out some of the articles we covered on Celebrity Wife:
Who is James Corden's Wife?
Julia Carey, who is married to James Corden, got her start in show business as an actor. Later, she became a director. In 2009, they met through actor Dominic Cooper, who had shared a room with Corden in 2004. Cooper met Carey and Corden at a fundraising event for Save the Children.
"I said, 'I'm really enjoying this sort of thing—like, cooking dinner, falling asleep, not really drinking,' " Corden recalled to People about the night Cooper encouraged his mate to go along to the event. "And he said, 'Come on, let's go, it'll be fun.' Thank God, he persuaded me." When Cooper introduced the two, Corden remembered it was love at first sight. "I said, 'Hi, Jules. You might be the most beautiful woman in the world,' " he says. "She said, 'Well, thank you very much. That sounds like something you say a lot.' And I said, 'I've never said it before in my life.' That was it. That was it, really. I was in. And by an absolute miracle, so was she."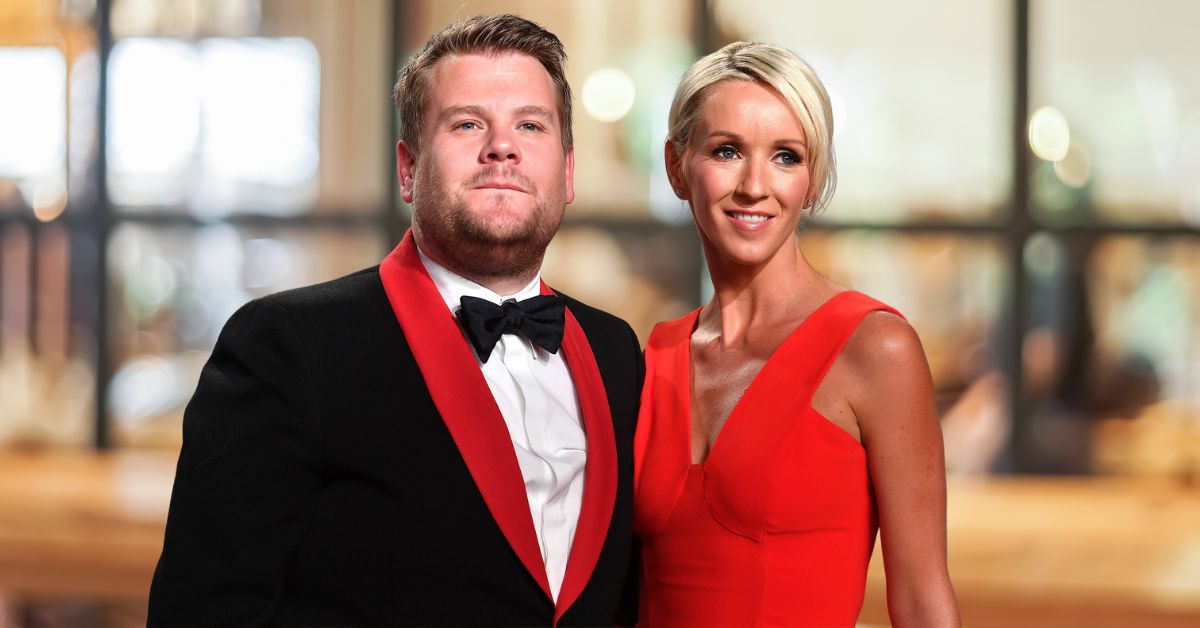 Corden said he remembered that he and Carey had spent the night talking in a corner.
"We sat and we very jokingly kind of planned the rest of our lives together, an hour and a half after we met," he revealed. "As a joke! We were just talking. And we were both talking about how much we felt like we were now past the notion of going out every night — that we had hit the age where the prospect of a quiet night in was glorious." "I remember saying to her, 'Well, what about on Friday we could do nothing together? You could come over and we could just do nothing. And then maybe we could do nothing on Saturday, and we could do nothing on Sunday. And if our evenings are enough of nothing, then maybe this would become something,' he says. "She said, 'That sounds like a fun idea.' "
The couple got proposed in 2010, and in 2012, they got married in a big ceremony that cost more than $300,000. More than 200 people were there, including some of Corden's famous friends like David Beckham, Lara Stone, and Michael McIntyre. At the time, a person said,
"James has been so over-excited about the ­wedding and wanted to make sure it was everything they imagined. It was just close friends and family and a very special day for them both."
The couple has three kids together: a son, Max, who was born in March 2011, and two girls, Carey and Charlotte, who were born in October 2014 and December 2017, respectively. Cooper, who set up the couple and was in The History Boys with Corden, is Max's godfather.
In an interview with Baby, Corden talked about how much being a dad had improved his life.
"Fatherhood, in one sense, is a massive transformation in your life. But in another, it doesn't feel that different. You're the same person, but there's a completeness to it all. The truth is I've loved every single minute of being a dad. It's hard, of course, but all I have to do is look at my kids' faces and it's worthwhile. I feel incredibly blessed."
As was already said, Corden's family was a big reason why he wanted to leave The Late Late Show, and a conversation with his oldest son, Max, was a turning point.
"Once, I was filming on a Sunday, and when I got home around 6 a.m., my son, who was 10 at the time, was sitting on the stairs and asked, "Are you working today?" I told him, "Yes, I am," and he said, "I thought it was Sunday." I told him, "I know, buddy, but this schedule is all over the place. We just have to get it done because we don't have much time left before the show,' and his face just kind of dropped," Corden said in a 2023 episode of The Drew Barrymore Show. "I got in my car and called my wife Jules. I said, 'I've realized that, best case scenario, we have six more summers where Max might want to be around us, and I can't waste another one.'"

Corden said, "His face sort of fell… "I got in my car and called my wife Jules. I said, 'I've realized that in the best case, Max might want to be around us for six more summers, and I can't waste another one,'" he continued. In an earlier interview, in June 2022, he told Extra, "My kids are getting older, their grandparents are getting older, and maybe it just felt like the right time for us as a family to be more free in our decisions."