Even before the name "Natasha Obama" was announced as one of the hundreds of students graduating from USC's Dornsife College of Letters, Arts and Sciences on Friday morning, there was some talk on campus about some famous faces.
Social media users shared photos of her parents, the 44th president and former first lady, seated behind cap-and-gown-clad students at Allyson Felix Field, while students at the ceremony texted pals at other universities about the high-profile guests.
Barack and Michelle Obama at USC to see their kid graduate as well pic.twitter.com/Xbmc5qVen2

— mcquack306 (@mcquack306) May 12, 2023
Kim Demu was seated next to Sasha's parents, Barack and Michelle Obama, and older sister Malia — but with more than a dozen U.S. Secret Service officials in between them. Nonetheless, she was overjoyed to see the family she had long admired and took numerous photographs.
We recently covered top headlines on Malia and Michelle Obama. Check out the links provided below.
"I knew [Sasha Obama] transferred from [University of] Michigan to here, but I had no idea she was graduating in this class with my niece," Demu explained. "Very exciting!"
As her sister and dad clapped in the audience, Sasha Obama, 21, beamed as she crossed the stage to celebrate her new sociology degree. The introduction of her name drew almost universal applause from the audience.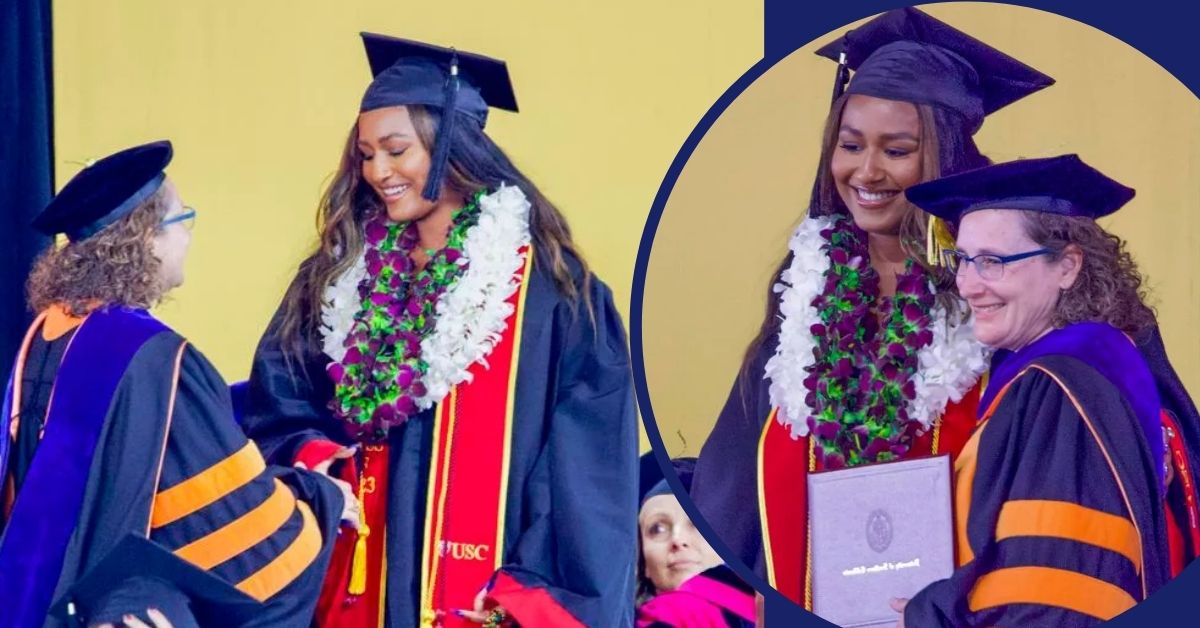 Otherwise, the Obamas kept as low a profile as possible at USC's graduation festivities, leaving just after Sasha Obama exited the stage.
"I was so excited to see Obama and Michelle," said Michelle Davies, who graduated from college on Friday. "I wanted a picture [with them] so bad, but then they left early. If I would have gotten a picture, I would have passed out."
Michelle Obama congratulated Sasha Obama on her USC graduation with a message on May 11 on her official Twitter profile:
Congratulations to the graduating class of @Columbia and @UChicago #ObamaScholars! 🎉

I'm so excited to see the impact you'll continue to make in the years to come. pic.twitter.com/NK18mk51I8

— Michelle Obama (@MichelleObama) May 11, 2023
The political science major said she knew Sasha from around campus — adding that the African American population at USC is small — but that seeing Barack and Michelle Obama on Friday was on a different level.
"I waved at them and Michelle waved back at me," she exclaimed, nearly thrilled.
The Obamas did not address the gathering or pose for photos with attendees, instead applauding the graduates and listening to the speakers. As he walked out, Barack Obama congratulated other parents and family members.
We recently covered top headlines on Barack and Michelle Obama. Check out the links provided below.
Alfred Chen and his buddies rushed to the Dornsife College event after receiving word from the Obamas.
"We tried to find them but we can't, there's so many people," Chen, who graduated from engineering school on Friday, added. Chen's group even posed for a photo with the Dornsife College ceremony in the background, hoping to catch a glimpse of the Obamas. (Unfortunately, this was not the case. Chen and his friends were around 15 minutes late for the family.)
Philip Lewis congratulated Sasha Obama with a tweet on his Twitter page on May 13th:
Congrats to Sasha Obama, who graduated from University of Southern California today!https://t.co/VhY2bNz7WN pic.twitter.com/msbEuC4ox3

— philip lewis (@Phil_Lewis_) May 12, 2023
Sharon MacDonnell had better fortune as she waited for her son to cross the stage. She was about as close to the Obamas as they walked out of the ceremony early.
"I came over to see him and then I spotted all the guys in suits," said MacDonnell, who got some fantastic shots of the former president. As a USC alumna, she said it was extra special to have the former first family there.
Sasha was only seven years old when her family relocated to the White House in 2009. She graduated from high school in Washington, D.C., in 2019, two years after her father served two terms as president. She began her studies at the University of Michigan before transferring to USC.
Malia Obama also resides in Los Angeles, where she works in the film industry.