A great romantic comedy seldom receives a follow-up. It is even less common for a romantic comedy to get two sequels. Fortunately, My Big Fat Greek Wedding will be expanded into a trilogy.
First-generation issues were highlighted in the original movie, which has since become a go-to source of pleasure for anybody whose family doesn't follow traditional American values.
Its distinctive and original storyline has made it a global staple, and its never-ending endearing and fascinating characters have made it all but difficult to put down.
You've found the perfect site if you're trying to figure out when, how, and where to watch My Big Fat Greek Wedding 3 with Nia Vardalos.
My Big Fat Greek Wedding 3 Release Date
Focus Features will release My Big Fat Greek Wedding 3 in the US on September 8, 2023.
In the attached tweet below, @RegalMovies confirms the release date:
NEW TRAILER for 'My Big Fat Greek Wedding 3' – coming to Regal on September 8. 🇬🇷 pic.twitter.com/GATBEjOYKw

— Regal (@RegalMovies) May 11, 2023
My Big Fat Greek Wedding 3 Cast
The film's writer, director, and returning star is Nia Vardalos. Many of the original cast and sequel cast members will be joining her.
As actor Michael Constantine died away in 2021, this will be the first movie without Portokalos patriarch Gus. It's also unknown whether Lainie Kazan will return to the third movie to reprise her role as Maria, the matriarch.
These are the other movie stars:
Nia Vardalos as Toula Portokalos
John Corbett (S*x and the City) as Ian Miller
Maria Vacratsis (Mamma Mia! Here We Go Again) as Thiea Freida
Andrea Martin (Evil) as Thiea Voula
Elias Kacavas (Pretty Little Liars: Original Sin) as Aristotle
Louis Mandylor (CSI: Miami) as Nick Portokalos
Elena Kampouris (Jupiter's Legacy) as Paris Miller
Gia Carides (Big Little Lies) as Nikki
Joey Fatone (Impractical Jokers: The Movie) as Angelo
My Big Fat Greek Wedding 3 Plot
In the third installment of the My Big Fat Greek Wedding series, the Portokalos family travels to a Greek town for a family reunion to fulfill the late patriarch Gus Portokalos's last desire.  Every film to date has included a wedding.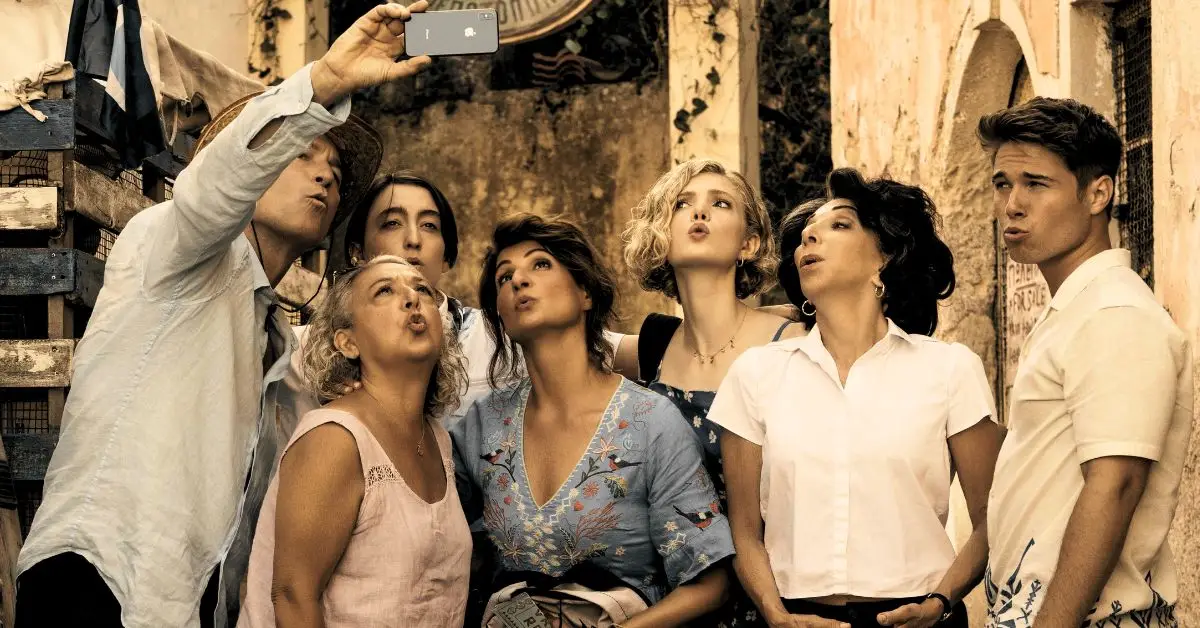 In the first movie, Toula weds Ian, her non-Greek lover, while in the second movie, Maria and Gus marry after learning that the priest who had previously united them wasn't a priest. Although there is no information about a wedding in this sequel, it is pretty plausible.
Focus Features' official summary is as follows:
From writer and director Nia Vardalos, the worldwide phenomenon My Big Fat Greek Wedding is coming back to theaters with a brand-new adventure. Join the Portokalos family as they travel to a family reunion in Greece for a heartwarming and hilarious trip full of love, twists and turns. Opa!
We last saw the Portokalos family in 2016. The expected homecoming caused Toula and Ian's lives to fall somewhat apart. Toula was back at her first job—their restaurant—because the family had to close their tour firm due to the recession.
Since Ian had been given the high school principal position, they were spending progressively less time together. Paris, their adolescent daughter, threatened to go to college far away.
Check out some of the most awaited movies release date here:
As a result of a health crisis and marital issues, the wedding of Gus and Maria caused even more turbulence in the family. However, they were ultimately able to be married again, and the movie finished with everyone sending Paris off to her New York City college.
My Big Fat Greek Wedding 3 Trailer
On May 11, 2023, Focus Features posted the My Big Fat Greek Wedding 3 trailer online. The trailer was also shown before Book Club: The Next Chapter screenings, another sequel supported by Focus Features.