Who are Chef G and Sleepy Hello?
Sheff G and Sleepy Hallow, two popular drill rappers, were listed as accused members of Brooklyn-based gangs in a 140-count indictment handed down on May 16 charging shootings, gun possession, stealing cars to use for criminal activities, and conspiracy to commit murder.
According to the New York Times, Kings County district attorney Eric Gonzalez says that Sheff G, whose real name is Michael Williams and is 24 years old, used the money from his songs to "help facilitate further gang activity" and encourage alleged gang members with dinners, jewelry, and video appearances.
Sleepy Hallow, whose real name is Tegan Chambers and is 23 years old, is being charged with plot.  The rappers are close friends and are known as pioneers of the New York drill scene. Sheff G is known for his songs "No Suburban" and "Weight on Me," and Sleepy Hallow is known for his songs "2055" and "Deep End."
Sheff G is signed to RCA Records and one of the people who started the Winners Circle label, which is where Sleepy Hallow is signed. The accusation comes at a bad time for both rappers, but especially for Sheff G, who is already in prison for a gun charge and serving a two-year sentence. He was going to get out of jail in June, but the new charges mean he will have to stay in jail longer. The two also had big plans to play at the Rolling Loud hip-hop event in Miami on July 21.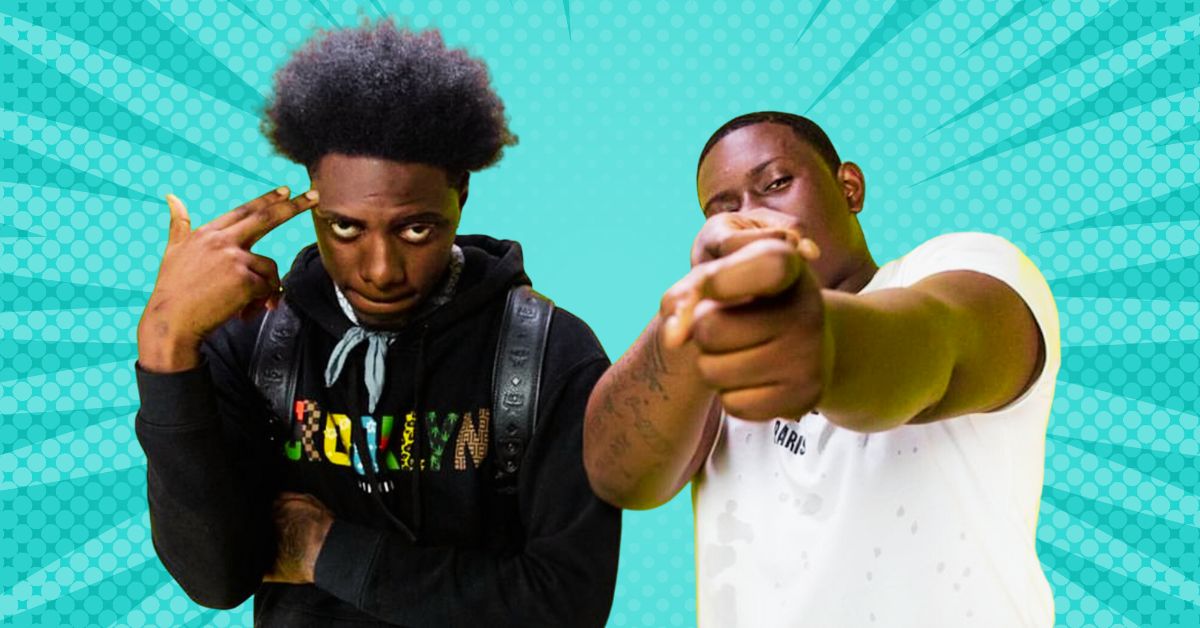 Why Are Sheff G and Sleepy Hallow Arrested?
At a news conference conducted on May 16 to announce the rappers' arrest and arraignment at Brooklyn's Supreme Court, Brooklyn district attorney Eric Gonzalez was joined by New York City mayor Eric Adams and police commissioner Keechant L. Sewell. Sheff G and Sleepy Hallow were arrested as part of a large-scale indictment of 32 alleged members of the Brooklyn-based gang 8 Trey Crips and its affiliated 9 Ways gang, which operates in several areas, including Flatbush, East Flatbush, and Canarsie.
Sheff G and Sleepy Hallow reportedly arrested along with 30 others in 140 count gang murder case‼️ pic.twitter.com/9gZf3tKKBd

— RapTV (@Rap) May 16, 2023
What Are the Allegations?
The 140-count indictment includes charges of second-degree murder, second-degree attempted murder, second-degree conspiracy, second-degree criminal possession of a weapon, first-degree assault, first-degree attempted assault, second-degree kidnapping, first-degree gang assault, first-degree attempted gang assault, second-degree assault, first-degree reckless endangerment, and other charges.
Defendants are accused of planning to kill rivals in the Folk Nation Gangster Disciples and the ICG Babiiez gangs.
The indictment follows a long-term investigation into shootings and gun ownership by the district attorney's Violent Criminal Enterprises Bureau and the NYPD, with the defendants allegedly involved in 12 shootings and one murder.
Authorities gathered evidence by monitoring phone calls, texts, and social media posts, with the suspects using pig latin to discuss their crimes over the phone.
Sheff G is charged with two counts of conspiracy to commit murder, allegedly ordering and paying for killings in Brooklyn, including a mass killing in 2020 that resulted in one fatality and five injuries.
Sheff G sent text messages confirming that rivals were targeted, along with pictures of the victims and news stories about the shooting. He also hosted a party dinner at the Brooklyn Chop House after the incident and was allegedly involved in a revenge shooting as the getaway driver.
Sleepy Hallow is listed as a co-conspirator and was seen in a video holding a gun with a co-defendant. He also appeared in a social media post insulting the hand gesture of a rival gang.
In a separate case, prosecutors claim that Sleepy Hallow communicated with a co-defendant on the same day the co-defendant stole a car used in a 2020 shooting that resulted in one death and five injuries. The co-defendant alleges that Sleepy Hallow attended a celebratory dinner afterward.
Sheff G & Sleepy Hallow indicted on conspiracy charges https://t.co/FuppB9Y67z

— HipHopDX (@HipHopDX) May 16, 2023
Lyrics on Trial
Prosecutors seemed to be getting ahead of the problem of using song lyrics as proof by saying that the arrests have nothing to do with art. Gonzalez made it clear that this is not a bad thing about rap music. "In fact, this investigation did not rely on a single lyric to prove any of the alleged crimes." Rolling Stone says that the indictment does name two lyrics, one from the Sheff G song "For the Members" and the other from a defendant's phone note.
These Articles Have Been Making Headlines:
RICO Charges
The Racketeer Influenced and Corrupt Organizations Act, or RICO, is a federal law that was made in 1970 to fight against organized crime. (This rule is different in every state.) Because it's hard to charge every member of a criminal organization at once, lawmakers let prosecutors charge anyone who does a pattern of racketeering activities like murder, arson, bribery, money laundering, drug trafficking, and robbery in connection with an enterprise.
To be charged with a RICO violation, a person must be accused of doing two of the above things or conspiring with someone who did them on behalf of an organization over a ten-year time.
There can be no federal RICO violations in this case because the co-defendants were each charged with a total of 140 counts by the State of New York, not by the federal government. Short answer: No, Sheff G, Sleepy Hallow, and the other people accused with them are not being charged with RICO.
Are Chef G and Sleepy Hello Still in Jail?
Sheff G and Sleepy Hallow will stay in jail until August 9, when they have their next court date. A judge might agree to let the rappers go free on bail. Before the arrest on May 16, Sheff G was serving a two-year sentence for a state gun charge at Rikers. His earliest expected release date was June 15.'
Frequently Asked Questions
Why is Sleepy Hallow locked up?
Police say that Sheff G and Sleepy Hallow are members of the Crips gang. They are accused of helping to start fights between rival gangs in Flatbush and Crown Heights.
Where is Sleepy Hallow and Sheff G from?
Sheff G and Sleepy Hallow, two well-known drill rappers from Brooklyn, have been charged with plotting to kill someone. Prosecutors in Brooklyn, New York, have charged well-known singers Sheff G and Sleepy Hallow with plotting to kill members of a rival gang.
When did Sleepy Hallow become famous?
In 2018, his song "Flows," which also had Sheff G on it, went viral and became his first big hit. In August of 2020, the RIAA said that his song "Deep End Freestyle" with Fousheé was platinum. In August 2021, his single "2055" reached number 51 on the US Billboard Hot 100, making it his highest-charting song.