With the release of Black Mirror season 6, one of Netflix's most thought-provoking shows has finally returned! Since its premiere in 2011, the psychological sci-fi thriller has astounded viewers by exposing the possible horrors of our cutting-edge technology and how humans exploit it.
Fans should expect twists and turns that feel all too real in the new season because there have been so many changes to the reach of modern technology since the fifth season was released in 2019, including the use of AI tools like ChatGPT.
What are you waiting for? Black Mirror season 6's first five episodes are now available to stream on Netflix. To avoid spoilers, we advise you to check them out as soon as you can! You may wish to view the second episode, "Loch Henry," before reading this post because we will specifically discuss it.
The loch henry episode from black mirror season 6 was so insane no one saw that twist coming REAL TELEVISION IS BACKKKK pic.twitter.com/gUNE1lzV52

— ♈︎ (@bvbhive) June 15, 2023
Black Mirror Season 7 Update Is Here: Don't Miss It
Black Mirror Season 7: Speculating the Mesmerising Cast And More Updates!
Black Mirror season 6's second episode, which follows a couple named Davis and Pia as they visit Davis' boyhood home in a small Scottish hamlet, defiantly takes a darker turn from the first.
When Pia finds out about a terrifying incident that happened near Davis's childhood home, their original plans to film a documentary in a nearby island are altered.
As we discover, a serial k*ller by the name of Iain Adair was apprehended in the 1990s after kidnapping a local couple who were on vacation. Kenneth Davis, a police officer at the time who was shot by Iain when they confronted each other, passed away in the hospital from a staph infection.
Davis obviously takes this subject very personally given his father's participation, but Pia is sure that it would make a fantastic documentary. Davis agrees reluctantly, and his childhood friend Stuart helps them succeed.
The startling truth is revealed, though, as they begin their project's research and filming. In reality, the k*llings were committed by Davis' parents, Kenneth and Janet.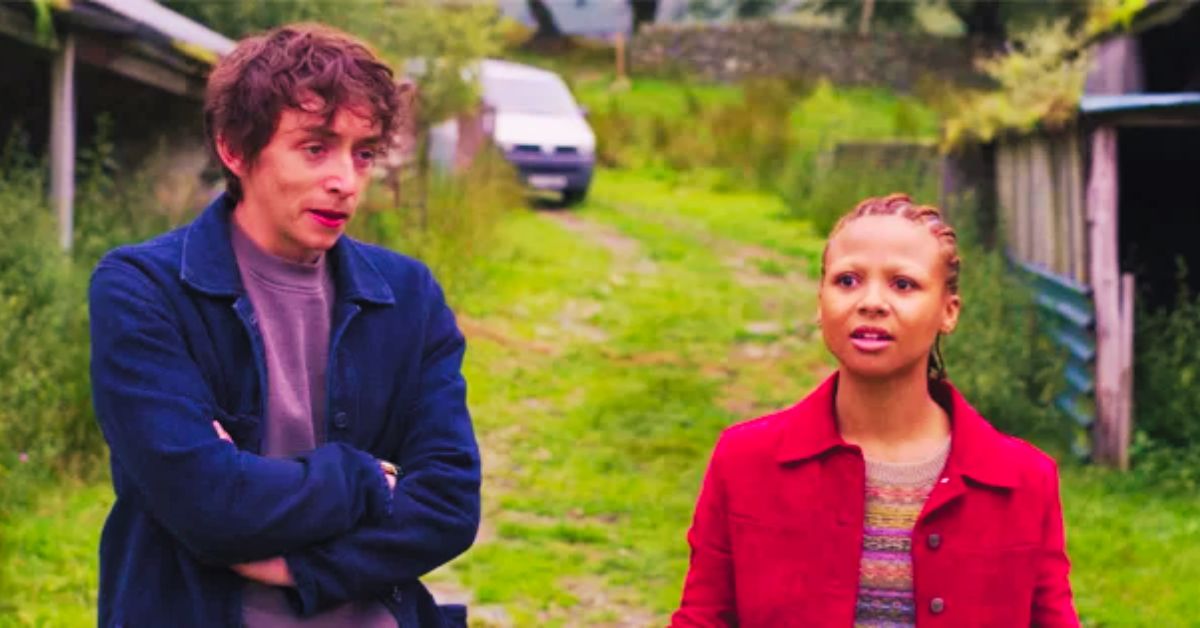 What Happened To Pia In Black Mirror Season 6?
Unfortunately, Piya di*s by the end of the episode. Once she finds out that Janet and Kenneth were involved in the crime, she tries to run away, but Janet catches her because she knows she found out about it.
Pia runs away into the dark fields and gets hurt when she trips and falls in a river. She seems to be out of it after hitting her face on the rocks, which makes a loud crashing sound.
We don't see Pia again after that. After a flash-forward to the future, we find out that a documentary has been made about the k*llings, including Kenneth and Janet's role and Davis and Pia's trip.
When Janet finds out she's been caught, she k*lls herself and leaves proof for Davis to find. The documentary wins a BAFTA Award, and while on stage, one of the filmmakers dedicates it to Davis and "his late girlfriend Pia," which proves that Pia is dead.
We never find out for sure how Pia di*s, but it looks like the fall was bad enough to k*ll her. One could think that Janet might find her and k*ll her, but I don't think she could. Also, the show would probably show something like that.
That's everything we know about Black Mirror Season 6. For updates on more forthcoming shows, follow us on Twitter.