Will there be a fifth season of the Black Clover anime? If so, when could it come out, and what happened in the after-credits scene of the movie?
The long-awaited return of the Black Clover series has finally happened. The Sword of the Wizard King movie just came out on Netflix around the world.
But as fans get ready to watch Asta and Yuno's latest adventure, many are beginning to wonder when the popular anime series will be back on TV. We still don't have official word on whether or not Black Clover season 5 will start production early.
The good news is that  the popular anime series should be coming soon. Here is everything you need to know about Black Clover season 5.
Will There Be a Black Clover Season 5?
As we've already said, neither Yuki Tabata, the author of Black Clover, nor Studio Pierrot have given any public confirmation that season 5 will be made.
Even though there hasn't been much news since the Sword of the Wizard King movie came out on June 16, the good news is that a fifth season of the anime version will almost certainly be made at some point.
This is because the anime version of Black Clover hasn't yet shown everything that has been printed in the original manga story, which is still going on in Japan's Weekly Shonen Jump magazine.
Black Clover: Sword of the Wizard King Movie is Now streaming on Netflix:
What did you think of Black Clover: Sword of the Wizard King Movie? ♣️

Now streaming on Netflix! pic.twitter.com/7a9tVGLL9y

— AnimeTV チェーン (@animetv_jp) June 16, 2023
Episode 170, which aired in March 2021 and was the last anime episode, was based on the manga series up to chapter 272. However, so far, a total of 361 chapters have been released in Japan and around the world through digital services such as Viz Media and Manga Plus.
Based on the fact that anime usually adapts about three chapters per episode, this means that the Black Clover TV show still has up to 29 episodes worth of material to cover.
The Black Clover franchise as a whole is famous and profitable enough for Studio Pierrot to start making a fifth season. The manga has sold more than 19 million copies all over the world, and the anime version has an impressive 8.14/10 grade on MyAnimeList, which has more than 1.5 million members and more than 780,000 reviews.
So, it should only be a matter of time before the public finds out that Black Clover season 5 is being made, but when is it expected to arrive?'
You Won't Be Able to Stop Watching These Addictive Seasons:
Black Clover Season 5 Expected to Arrive Soon
Since its first episode in October 2017, the anime series Black Clover has had a very different production process, which makes it hard to predict when season 5 will come out.
The first three seasons had either 51 or 52 episodes, but because the anime had caught up to the book by the fourth season, the number of episodes was cut to 16. The coronavirus pandemic in 2020 also made it hard to air the show.  Between shows 132 on April 28 and 133 on July 7, there was a two-month gap.
Even though the pandemic will have less of an effect on the anime industry in 2023, it's possible that the Black Clover TV show will still only come out once a year. This means no more 50+ episode seasons.
The good news is that fans may not have to wait as long for the anime series to come back, especially if Pierrot thinks there is already enough content to make another 16-episode season 5.
Overall, HITC thinks that the Black Clover anime series will come back with a fifth season either in April 2024 on the Spring slate or in July 2024 on the Summer slate.
Fans should also be aware of Studio Pierrot's present schedule for making new episodes. Since the company is already working on Bleach: Thousand Year Blood War Part 2, Boruto Part 2, the special episodes of the original Naruto, and Osamatsu-san, Asta's story may have to be put on hold for another slate or two.
Black Clover: Sword of the Wizard King Post Credit Scene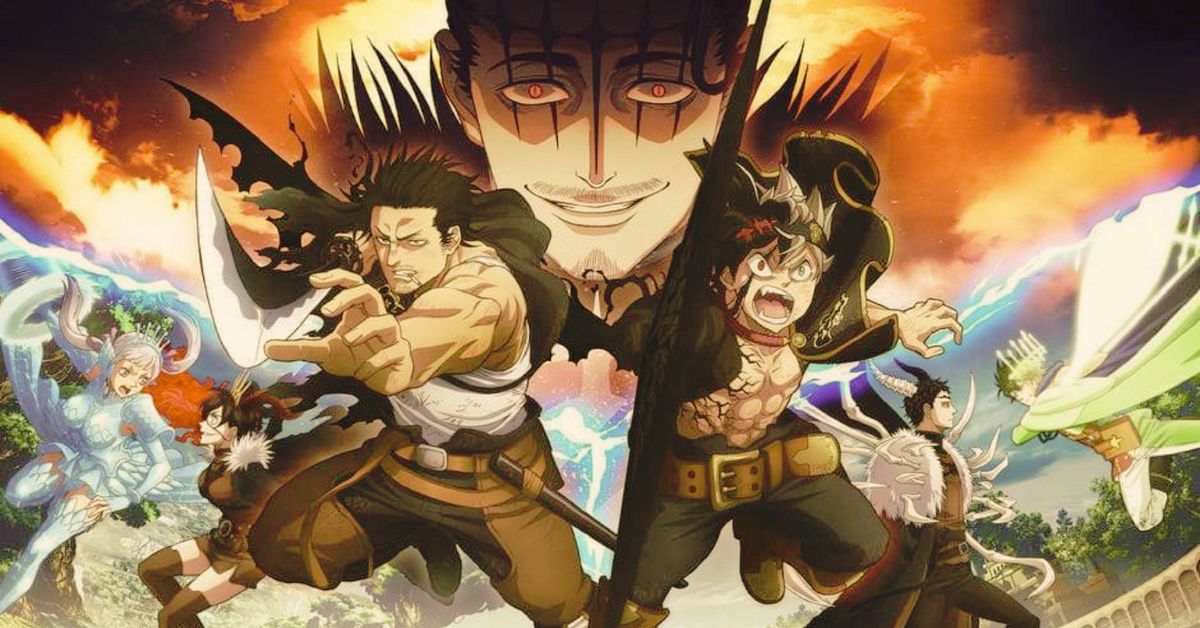 Be aware that there is a brief post-credit scene in the anime film Black Clover: Sword of the Wizard King, which contains a minor plot spoiler.
Black Clover: Sword of the Wizard King's after-credits scene starts with Asta sitting on a hill with a view of the demon skull while Yuno tells him to stop being lazy. The people of Hage are rebuilding their homes and the charity church. Yuno says, "The place was a mess, but it looks like things might be back to normal sooner than I thought."
Asta gets worried when she thinks about how Condrad was also a Wizard King. Yuno, on the other hand, smirks and says, "Not a chance."
Yuno and Asta both say again that they want to become the Wizard King. Then, with a happy smile on their faces, they both call forth their most powerful weapons. Yuno keeps saying "Not a chance," but it's clear that he enjoys Asta's dare now that The Triumph has been canceled.
Black Clover: Sword of the Wizard King ends with a scene after the credits where Asta and Yuno run at each other and yell that they will both be the next Wizard King at the same time.
What do you think of Black Clover Season 5? What has been your favorite Seasons so far? Let us know in the comments below. Also, follow us on Twitter for updates on upcoming shows.