Bravo should be preparing for Winter House season 3 and its icy drama now that Summer House season 7 has concluded. Last season saw the introduction of some new faces and some returning favorites. The slopes were rarely used, but the drama in the home quickly heated up due to the rapid formation of relationships.
Nobody knew what to anticipate from the spinoff Winter House when it initially aired in October 2021. Summer House and Southern Charm, two of Bravo's most adored programs, were combined in the series, featuring both actors. The little mansion was in Kyle Cooke's childhood ski resort in Stowe, Vermont.
The idea was the same: have great house parties, take advantage of some neighborhood pubs, hit the slopes, and cause tremendous drama. The marriage of Amanda Batula and Kyle, Sam Feher and Kory Keefer's developing romance, and Lindsay Hubbard's potential profound activation may all be included in the upcoming season. Here's everything you want to know about Winter Hous Season 3.
Winter House Season 3 News Updates
The biggest news from Winter House was that Kory, dating Jessica Stocker during the previous season, had begun to fall for Summer House newcomer Sam. Jessica's behavior changed in Season 2 of Winter House when gym owner Kory didn't put up much of a fight. However, the Winter House season 3 teaser released by Queens of Bravo announced Danielle Olivera's appearance and Amanda's return.
During last night's #SummerHouse, #WinterHouse 3 featuring Danielle & Amanda was teased 👀🏈 pic.twitter.com/lnTbYvvACe

— Queens of Bravo (@queensofbravo) June 6, 2023
In a scene of the actors playing football in the snow, someone unavoidably hits Amanda with a pass, giving her a Marcia Brady moment.
Is Winter House Season 3 Confirmed?
Winter House season 3 has been renewed, much to the surprise of Bravo viewers, as the network revealed in a clip following the Summer House season 7 final reunion episode. It wasn't an extended teaser but enough to demonstrate that the coming season will be fun and games. Production has already wrapped, and the picture was most likely shot this winter.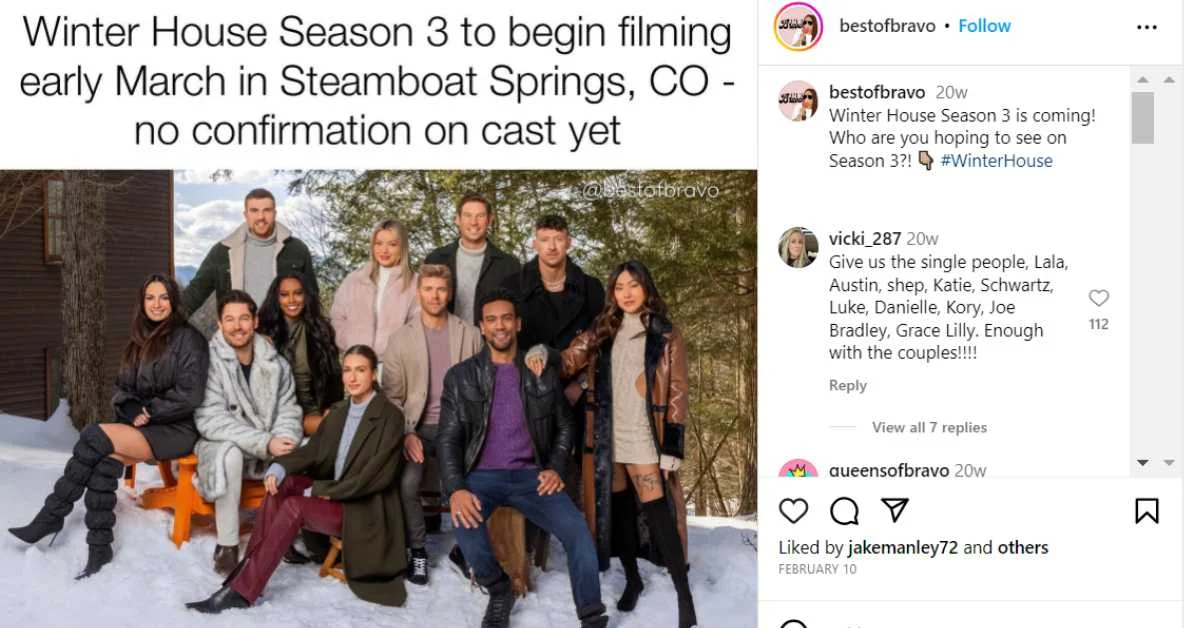 Winter House Season 3 Possible Release Date
The official release date for Winter House season 3 has yet to be announced by Bravo. However, it will most likely be October 2023. The last two seasons aired in October, so it stands to reason that Bravo will do the same for the current season. The series typically lasts until mid-December, just before the holiday season.
You must check out more related articles here we have provided you below:
Winter House Season 3 Cast
Nothing has been confirmed, although many Bravo stars have been speculated and observed filming. Summer House stars Amanda and Kyle are expected to return, and Danielle appears in the trailer. Bravo by Gays said on Instagram that Family Karma's Brian Benni,  Malia White, Below Deck's Rhylee Gerber, and Katie Flood may be joining.
View this post on Instagram
Vanderpump Rules' Tom Schwartz took a weekend trip last season and is said to be returning in a larger capacity but without his sidekick, Tom Sandoval. There are even rumors that Tom and Katie may get together in the upcoming season of Winter House.
Keep up with Leedaily.com if you're interested in learning more about the topics discussed in the preceding sentence. This is because more data will be available in that location.