Britney Spears stated on social media that a security guard for NBA player Victor Wembanyama "backhanded" her.
This incident happened on Wednesday night, July 5th, in Las Vegas when Spears stated she wanted to meet Wembanyama, the San Antonio Spurs' celebrated new draft pick.
Spears posted on Her Instagram Handle on Thursday, July 6th-
"I recognized an athlete in my hotel lobby as I was heading to dinner. I decided to approach him and congratulate him on his success. It was really loud, so I tapped him on the shoulder to get his attention."
She wrote-
"His security then backhanded me in the face without looking back, in front of a crowd. Nearly knocking me down and causing my glasses off my face."
View this post on Instagram
On Instagram, Spears' husband, Sam Asghari, criticized the security guard. Asghari wrote Thursday in a story that has since been deleted. But we have provided you some screenshots of Sam Asghari's Instagram story below:
"The violent behavior of an out-of-control security guard should not cast a shadow on the accomplishment of a great young man on the rise."
Asghari stated-
"I can't imagine a scenario where an unarmed female fan showing any kind of excitement or appreciation for a celebrity would cause her to be physically assaulted, much less being hit in the face for tapping someone on the shoulder."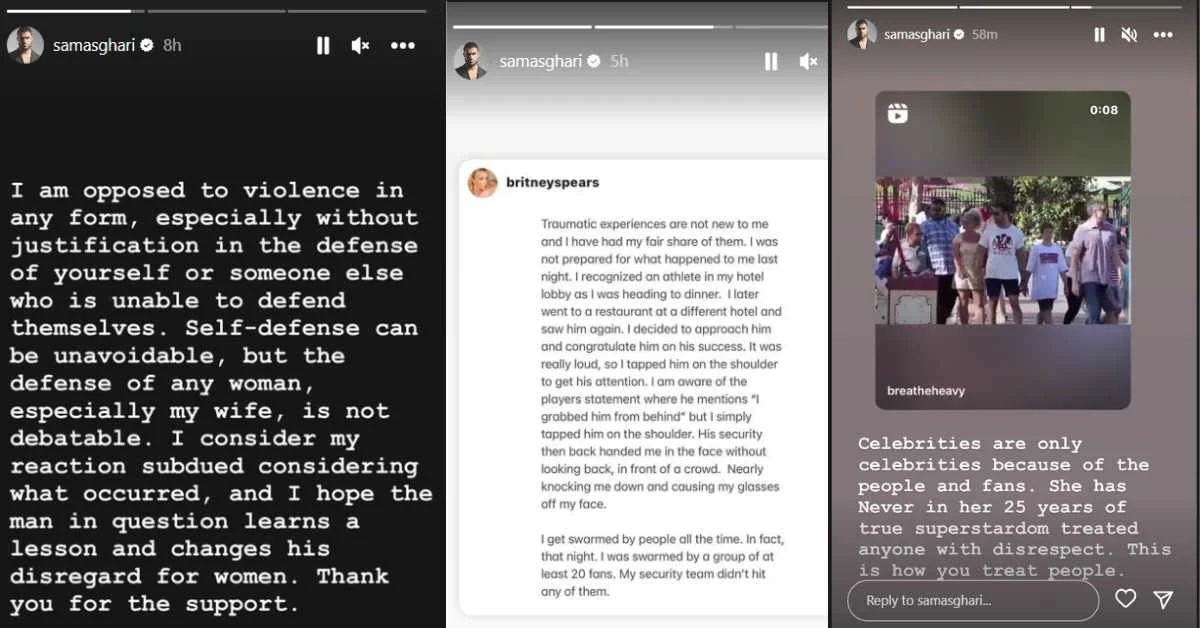 We recently discussed some other hot topics about Britney Spears and her marriage. To find out more, look at the links below:
Wembanyama told reporters that "something did happen" as he walked to a restaurant with Spurs protection. We have included a tweet below that was officially posted by CassidyHubbarth in which Wembanyama speaks to the reporters.
He explained-
"We talked before with the security and told the security 'Don't stop,' because it's going to make a crowd."

"That person grabbed me from behind, not on my shoulder. I just know that the security pushed her away. I don't know with how much force."
He stated-
"Turns out it was Britney Spears. I didn't know, because I never saw her face. I kept on walking straight."
.@vicw_32 on the situation last night involving Britney Spears pic.twitter.com/I0mHJvJzs4

— Cassidy Hubbarth (@CassidyHubbarth) July 6, 2023
In her post, Britney Spears denies grabbing Spurs sensation Victor Wembanyama. Las Vegas police say officers responded to a home in the 3700 block of Las Vegas Boulevard for a battery investigation. Officials said the incident happened at the Catch Hotel, located at 3730 S. Las Vegas Blvd.
According to officials, no arrests or reservations were issued. Asghari blamed the event on security workers and blasted "a systemic culture of disregard for women within sports and entertainment." He wrote that he looks forward to needed changes coming from the top.
"I have yet to get a public apology from the player, his security, or their organization. I also don't appreciate nor do I think this is a laughing matter. Watching the player smile and laugh was cruel and demoralizing with the situation that took place."

"It's important to share this story and to urge people in the public eye to set an example and treat all people with respect."
TMZ initially reported the incident first. Follow us on Twitter for more latest and breaking headlines on your favorite stars.