Ellen Pompeo has criticized Netflix for failing to pay residual payments as Hollywood grinds to a stop due to the SAG-AFTRA strike.
The Writers Guild of America went on strike last week, and the actors' union decided to join them by voting to join the picket lines. The Screen Actors Guild is on strike for the first time in 43 years.
Actors are striking over changes to how residual payments are calculated in addition to receiving higher base pay, improved working conditions, and guarantees that AI won't replace their jobs. Actors receive additional residual income each time their shows or forms are replayed on screen when they air on terrestrial TV.
The fact that the cast members of long-running terrestrial sitcoms like Friends or The Big Bang Theory are among the highest-paid TV actors of all time is due mainly to residuals.
The stars of several Netflix series claim they received meager pay for their work on their individual projects, even though performers are now rarely paid residuals in the streaming era.
The Grey's Anatomy star Pompeo appeared to support striking actors on Tuesday (18 July) when she criticized Netflix for their residual payout methods.
The 53-year-old, who spent 18 years on Grey's Anatomy before leaving the medical drama in 2023, reposted a screenshot of the streamer's TikTok post on Instagram Stories. The original post included a moment from Grey's Anatomy season two, where a young Meredith Grey (Pompeo) stood with her arms crossed.
"Me when there's a [bomb emoji] in the chest cavity," Netflix stated in the caption.

"Also me when @netflix doesnt pay actors residuals holla let's talk [sic]," Pompeo wrote.
In a recent social media post, Pompeo calls out Netflix over residuals, a screenshot of which is provided below: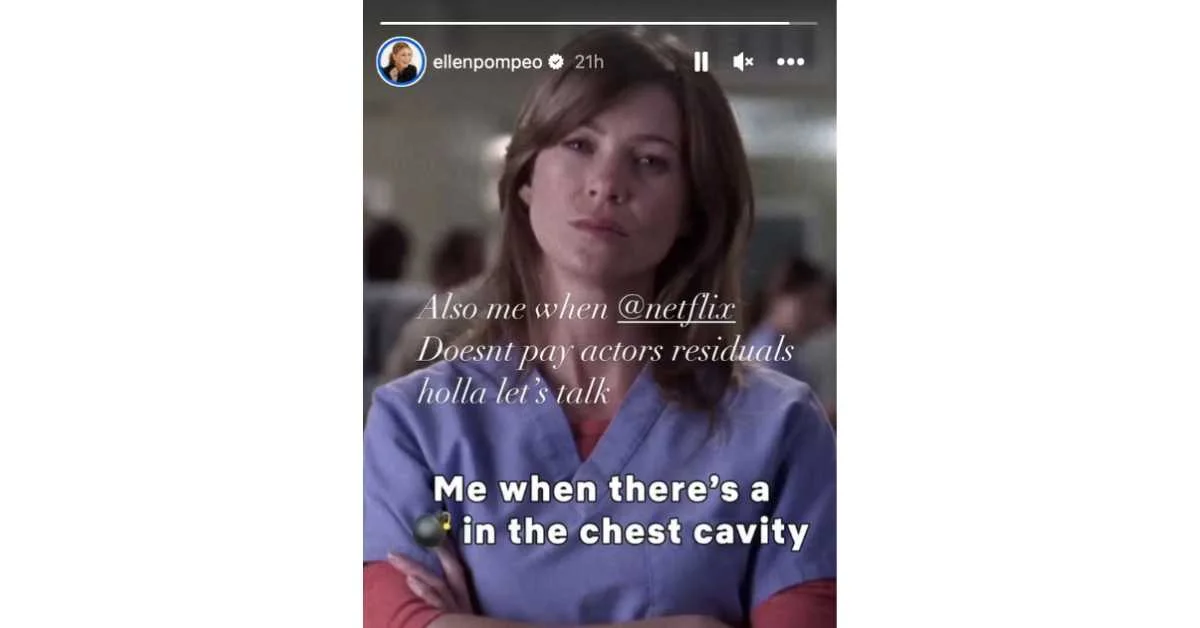 While Grey's Anatomy is not a Netflix original, it has been airing on ABC since 2005, and US users can watch it on Netflix. Pompeo's comments come as actors and screenwriters have spoken out about their "appalling" pay situations in Hollywood.
Among them are some Orange is the New Black cast members who spoke out on social media and in an article for The New Yorker.
If you want to learn more about Ellen Pompeo, follow the links below:
Kimiko Glenn, who played Brooke Soso, said she only got $27.30 (£20) in streaming residuals in 2020.
"I remember a lot of comments back when I posted that were like, 'Guys guys guys, they got paid upfront,'" she explained. "First of all," she asserted, "whether or not we got paid upfront, my t**s live on in perpetuity. I deserve to get paid for as many f***ing streams as that s*** gets."

She went on to say that "people were still bartenders, people had their second jobs still."
Glenn, 34, claimed in the clip-
"They were f***ing famous as s***, like internationally famous – couldn't go outside – but had to keep their second jobs because they couldn't afford to not. We couldn't afford cabs to set… you guys!"
Take a look at the official TikTok post that Kimiko Glenn uploaded on TikTok-