Supposed photos from Disney's impending live-action adaptation of Snow White began circulating online, creating a debate about the casting decision. Netizens chastised Disney for casting the eponymous character and the diverse cast of dwarfs.
On Friday, July 13, the Daily Mail published the alleged leaked photographs, calling the depiction of the Disney princess' famous seven companions "politically correct." They said the photos were taken on the film set in Bedfordshire, England.
The pictures depict an actress wearing the princess' distinctive blue and yellow gown with a crimson cape. Along with the princess, the photographs show seven other female and male actors dressed as Snow White's attendants.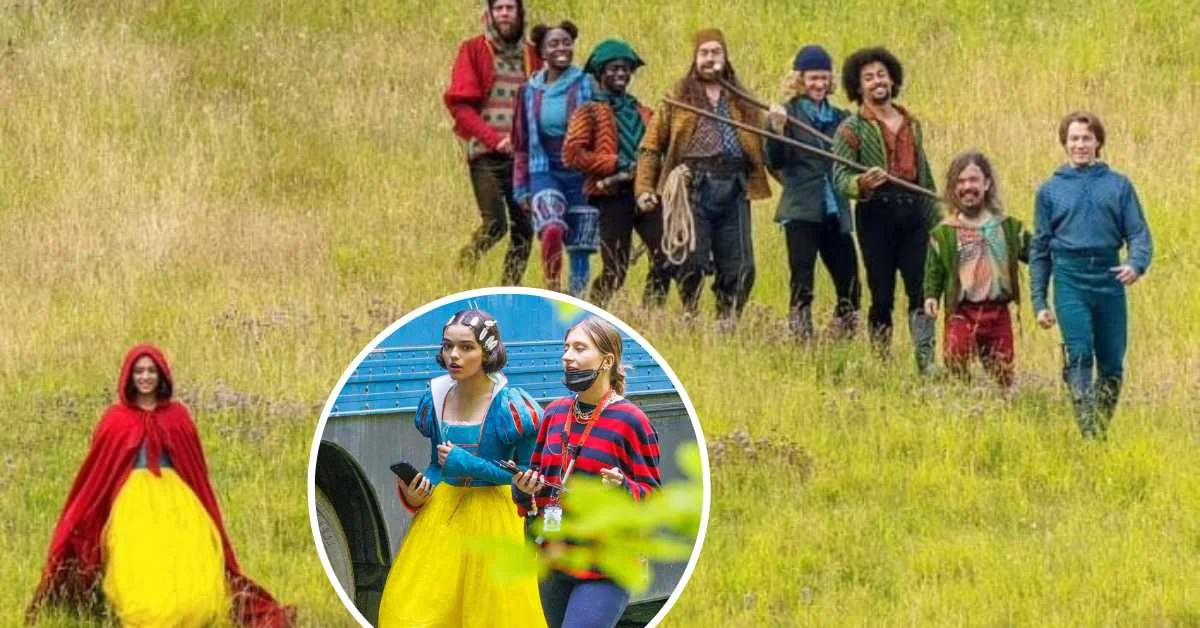 The original cast was chosen by Disney for the live-action version in 2021, with "West Side Story" heroine Rachel Zeglar playing the title character and Gal Gadot as the Evil Queen. On the other hand, the actress in the images provided by The Daily Mail bore no resemblance to Zeglar.
According to the outlet, the princess' entourage appeared of various nationalities, heights, and genders. Conservatives quickly slammed the supposed set images for their "wokeness." One user, @ada_lluch, called to boycott Disney.
On the left you can see a picture of the Snow White and the Seven Dwarfs.

On the right you can see the cast that Disney chose for the remaking of Snow White and the Seven Dwarfs.

They want to traumatise children. BOYCOTT DISNEY.💔 pic.twitter.com/6FWv6nOtsZ

— Ada Lluch 🇪🇸 (@ada_lluch) July 14, 2023
You can also read the release dates of another upcoming series:
Netizens Oppose Disney's Casting for the Next Snow White Film
People turned to Twitter to express their displeasure with Disney for straying from original Disney storylines as soon as the leaked photographs from the film's production went viral. They were strongly opposed to Disney making cinematic versions in which persons of completely different ethnicity, gender, or race were cast than what was depicted in the original stories.
Many argue that it dilutes the spirit of the stories and confuses children. Many people have pointed out that German authors penned the narrative of Snow White, and the characters are likewise of German heritage. They chastised Disney for casting Rachel Zeglar, who is of Colombian descent.
Most famous children's stories, like Snow White, were originally written by Germanic authors. The characters are German, Dutch or sometimes French.

No one would take African folklore and make it White. That would detract from its cultural value.

Disney is ruining culture and… pic.twitter.com/oAzJfuhF9z

— Madeline Kazantzis (@MadelineKaz) July 14, 2023
I cannot quantify the amount of ammunition Disney has given content creators the past few years. It's been a gift from Hollywood in general, but stuff like this new #SnowWhite is just pure rocket fuel. Who green-lights this stuff? Lol pic.twitter.com/Ln7RdWh77O

— Matt Swaim (@mattswami) July 14, 2023
Disney's remake of Snow White and the Seven Dwarfs features a Latina as Snow White and what appears to be a gender studies group of "companions."

In an act of stunning bravery, Snow White will come out as non-binary and travel through the forest to California to receive… pic.twitter.com/dEaoubbJZx

— Greg 🇺🇸🇬🇷🏳️‍🌈🤴🏻👑🍿🍿🍿🍿 (@gregissnacking) July 14, 2023
Meet the cast of Disney's new woke Snow White film. Snow White is Columbian now and the 7 dwarves look more like the 6 normal sized hipster pedos and 1 dwarf from Portland. Snow White no longer has "skin white as snow". Absolutely ridiculous. pic.twitter.com/DKZInYty89

— Robby Starbuck (@robbystarbuck) July 14, 2023
I'm Latino. None of us asked for this. When we saw Snow White as kids none of us thought that a story about a super white German princess would be so much better if they'd just cast a Latina to play her role. Her name is literally SNOW WHITE! Woke Disney deserves to go broke.

— Robby Starbuck (@robbystarbuck) July 14, 2023
Welcome to some of the first images from Disney's live action remake of Snow White and her DEI Dwarfs. Snow White is played by a Hispanic actress and there's only one dwarf and 6 full gown adults. Disney says it's taking the casting of the film in a "new direction" to "avoid… pic.twitter.com/sqiRHkyf97

— Charlie Kirk (@charliekirk11) July 14, 2023
Snow White is a 19th century German fairy tale. The name literally refers to the character's skin color. This is what actual cultural appropriation looks like. Probably the most blatant case we've seen yet. https://t.co/erALE33kj0

— Matt Walsh (@MattWalshBlog) July 14, 2023
How do you describe these 'seven dwarves' from the new Snow White live action movie? pic.twitter.com/AvOaZ4qexy

— AlphaFox (@Alphafox78) July 14, 2023
The new Snow White remake looks… odd to say the least.🧐#Disney #SnowWhite pic.twitter.com/x06tLKkOiD

— MonaTweets (@billymonahan128) July 15, 2023
Disney Responds to Rumored Set Photos From the Film
The dispute over the live-action version grew even more heated on Friday when a Disney spokesman claimed the viral photographs were false. The photos are fake and not from our production. We are currently trying to have the Daily Mail issue a correction.
When pushed to respond to Disney's comment, the outlet claimed that the production studio confirmed the stand-ins for Zeglar and Andrew Burnap in the stolen photographs.
Disney has now confirmed the set photos published in news outlets were from their production of Snow White after all… soooo I would like to apologise for my previous apology 😂

Snow White and the 7 Hipsters – In theatres 2024! 😂 pic.twitter.com/wyjXiRml8z

— Jack Kendall (@ivebeenjack) July 14, 2023
A Disney spokeswoman later emphasized to a different site that the images posted by The Daily Mail were not genuine photos from the film itself.
Game of Thrones star Peter Dinklage discussed the casting of Disney's forthcoming live-action version of the German fairy tale in January 2022. He was surprised when Disney boldly cast a "Latina" as the title Snow White. He stated that the casting did not make sense to him.
You can follow us on Twitter and read other recent articles in which we discuss fresh updates on various shows, series, and episodes, among other things.