Ariana Grande has been in many prominent relationships, but her union with wealthy real estate agent Dalton Gomez was remarkably low-key. The singer was caught kissing an unknown man in Los Angeles, eventually identified as Gomez, over two years after ending her brief engagement to comedian Pete Davidson in 2018.
The couple started dating in January 2020 and frequently visited Grande at her New York City residence. She followed Gomez back to Los Angeles when he returned to work in March when the coronavirus outbreak struck the United States.
The pair announced their engagement in December 2020, and in May 2021, they wed in a small ceremony at their Montecito home. Gomez is extremely diligent and attentive, according to a second source. He is reserved and dislikes the spotlight. He needs to be more impressed by famous people. He's ideal for her.
They had kept their romance private even since getting married. Even so, Gomez occasionally pops up on Grande's social media pages, as shown in the November 2022 photo of the two sharing a smile.
Who is Ariana Grande's alleged ideal match? You need to know everything about Dalton Gomez and his relationship with Grande, from their dating experiences during the pandemic to their marriage.
Dalton Gomez is a Luxury Real Estate Agent
Gomez was born and raised in Southern California, though it is unclear exactly what area he is from, whereas Grande was raised in Boca Raton, Florida.
Gomez is a Los Angeles real estate agent, not an entertainer like Grande and most of her well-known ex-boyfriends. He works with A-list customers in his current position as director of the estates' division for the Aaron Kirman Group, a luxury real estate firm.
Gomez has seven years of experience in the luxury real estate market, according to his company's website, and served as the director of operations for Aaron Kirman Group during his first three years in the business, "running all day-to-day operations for one of the top luxury real estate teams in L.A."
Dalton Gomez Has Celebrity Friends
Gomez may not be a mega-celebrity like Grande, but he surely moves in the same circles. In 2017, Gomez posted an Instagram Story snapshot of himself with Miley Cyrus (among other friends) with the comment "Hoodlums."
Dalton Gomez via Instagram Stories pic.twitter.com/wm5j3WUOKV

— Miley Cyrus Germany🇩🇪 (@MCyrusDE) July 9, 2017
Dalton Gomez Has a Private Instagram Account
Although the realtor has his Instagram account, he kept it private not long after the information about his relationship with Grande became public. He and Grande may be seen in a black-and-white photo on his site, and Grande follows her spouse on social media.
By uploading a picture from her husband's Instagram Story, Grande gave viewers a look into her husband's social media profile on Valentine's Day, 2023.
The couple posed for the photo holding hands and cuddling in front of lush vegetation. "My forever valentine," Gomez wrote as the caption on the photo, while Grande later reposted it with the words "I love you."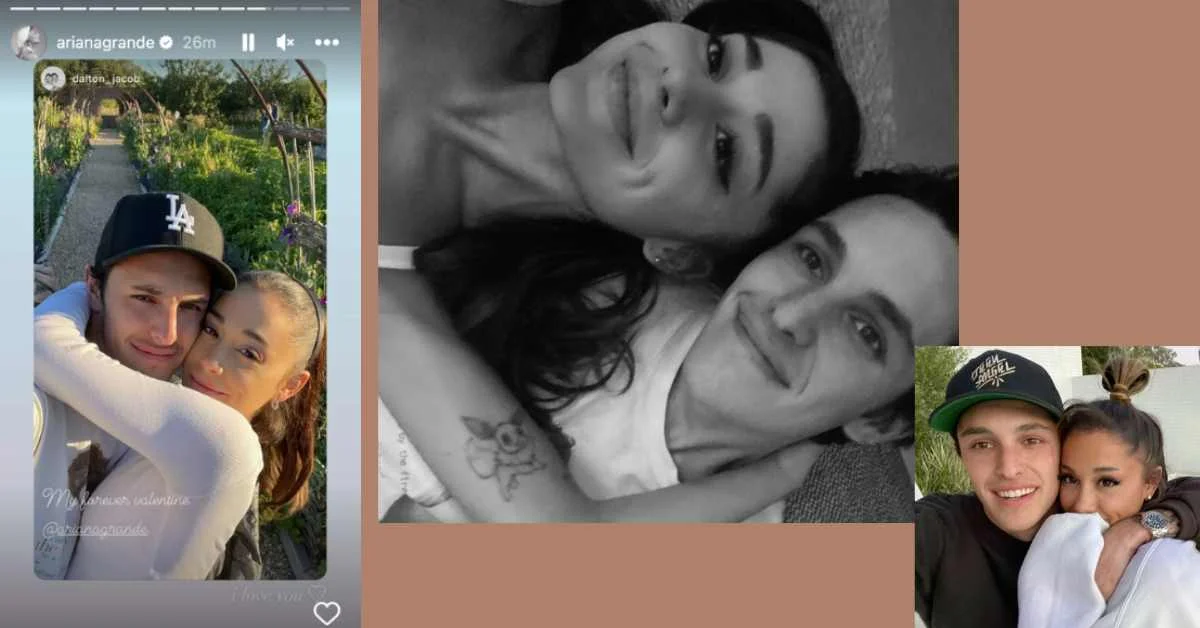 Dalton Gomez Has Many Tattoos
Gomez loves body art just like Grande does. His enormous tattoos, some of which were done by his brother, tattoo artist Dakota Gomez, are what is most noticeable about him. Dakota has shown on Instagram the artwork he created for his brother, which features a Tibetan offering bowl on his forearm and three horses on his bicep.
Ariana Grande and Dalton Gomez Began Dating in February 2020
In March 2020, the couple's relationship. The previous month Grande had been seen kissing an unidentified man outside of Los Angeles; the publication eventually revealed the man to be Gomez.
According to a source, Grande and Gomez have been dating secretly for roughly two months. The two were quarantining together in the singer's Los Angeles home.
 "Ariana is staying at home with friends. She is very serious about self-distancing and has been with the same group of people for days. One of the people she is with right now is Dalton — they have been hanging out for a couple of months. Ariana doesn't want to do another public relationship so she is trying to keep this one quiet, but she seems very happy with Dalton."
Dalton Gomez Proposed to Ariana Grande in December 2020
After almost a year of dating, Grande announced her engagement to Gomez on Instagram on December 20, 2020. Photos of the couple and her engagement ring, which has an oval-shaped diamond and a pearl, were included in the article. The collection of pictures was titled "Forever n then some" by Grande.
The most recent article on celebrity Husband is available below:
Dalton Gomez Married Ariana Grande on May 15, 2021