Miley Cyrus' 'unrecognizable' new look surprised watchers when she appeared on The Tonight Show with Jimmy Fallon, as her teeth and facial structure 'looked different,' as Instagram users remarked in a series of photographs. As she spoke with host Jimmy Fallon, the diva looked magnificent in a blue shirt and black leather suit. Her hair was styled blonde and wavy, revealing her rich brown roots.
Miley appeared on the show to promote her NBC special, Miley's New Year's Eve Party, which she co-hosted with her godmother, Dolly Parton. The Hannah Montana star previously indicated that the special will be 'legendary,' focusing on 'looking your best.' Many fans hailed the Wrecking Ball singer's "beautiful" and "amazing" appearance, while others criticized the visible alterations.
For years, rumors about Miley Cyrus having work done have circulated. And now, as her eighth studio album, Endless Summer Vacation, is about to be released on March 10, fans speculate that the "Muddy Feet" singer may have had blepharoplasty based on some previous photos of the 30-year-old.
View this post on Instagram
What Exactly is Blepharoplasty?
Blepharoplasty is a type of plastic surgery that removes extra skin from the upper and lower eyelids. People with hooded eyes typically use this surgery to open their eyes and make them appear larger. At the same time, many people have eyelid surgery for cosmetic reasons, some for functional reasons. Blepharoplasty, for example, is used to remove skin that impairs vision.
Celebrities such as Cameron Diaz and Catherine Zeta-Jones have reportedly had blepharoplasty. It's the new method of removing buccal fat! If you have hooded eyelids, there are makeup tips you may employ to enhance your eye form.
Did Miley Cyrus Have Blepharoplasty?
While we don't know if Miley had blepharoplasty, the "We Can't Stop" singer's before and after photos don't lie! While makeup may accomplish a lot with professional contouring, highlighting, and simple lighting, only so much can be attributed to getting rid of something as "unchangeable" as hooded eyelids—it appears that blepharoplasty takes care of the rest! "How'd she go from hooded eyelids, to not?" a person wondered. Another commenter compared her to the ever-changing, almost unrecognizable Madonna, saying, "I see Madonna."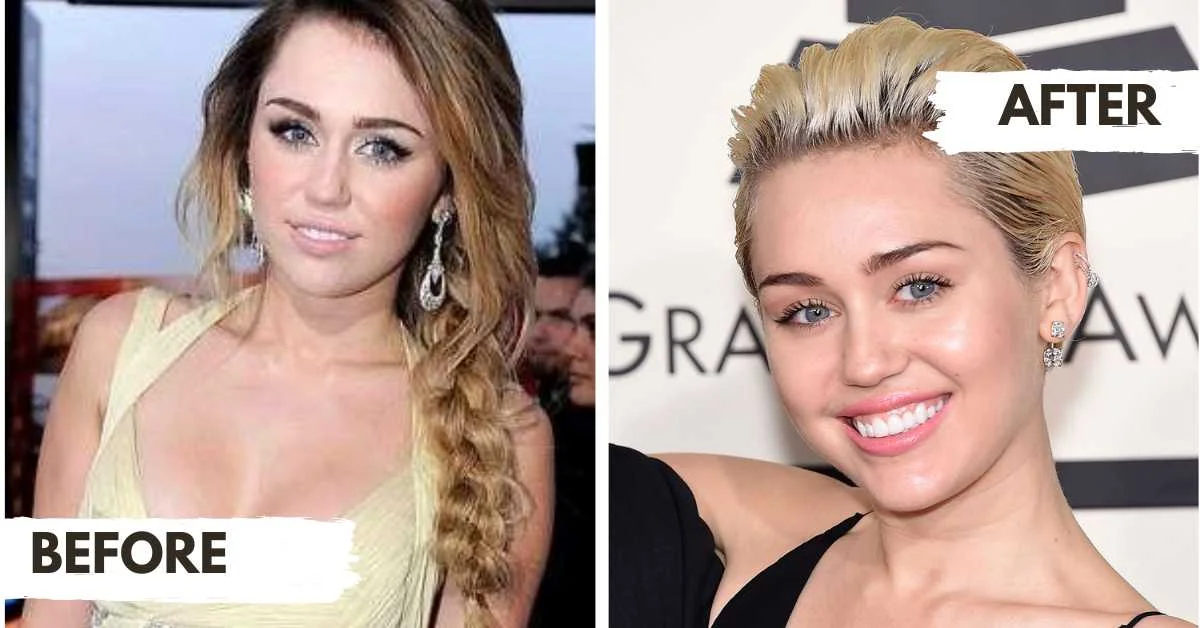 Plastic surgery has grown in popularity. Fans also discuss how certain celebrities have undergone plastic surgery. Check out the following links:
Miley's Appearance Has Undergone Other Changes
Fans also pointed out that she seemed to have chin implants. This procedure is done to increase the size of your chin, typically with a flexible silicone implant, to bring definition and balance to your chin and jawline. "What's going on with her chin area? It's like the tip of her chin receded upwards."
People also suggested that she get gum contouring, which is utilized to reshape or resculpt your gumline. This surgery removes extra gum tissue from around the teeth.
At the end of the day, comparing images of superstars when they were initially in the spotlight at a young age with photos of them now may not be fair. Our faces can alter dramatically for a variety of causes. "I think comparing a photo when she was 14/15 with a photo of [when she was] 27/28 is unfair. My face has also changed so much with the years; even my nose is so much thinner, and I have never had surgery," another commenter said.
Miley looks beautiful in either case, and she even debuted a new two-toned haircut on a public trip with her boyfriend Maxx Morando, 24, on Thursday, March 9 at the Versace Fall-Winter 2023 catwalk show.
You can follow us on Twitter and read our most recent updates for the most up-to-date information on your favorite celebrities' health, procedures, and personal life.