Kristin Chenoweth has gotten married. Over Labor Day weekend, the singer married her longtime lover Josh Bryant.
On September 2, the Tony Award-winning actress and singer, 55, said "I do" to her musician husband Josh Bryant in a lovely wedding ceremony in Dallas, Texas as reported by People.
Get all the romantic details from the star's wedding, including who her spouse is and everything you need to know about their love, down below.
Who is Kristin Chenoweth's Husband?
Josh is a musician from Arkansas. Backroad Anthem, a Fayetteville-based country-rock band, has published songs such as "Small Town Fame," "Feel This Night," "Fishing For a Country Girl," and "Curfew."
View this post on Instagram
How Did Kristin Chenoweth and Josh Bryant Meet?
Kristin met her now-husband through his band! Backroad Anthem first met Kristin when they performed at her niece's wedding in 2016. They reconnected two years later at her nephew's wedding when Josh's band performed once more.
"We had become friends by this time, and that's when he came on strong," Kristin said to People, adding, "Josh asked me where I was going to be playing next, and it was North Carolina. I said, 'I'm busy. I don't have time, da, da, da.' And he shows up to the concert and that was it for me."
If you're wondering how much money Kristin Chenoweth makes in her life, then you should look at the link below:
When Did Kristin Chenoweth Tie the Knot?
Kristin married in front of 140 of her closest friends and family, including fellow stars Kenny Ortega, Kathy Najimy, David Foster, and Katharine McPhee, during Labor Day weekend.
The newlyweds celebrated with a rehearsal dinner at Capital Grille before actually sealing the knot on Saturday at a Dallas private estate; their pet dog Thunder served as ring bearer and went down the aisle to AC/DC's classic "Thunderstruck."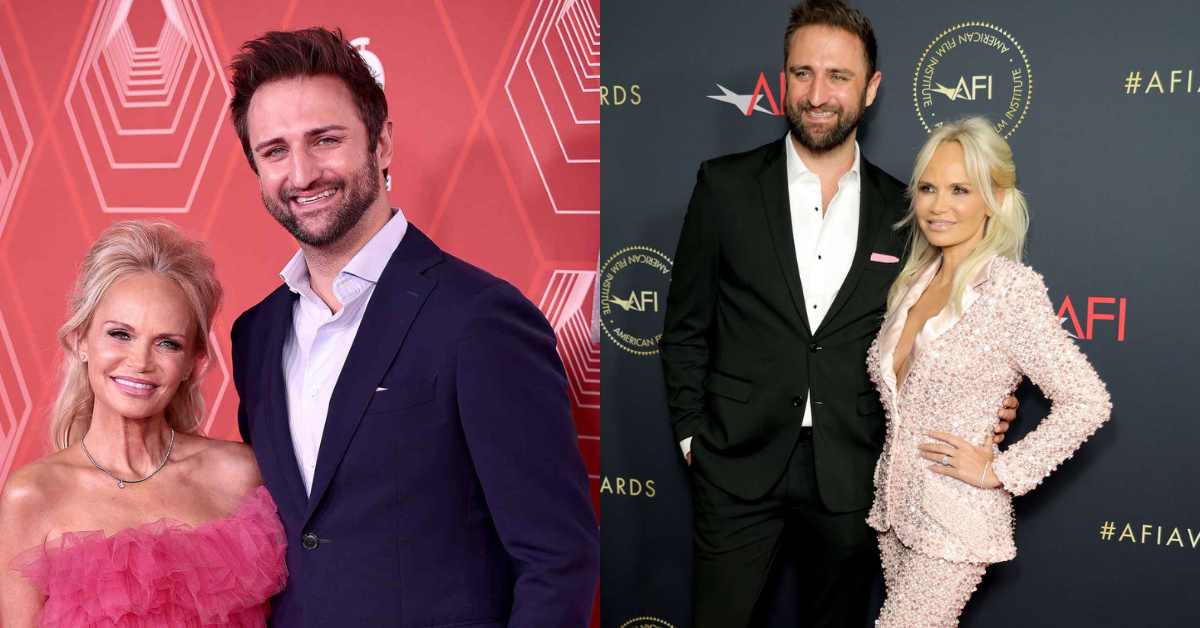 Kristin looked stunning in a Pamella Rowland gown with a nude and pink overlay, embroidered pearl flowers, and a large bow at the back.
"I didn't want to wear white," she explained, adding, "Simple and elegant. I never thought I'd get married, so I went very nontraditional with the gown. I love it."
What is Kristin Chenoweth's Husband's Age?
Josh is 41 years old, and Kristen is 55. The latter commented on their 14-year age difference, saying, "Josh is 14 years younger than me, and I thought that was ridiculous."
"I'm never going to do that in my life, ever," she thought, but then continued, "But he's made me feel very confident and beautiful and loved at any age."
Has Kristin Chenoweth Previously Been Married?
Kristin married Josh for the first time after previously being engaged to actor Marc Kudisch from 1998 to 2001. Kristin and Josh got engaged in 2021 after dating since 2018, and she previously said, "I was never going to get married. I even got engaged before and couldn't do it. Until I met Josh. Then I was like, 'Why would I ever let this guy go?' I'm so blessed."
If you want to learn more about the spouses of famous people, you may follow us on Twitter.