Dr Disrespect is the online name of Herschel "Guy" Beahm IV, a well-known American internet personality and former-level creator. Dr. Disrespect is charismatic and mysterious. Dr Disrespect became famous as a popular Twitch streamer who played competitive online games like Call of Duty and PlayerUnknown's Battlegrounds. He was known for his trademark mullet wig, sunglasses, and tactical vest.
Millions of people watched him because of his unique mix of high-energy gameplay, funny banter, and a mysterious character image. But in 2020, he was suspended from Twitch, which caused a lot of controversy. This made his online appearance even more interesting.
Who is Dr DisRespect?
Guy Beahm, often known as Dr DisRespect, is an American Twitch streamer, YouTuber, and social media influencer. He is well-known for his eccentric attitude and his ability to entertain people while sporting a mullet wig, a moustache, and sunglasses.
Being a frequent streamer on Twitch, he frequently plays battle royale games including "H1Z1: King of the Kills," "Apex Legends," "PlayerUnknown's Battlegrounds," "Fortnite Battle Royale," and "Black Ops 4: Blackout."
In addition to Twitch, he has a sizable following on YouTube. He doesn't just broadcast live on YouTube; he also uploads dramatic commentary videos, vlogs, and humorous skits. Some of the most watched videos on his channel are "Shroud & Dr Disrespect showing how it's done at Dreamhack," "Dr. Disrespect goes SHOPPING," and "Dr. Disrespect discovers he is an Absolute Natural in Rainbow Six Siege."
Along with being a popular streamer, he also owns a clothing line called "Slick Daddy Club." Leading companies like "ASUS," "Razer," "G-Fuel," and "Gillette" are among those that sponsor him.
Dr DisRespect shared a post on Instagram :
View this post on Instagram
Dr Disrespect Biography
On March 10, 1982, Herschel Beahm IV was conceived. He played NCAA Division II basketball at California State Polytechnic University, Pomona, where he received his degree in 2005.
Dr. Disrespect was chosen to serve as Sledgehammer Games' community manager on March 16, 2011. He joined Justin. tv while he was employed by Sledgehammer and left the company in 2015 to concentrate on a full-time streaming career. Justin. TV later changed its name to Twitch.
Dr Disrespect amassed a following for his participation in battle royale games, first with H1Z1 and subsequently with PUBG: Battlegrounds and Call of Duty: Black Ops 4. On February 5, 2018, his stream attracted 388,000 total concurrent viewers, falling just short of Tyler1's record of 410,000. His popularity has resulted in sponsorship agreements with Roccat, Game Fuel, ASUS, Gillette, and more.
Dr Disrespect became a client of Creative Artists Agency on January 10, 2019. In March 2020, he agreed to a multi-year contract with Twitch. He said on August 17, 2020, that he was penning a memoir titled Violence. Speed. Momentum. The release day for the book was March 30, 2021.
Dr. Disrespect and Hi-Rez Studios collaborated to create a unique terrain and Dr. Disrespect's character skin for Rogue Company in October 2020. Dr. Disrespect announced in December 2021 the opening of Midnight Society, a triple-A gaming studio that will be run by him, Call of Duty and Halo veterans Robert Bowling and Quinn DelHoyo, as well as Sumit Gupta serving as CEO.
The firm will prioritize online player versus player multiplayer games and focus on establishing a "day-zero" community experience where players will have the opportunity to choose the games' "feature prioritization, pivotal design decisions, and fuel innovation in the shooter genre." Codenamed Dead Drop, their next free-to-play battle royale game, has drawn criticism for the marketing of "Founder's Access" NFTs.
Here you can also check our recent articles:
What Games Does Dr Disrespect Play?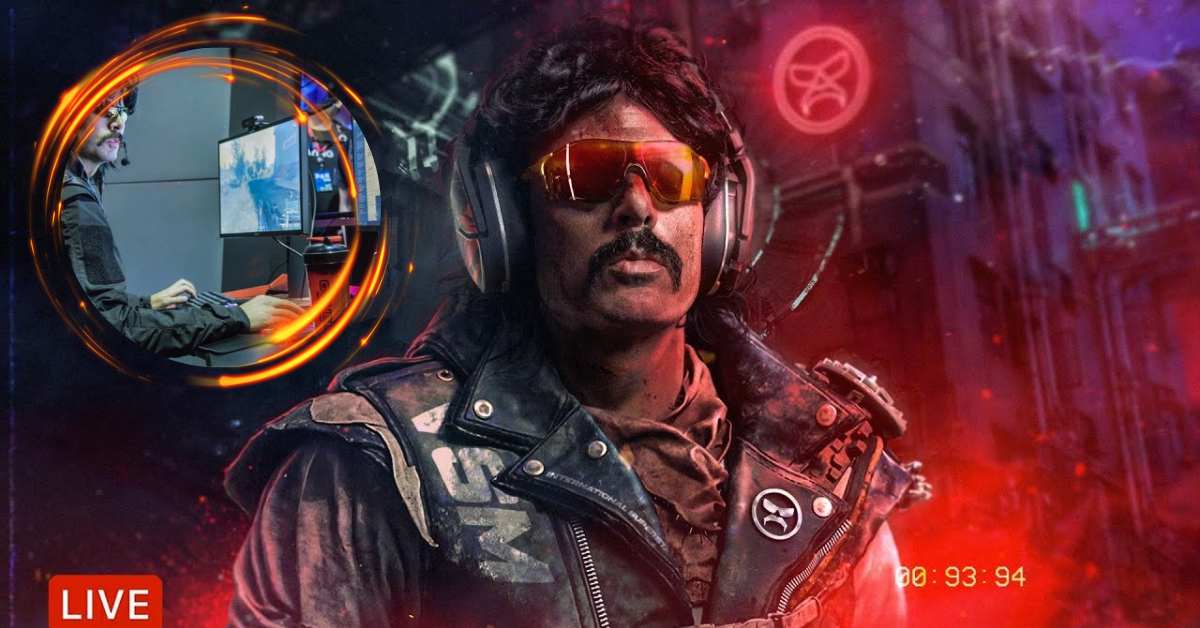 Battle Royale and first-person shooters are two of Dr Disrespect's favourite video games. His favourite games are Call of Duty: Warzone, PUBG, Apex Legends, Fortnite, and Escape from Tarkov, which is not unexpected.
The two times have also dabbled in popular games throughout the years, including Sea of Thieves, Fall Guys, and Elden Ring. He always goes back to his favourites, even though they make him angry.
Why is Dr Disrespect So Popular on YouTube?
In reality, nobody in the streaming industry is quite like Dr Disrespect. The two times are absolutely unique, largely due to the fact that he is a larger-than-life figure and people adore him for it.
He engages with fans frequently and is a charming, boisterous, and energetic entertainer. Additionally, compared to other players, he has more violence, speed, and momentum in a single hair on his moustache.
One of the most devoted and ardent fan bases in the scene, the Champions Club, is his, and it's still expanding. On YouTube alone, they have more than four million subscribers, so they could essentially constitute their own nation.
Why Was Dr Disrespect Banned From Twitch?
One of the unsolved elements of the streamer's tale is how, after entering into a significant multi-year contract with the streaming service, he was mysteriously banned from Twitch in 2021.
The reason he was expelled from a platform that believed he was valuable enough to pay a lot of money to have exclusively just a few months prior is still unknown, but the fallout was swift and unanticipated.
The streamer had been "in violation of our Community Guidelines or Terms of Service," according to Twitch's notification, which was the only formal statement made thus far. However, the platform never made it clear what particularly sparked the action or whether the Terms of Service or Community Guidelines had been violated.
The streamer's tweet stating that the problems had been rectified and that neither party had done anything wrong was the sole other acknowledgement:
Moving on. pic.twitter.com/aA4KfHOSK2

— Dr Disrespect (@DrDisrespect) March 10, 2022
Given that both the streamer and the platform have an interest in maintaining the confidentiality of the specifics of the disagreement, it is highly probable that we won't ever learn the full reasons why he left Twitch. The Doc doesn't have to worry about any backlash over whatever caused his ban, and Twitch doesn't lose more face than is required by ejecting one of its most well-liked talent.
Dr Disrespect's Most Popular YouTube Video
The song 'Alleyways' by J+1, in which Dr Disrespect appeared, is the most-watched video on YouTube. It was made public in July 2020 to mark his YouTube streaming debut after Twitch inexplicably banned him.
Dr Disrespect Career
Born Herschel "Guy" Beahm IV, Dr. Disrespect was born in San Mateo. He graduated from Division II NCAA basketball at California State Polytechnic University, Pomona, in 2005.
The Doc initially appeared on YouTube in 2010 playing Call of Duty: Modern Warfare 2. He appeared on Machinima, a popular YouTube channel that used videos from other gaming channels in its shows.
Dr Disrespect became Sledgehammer Games' community manager in 2011. He joined Justin. tv, later Twitch. Dr Disrespect worked in the gaming industry and entertained gamers until 2015 when he decided to stream full-time. '
Dr Disrespect became popular for his battle royale skills and engaging demeanour. He transitioned from H1Z1 to PlayerUnknown's Battlegrounds and Call of Duty: Black Ops 4, rapidly boosting his viewership and working with some of the gaming industry's greatest stars.
Between 2015 and 2017, the Doctor fans would establish his character's identity in the space. Dr Disrespect, a noisy, bombastic, egocentric loudmouth with just enough tongue-in-cheek tone to not annoy viewers, was a success among gamers.
Dr Disrespect took a two-month vacation from live streaming in August 2017 after revealing in an emotional livestream that he had cheated on her and wanted to restore the relationship. He reappeared in February 2018 with 388,000 concurrent viewers, another streamer whose break led to a huge viewership increase.
Since then, he's expanded his brand and opportunities. The massive talent agency CAA signed the live streamer in 2019. The Two-Time signed a big multi-year Twitch agreement the year after. This arrangement became a spectacle months later when he was permanently banned from the network for "[acting] in violation of our Community Guidelines or Terms of Service."
He published a memoir called "Violence. Speed. Momentum," his streaming character, since then. He also created a custom map for Rogue Company and founded Midnight Society, a AAA gaming studio that is making a free-to-play battle royale game called "Project Moon" that sparked controversy when it sold "Founder's Pass" NFTs to fans before the game was functional.