MLB Immaculate Grid releases a new puzzle every day to surprise and challenge baseball enthusiasts. Baseball Reference's quiz game has quickly become a fan favorite.
Six suggestions are set up on the 3 × 3 Immaculate Grid. Users must utilize the hint to fill up the connecting squares with the names of relevant stars, both past and present. While team names are normally offered as clues, a statistical value of career achievement is sometimes included.
On September 5, the Immaculate Grid requested users to name Cincinnati Reds players who have hit 40 or more home runs in a season. Let's go over some of the more notable names.
⚾ Immaculate Grid 156#immaculategridhttps://t.co/EGqzzyYXiC
Retweet or reply with your score! pic.twitter.com/ZwbtGjBTOp

— Immaculate Grid (@immaculategrid) September 5, 2023
Mlb Immaculate Grid September 5 | Cincinnati Reds Players With 40+ Home Run Seasons
Ken Griffey Jr. was not only one of the top players for the Seattle Mariners in the 1990s, but he was also one of the franchise's best players ever.
His ten-year stint in Seattle (1989-1999) brought a trophy case full of silverware, including ten consecutive Gold Gloves, seven Silver Sluggers, and the 1997 MVP Award. Griffey, however, wanted a transfer after regularly clashing with flamboyant new sensation Alex Rodriguez.
Griffey Jr. had 40 home runs and 118 RBIs in his first season with the Reds in 2000. It would be the last time he hit 40 home runs in his career.
Ken Griffey Jr is the 9th highest paid Cincinnati Reds this season. He hasn't played for them since 2008. pic.twitter.com/gdQXu0FWWf

— BaseballHistoryNut (@nut_history) July 18, 2022
Meanwhile, Ted Kluszewski began his career with the Cincinnati Reds in 1947. Although he took a while to acclimatize to the tempo of Major League Baseball, he soon rediscovered his touch, and his stats improved significantly.
Check out some other recent articles we have provided to you below:
He broke out in 1953, hitting.316/.380/.570 with 40 home runs and 118 RBIs. A year later, he led the league with 49 home runs and 141 RBI. Since his retirement in 1961, his 642 slugging percentage has remained a franchise record.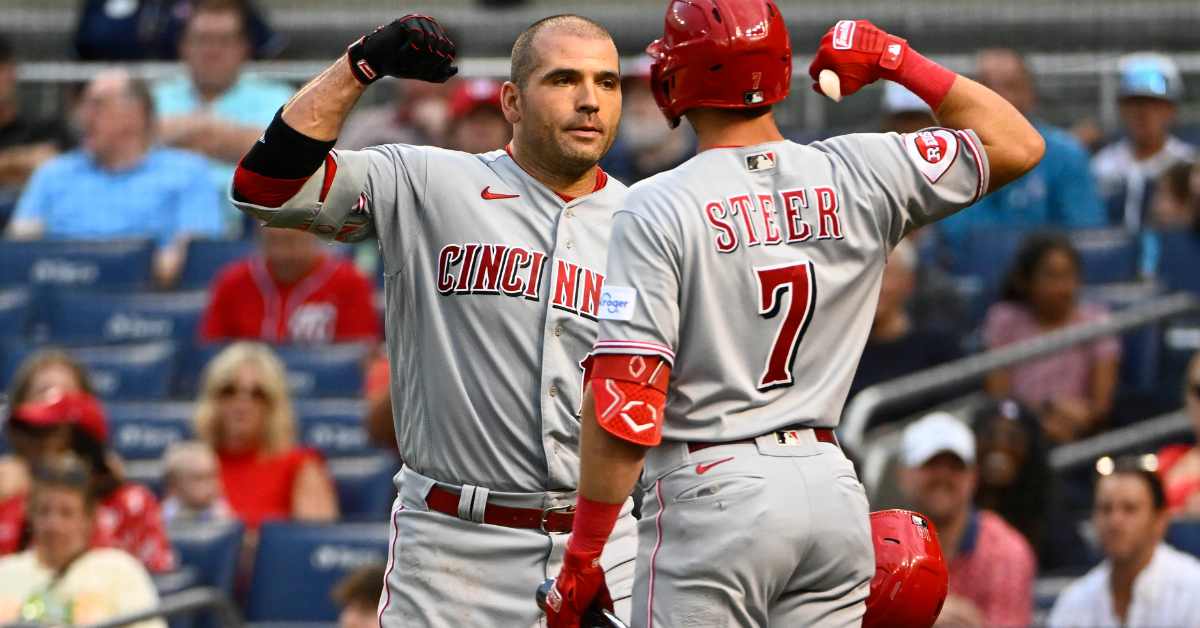 Another player, Johnny Bench, was a member of Cincinnati's "Big Red Machine" in the 1970s, which won consecutive World Series wins in 1975 and 1976. In 1970, he led the league in home runs for the first time as a catcher with 45.
In addition, his league-leading 148 RBIs that season earned him the 1970 NL MVP Award. In 1972, he led the National League in home runs and RBIs (40 and 125, respectively).
The 1989 Hall of Famer completed his entire 17-year career with the Reds and is widely regarded as the greatest catcher in history.
Sparky Anderson and Johnny bench celebrate a World Series win pic.twitter.com/n189inMizO

— BaseballHistoryNut (@nut_history) August 29, 2023
George Foster, a teammate of Bench's, was also an important member of the Red Machine. In 1977 and 1978, he led the league in both home runs and RBIs, and he was named the National League MVP in 1977.
Foster signed with the New York Mets in 1982 after a great decade in Cincinnati and was inducted into the Reds Hall of Fame in 2003. Get in touch with us on Twitter if you're interested in reading similar posts.