In the realm of football, uncertainty can be as exciting as a touchdown pass. A heavy cloud of suspense crept on the Kansas City Chiefs' camp as they prepared for the 2023 NFL season opening versus the Detroit Lions.
What's the reason? A-list tight end Travis Kelce had hyperextended his knee during practice, leaving the league asking, "What happened to Travis Kelce?"
What Happened to Travis Kelce?
Travis Kelce's knee was injured during a regular practice session; he suffered a hyperextended knee, putting his participation in the season opener in jeopardy.
According to medical experts, he might be out of commission for more than two weeks. As the 2023 season begins, everyone is wondering what will happen next without him.
Jeff Bell shared a tweet on Sept. 6 and wrote-
If Travis Kelce just misses a week or two he goes from TE1 in fantasy football to TE1 in fantasy football.
If Travis Kelce just misses a week or two he goes from TE1 in fantasy football to TE1 in fantasy football.

— Jeff Bell (@4WhomJBellTolls) September 5, 2023
How Did He Injure His Knee?
Travis Kelce suffered a knee injury during a regular practice session, sending shockwaves throughout the Chiefs organization. Andy Reid, the head coach, witnessed the incident and quickly informed reporters of the troubling news. Tom Pelissero shared a tweet-
#Chiefs TE Travis Kelce hyperextended his knee in practice today and his status for Thursday night is now up in the air, per coach Andy Reid.

— Tom Pelissero (@TomPelissero) September 5, 2023
While the exact time of Kelce's injury is unknown, wide receiver Skyy Moore offered some insight on the incident, recalling that Kelce was noticeably limping as he exited the field.
Update on Travis Kelce's Injuries
As the dust settled, all eyes were on Kelce's injuries. Coach Reid was evasive, delivering only the confirmation of a hyperextended knee.
The Chiefs, who were fully aware of Kelce's importance to their offensive game plan, were left to wonder about his availability for the season opener. The suspense grew as fans and commentators alike waited for updates.
How Long Will His Hyperextended Knee Take to Heal?
Everyone was wondering how long it would take to recover from a hyperextended knee. Andy Reid, in his characteristically enigmatic manner, intimated that it could take several weeks. The uncertainty surrounding Kelce's status for Week 1 cast a pall over the Chiefs' hopes, especially given their demanding schedule.
You can also take a look at other celebrities' recent injury details we have provided you in the below posts:
What is the Impact of a Hyperextended Knee?
Understanding the seriousness of a hyperextended knee became critical in determining Kelce's absence. According to Dr. Deepak Chona, a sports surgeon, such injuries normally take at least two weeks of recuperation, with the timing varying depending on the extent of the damage. Unfortunately, the information provided on Kelce's injury was sparse, leaving an opportunity for guesswork.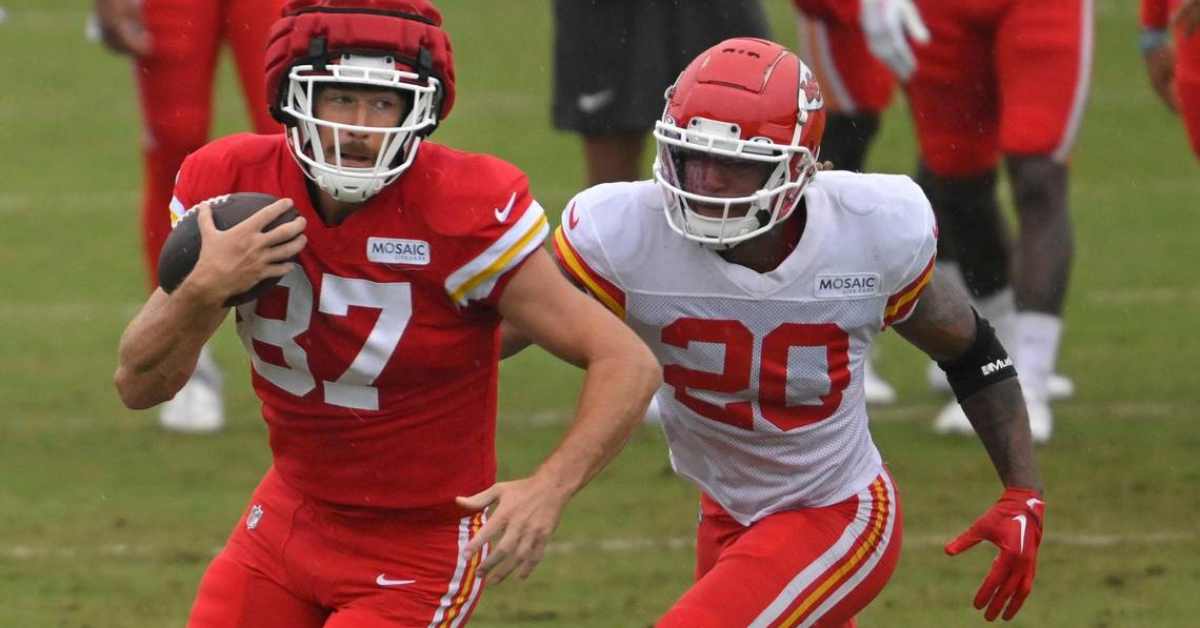 Travis Kelce's Potential Replacements
With Kelce's availability in doubt, the Chiefs faced the difficult chore of selecting prospective replacements. Noah Gray and Blake Bell have emerged as the frontrunners to replace Kelce. While Gray showed promise in 2022, with 28 catches and a touchdown, Bell gave crucial veteran knowledge but with less role in the passing game.
The Chiefs' Emergency Plan
Much speculation surrounded Travis Kelce's return as the Chiefs prepared for his possible absence. Wide receivers such as Kadarius Toney and Marquez Valdes-Scantling, as well as rising talent such as Skyy Moore, Justin Watson, and Justyn Ross, were ready to take on more important roles in the passing game. Patrick Mahomes was pressed to find new favorite targets.
The Final Ceremony Before Game Day
The tension rose as the season opener against the Detroit Lions approached. Coach Reid's disclosure cast doubt on Travis Kelce's status, and the Chiefs' fervent fans hoped for a miraculous recovery. The club took a risk in order to defend their championship and win consecutive Super Bowls. Get in touch with us on Leedaily.com if you're interested in reading related articles.