Aaron Rodgers, quarterback for the New York Jets, got sacked on his fourth play of the season and fell to the ground. He hurt his left ankle and had to leave the field Monday night against the Buffalo Bills.
Aaron Rodgers' Highly Anticipated Debut Cut Short
In his much-anticipated first game with the Jets, Rodgers spent a few minutes in the medical tent before being put on a cart. Before leaving the field, he got out of the cart and limped through the tunnel at midfield to the changing room.
The Jets said it was an ankle injury and that Rodgers's return was uncertain, but they later said he couldn't play for the rest of the game.
Breaking: "There is fear" Aaron Rodgers is dealing with an Achilles injury, per @Schultz_Report

He's expected to have an MRI on Monday to determine the extent of the injury. pic.twitter.com/29JroxhpH5

— Bleacher Report (@BleacherReport) September 12, 2023
X-Rays Reveal No Break
Rodgers could be seen walking into the X-ray room with a boot on his left foot. The Jets said that X-rays of the ankle showed nothing wrong.
In a conversation with ESPN's Lisa Salters, Jets coach Robert Saleh said only that Rodgers was getting checked out and "we'll know more later."
After Rodgers was sacked, the sold-out crowd at MetLife Stadium, which had started the night hoping to go to the Super Bowl, got quiet and lost its energy.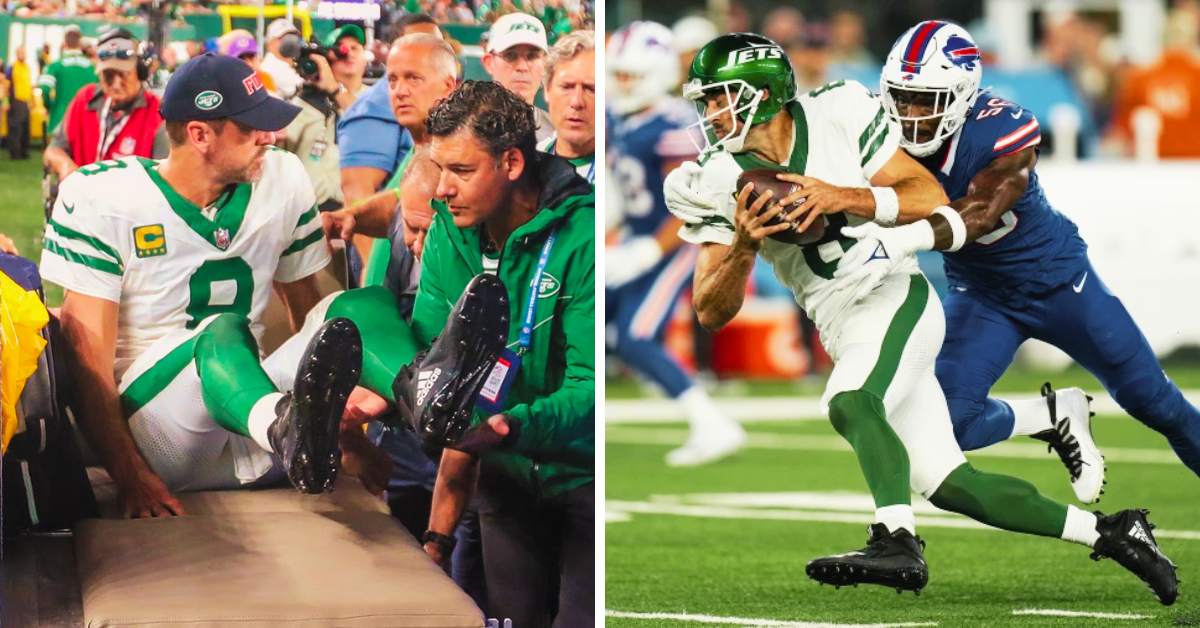 These Articles Have Made a Lot of Noise Recently:
Leonard Floyd's Impact
Leonard Floyd beat 38-year-old left tackle Duane Brown on a first down from the Jets' 43. Brown had not practiced much over the summer because he was recovering from a shoulder injury. Brown went for Floyd and lost his balance, which let Floyd get to Rodgers easily.
Rodgers, who was 39 at the time, tried to spin away from Floyd. He seemed to twist his left ankle in the process. He stayed on the ground, and the Jets' medical staff went right to him.
Zach Wilson Steps In as Backup
Zach Wilson took over as the Jets' backup when they traded for Rodgers in the summer. Wilson replaced Rodgers in the game. Wilson was picked second overall in the 2021 draft. Last season, he was dropped twice.
Rodgers hurt the same leg during OTAs. He missed a few practices because his left calf muscle was tight. By training camp, it looked like the injury had healed. He went to every practice.
Stay tuned for updates on Rodgers' journey by following us on Twitter, where we bring you the latest on your favorite athletes and the world of sports.