Nintendo revealed the Pokémon Scarlet and Violet: Indigo Disk DLC's release date, new animals, pricing, and story. The new expansion is the second addition to Generation 9 Nintendo Switch games after the Teal Mask DLC on September 13.
Indigo Disk takes gamers to Blueberry Academy, a sister school of Scarlet and Violet Naranja and Uva Academies. This adventure will reveal returning monsters from earlier generations and new Pokémon from Gen 9.
This features two Legendary Paradox creatures, new Pokémon evolutions, and others. Pokémon Scarlet and Violet's Indigo Disk DLC will include new Pokémon, maps, and a new story about the game's Hidden Treasure of Area Zero, hence its name.
Paldea will be explorable after Gen 9 adds stuff to the main region. The Indigo Disk is end-game material, therefore finish the base game and Teal Mask's main stories before starting it.
Pokémon Scarlet & Violet: Indigo Disk – Release Date
The product's launching window suggests potential expansion soon. As previously announced by Nintendo, Pokémon Scarlet and Violet: The Indigo Disk DLC will be released in Winter 2023. The date is unknown.
The company's release window suggests the DLC will come in December when the season begins. If not, the expansion may be launched in January or February 2023, both of which are Winter months.
Take a look at the post we have provided to you below:
September 13 is soooooo freakinggggg soooon! LOL at their still not being a Indigo disk release date🤣 it's not done yet! #pokemon #pokemonpresents #PokemonScarletViolet pic.twitter.com/mTtpozV4V2

— SoulSilverArt (@soulsilverart) August 8, 2023
Scarlet & Violet: Indigo Disk – New Pokémon
The Indigo Disk DLC for Pokémon Scarlet and Violet introduces Terapagos, the main new Pokémon. The expansion's first new monster is The Indigo Disk's Legendary Pokémon. Few things are known about Terapagos.
The creature will have two forms. Its Normal Forme is a little turtle-like Pokémon with crystals on its body. A second, rare Terastal form has Terapagos wearing a full shell with each pentagon representing all 18 Pokémon Types. This second type has a flowing tail.
The basic game's logs suggest that a creature like Terapagos is tied to Paldea's Terastal phenomena, therefore Pokémon Scarlet and Violet's Indigo Disk DLC may reveal where the unusual crystal-like forms come from.
Terapagos is one of the new Nintendo Switch Gen 9 games. On August 8, the official Pokémon channel on YouTube hosted a Pokémon Presents livestream that revealed a number of new Pokémon from earlier generations that will be presented with The Indigo Disk.
Archaludon was revealed at Pokémon Presents as a new Pokémon in Scarlet and Violet's Indigo Disk DLC. This new beast evolves from Duraludon from Gen 8.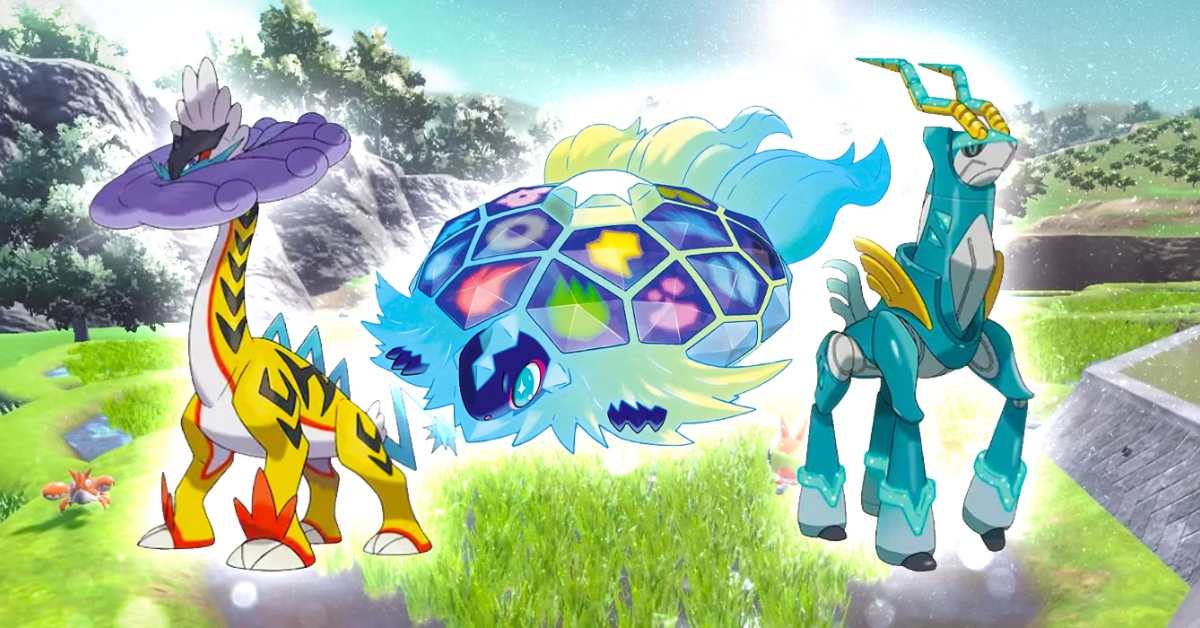 The Pokémon Company later confirmed that Archaludon is a new Steel- and Dragon-type Pokémon and the only monster that can learn Electro Shot, which is depicted in the event video. Duraludon seems like a tower, but Archaludon looks like a bridge, especially when it stands on all fours.
The Pokémon Presents teaser revealed at least two new Paradox Pokémon in The Indigo Disk, unlike the Scarlet and Violet DLCs. The first is Raging Bolt, an ancient Paradox creature that resembles Gen 2's Raikou.
Its Type is unclear, although Raging Bolt should be Electric like Raikou. Its long neck resembles a Brontosaurus, and Walking Wake, an ancient Paradox form for Suicune, resembles a Theropod dinosaur, therefore the Jurassic-age motif may be the inspiration.
Iron Crown is Scarlet and Violet's second Indigo Disk DLC Paradox Pokémon. This beast looks like a futuristic Gen 5 Legendary Cobalion. As Cobalion's typing suggests, the Iron Crown should be Steel-type, while its second type is unknown.
Its design resembles a robot, like a mecha version of Cobalion. Iron Leaves, a futuristic Paradox Pokémon based on Gen 5 Legendary Virizion, appears in the Swords of Justice.
Here are some of more latest updates of games below:
Pokémon Scarlet & Violet: Indigo Disk – Price
Pokémon Scarlet and Violet Indigo Disk DLC can be pre-ordered on the Nintendo eShop. The expansion isn't sold separately. Instead, buyers must acquire The Hidden Treasure of Area Zero DLC pack, which includes The Teal Mask and The Indigo Disk additions. The Nintendo Store sells Pokémon Scarlet and Violet DLC for $34.99.
The Nintendo Store also sells a bundle that includes the main game and the DLC pack, which includes Pokémon Scarlet and Violet's The Teal Mask and The Indigo Disk DLCs. This Pokémon Scarlet and Violet model costs $94.99.
Every pre-order of The Hidden Treasure of Area Zero DLC pack receives a Hisuian Zoroark with the Charismatic Mark and the special move Happy Hour. Purchases of the expansion pack before or after release will give Trainers a new uniform set.
You can follow us on Twitter and read all of our most recent posts, in which we discuss the most recent updates on other new games.