Sonoma Release Date: The next macOS version, called Sonoma (like the wine place in California), will arrive on Tuesday, September 26.
This update brings some cool stuff to Macs, like better Widgets, a Game Mode, making web pages into web apps easily, and fun additions to video calls. Keep reading to know all about these new things coming in 2023.
macOS 14 Sonoma Release Date: When Can You Get It?
The new macOS 14, called Sonoma, will be available to everyone on September 26, 2023. This is earlier than the last few macOS updates:
macOS 14 Sonoma: September 26, 2023
macOS 13 Ventura: October 24, 2022
macOS 12 Monterey: October 25, 2021
macOS 11 Big Sur: November 12, 2020
macOS 10.15 Catalina: October 7, 2019
macOS 10.14 Mojave: September 24, 2018
So, Sonoma is coming out a bit sooner than the others.
Apple confirms macOS Sonoma release date https://t.co/H9KA7r1KPQ by @arinwaichulis

— 9to5Mac (@9to5mac) September 13, 2023
For more exciting content, don't miss our recent posts:
macOS 14 Sonoma: Exciting New Features
The upcoming macOS 14 Sonoma is bringing a bunch of exciting features, and Apple gave us a sneak peek at some of them during their WWDC 2023 event.
Safari
Apple's web browser is getting better in the new macOS 14 Sonoma. You can now make different names for different people or things. So, it's easy to keep your work stuff and your personal stuff separate on a Mac.
Safari's private browsing mode is getting beefed up as well. It will automatically lock the window when not in use, block trackers more effectively, and allow secure sharing of passwords with trusted groups, like your family. Plus, you can save frequently visited websites to your Dock as web apps for quick access.
Widgets
Widgets are becoming a big thing on Mac with the new macOS 14 Sonoma. Instead of staying in the Notification Center, they're now right on your desktop. This makes it simple to see stuff like the weather or your notes.
And here's a cool part: You can even use iPhone Widgets on your Mac, all thanks to Apple's Continuity tech. Some of these widgets let you do things like finish tasks on a to-do list or quickly edit pictures with the Pixelator Pro widget.
Video Effects
Get ready to spice up your video calls with macOS 14. It introduces new visual effects powered by Apple silicon's Neural Engine. You can overlay what's on your screen between you and your background, creating virtual presentations. Plus, you can trigger cinematic-quality effects during calls, adding fun elements like virtual fireworks or emotes.
Other Updates
macOS 14 Sonoma brings several smaller but handy changes to Messages, Mail, Siri, and more. For example, you no longer need to say "Hey" before triggering Siri, and the autocorrect feature is said to be more intuitive. These updates align with iOS 17 and iPadOS 17 for a seamless experience.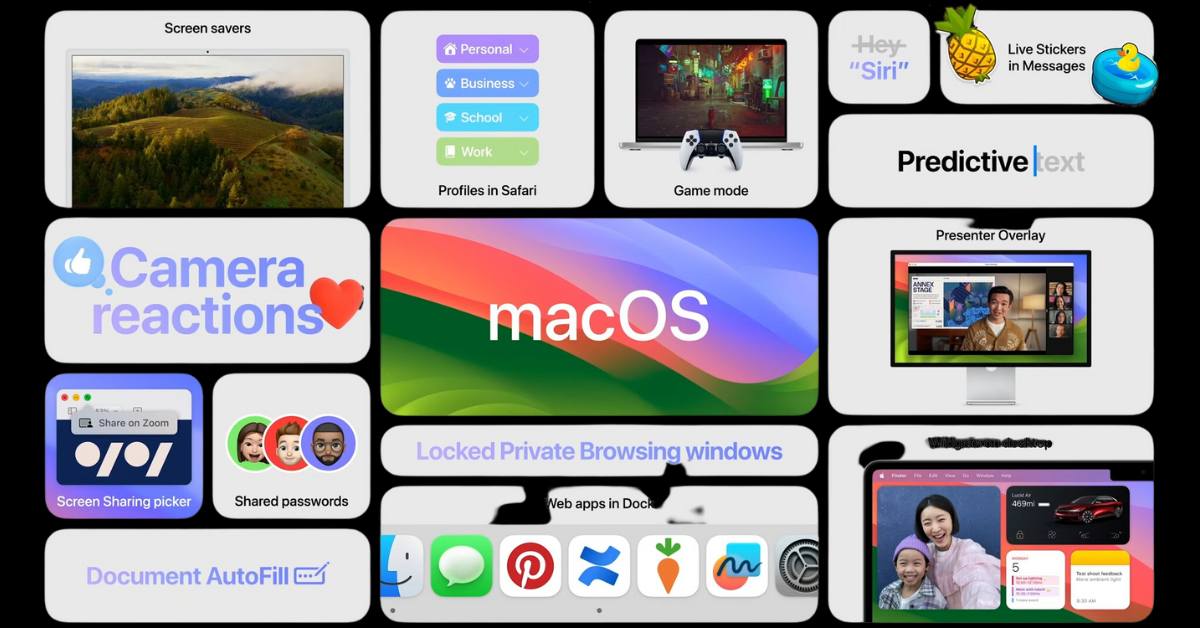 macOS 14 Sonoma: Supported Devices
The good news is that macOS 14 Sonoma is unlikely to have dramatically different system requirements compared to the current version.
While macOS Ventura dropped support for some Macs from 2013 to 2017, the new update might not be as exclusive. We'll have to wait for Apple's official confirmation on supported devices.
macOS 14 Sonoma: Gaming
Apple is doubling down on gaming with macOS 14 Sonoma. It introduces a Game Mode that optimizes your Mac for gaming performance and reduces latency for Bluetooth earbuds and game controllers. This mode promises to enhance your gaming experience.
During WWDC 2023, Apple announced that the game Death Stranding Director's Cut will be available on Macs via the App Store in 2023.
They also unveiled the Metal 3 Game Porting Toolkit, designed to help game developers bring their titles to Apple hardware seamlessly. It's an exciting time for gaming on Mac!
Don't miss out on the latest updates, tech news, and helpful tips! Follow us on Twitter to stay connected and informed.