Adam Sandler has played the lead in many movies with some of Hollywood's most famous actors, such as Jennifer Aniston and Drew Barrymore. However, his main lady in real life has been with him for more than 20 years. Adam Sandler's wife's name is Jackie Sandler.
The two met on the set of his 1999 movie Big Daddy, and the rest, as they say, is the best kind of history. Adam and Jackie got married in 2003 and had two girls, Sunny and Sadie. Along the way, they helped each other at work and in their personal lives. Find out more about Jackie and how she and Adam got along so well.
Jackie and Adam Sandler Met on the Set of Big Daddy
Like many great Hollywood love stories, Adam and Jackie Sandler's journey began on a movie set. They first crossed paths when Jackie had a small role as a waitress in the film "Big Daddy" back in 1999. This movie featured a young Dylan and Cole Sprouse, and Adam's character pretended to be a father to impress his ex-girlfriend.
While the couple hasn't shared many details about how they started dating, Adam gave a sweet hint in a 2020 Instagram post celebrating their 22nd anniversary since they first met. He wrote, "22 years ago today we locked eyes and fell deep. Look forward to the next 22, young lady. Love you my fore."ver girl
View this post on Instagram
When Did Jackie and Adam Sandler Married?
The couple got married on June 22, 2003, so they just recently celebrated their 20th wedding anniversary. The comedian celebrated the day in June with a photo.
View this post on Instagram
At the late iconic TV personality Dick Clark's Malibu house, the pair wed in a Jewish ceremony back then. Of course, the wedding was a true star-studded celebration, with 400 guests in addition to Rodney Dangerfield, Jennifer Aniston, Sharon Osbourne, and others.
Adam has also kept track of the anniversary of the day they first met. These two have subsequently celebrated their wedding day numerous times.
Jackie Sandler Began Her Career as a Model
Jackie worked as a model prior to her appearance in Big Daddy. Her first film appearance was in Rob Schneider's Deuce Bigalow: Male Gigolo (1999).
According to IMDb, she has since acted in films such as Murder Mystery and Hubie Halloween. Since they've been together, it appears to be an inside joke for her to play minor roles in practically all of his films.
You may also learn more about the spouses of other celebrities we've profiled:
How Old is Jackie Sandler?
Jackie Sandler is 48 years old and was born on September 24, 1974, in Coral Springs, Florida. According to the publication, she was born Jackie Titone and was a cheerleader and dancer as a child. She also attended Parkland's Marjory Stoneman Douglas High School.
Adam and Jackie Have Two Daughters
If you've seen You're Not Invited To My Bat Mitzvah, you'll recognize the entire Sandler family by now. Sadie, 17, and Sunny, 14, are Adam and Jackie's two daughters.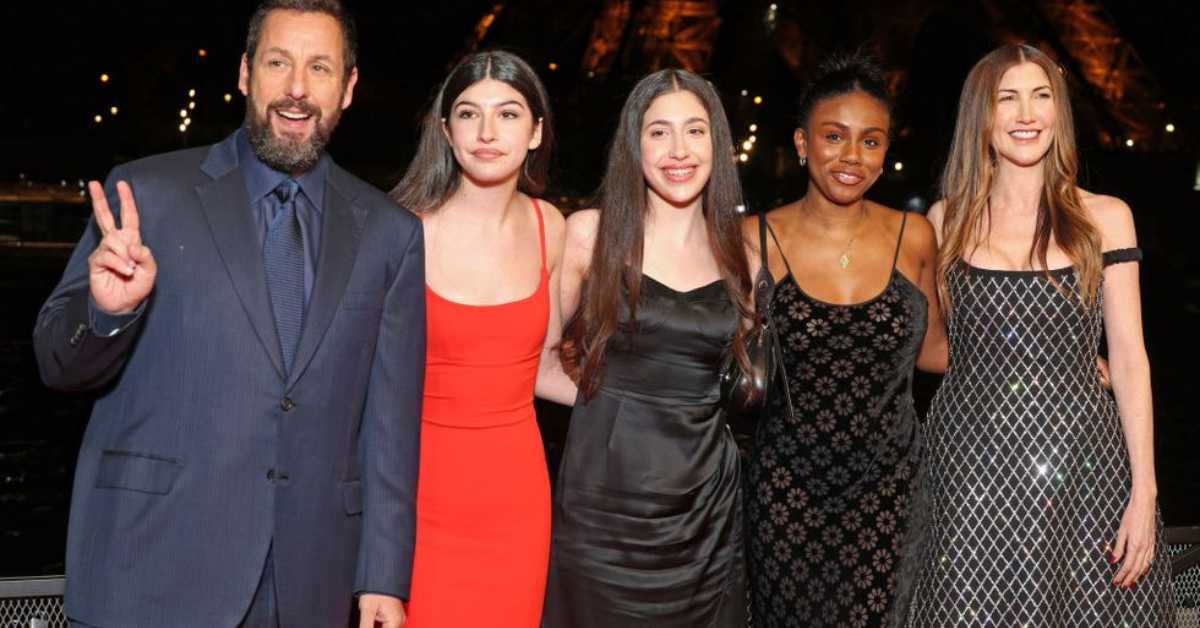 The youngest Sandler daughter had her Bat Mitzvah right before their Netflix taping. Jackie and Adam's daughters have both appeared in various shows, including Grown Ups.
Jackie Has Helped Adam Advance in His Career
Adam has mentioned multiple times how Jackie has assisted him in various positions. Jackie urged Adam to pursue one of his probably most renowned roles to date in Uncut Gems, which he was first skeptical about.
"My badass wife, she gave me the balls to take the part. I was scared and she said, 'Go f—— do that and you can do that s—' and we rehearsed together all the time," Adam told People.
She's also pushed Adam to take on playful romance roles. In an interview with Access Hollywood, Adam stated that Jackie encouraged him to "give his all" in a romantic part with Jennifer Aniston, the couple's acquaintance.
"She's like, 'Would you give Jennifer some sort of good time with that kiss, please?'" he explained.