Keanu Reeves and Alexandra Grant are one of Hollywood's most intriguing couples. There aren't many other couples that have made people as curious as they have. The world knows them for their obvious chemistry and the alluring vibe they give off when they're together, but fans and the media have always been curious about one thing: how old is Alexandra Grant?
Find out more about Alexandra Grant's age and the interesting age difference between her and the famous actor Keanu Reeves. Along the way, we'll learn more about their amazing love story. Join us as we talk about how complicated their relationship is and enjoy a rare PDA moment that has everyone in awe.
How Old is Alexandra Grant?
Alexandra was born on April 4, 1973, in the beautiful town of Fairview Park, Ohio, and attended schools such as the Thomas Jefferson School and the International School of Paris. She then graduated from the prestigious Swarthmore College in 1994 and later earned her MFA from the California Institute of the Arts in 1997.
Alexandra Grant and Keanu Reeves Rare PDA Moment at MOCA Gala 2023
On Saturday, April 15, 2023, Keanu Reeves and 50-year-old Alexandra Grant, his longtime lover, attended the MOCA Gala. Although the couple normally keeps their personal lives and relationships private, they were seen having a rare PDA moment on the red carpet of the 2023 MOCA (Museum of Contemporary Art) Gala.
The 58-year-old The Matrix actor and his partner, a celebrated visual artist, clasped hands as they arrived on the Los Angeles red carpet.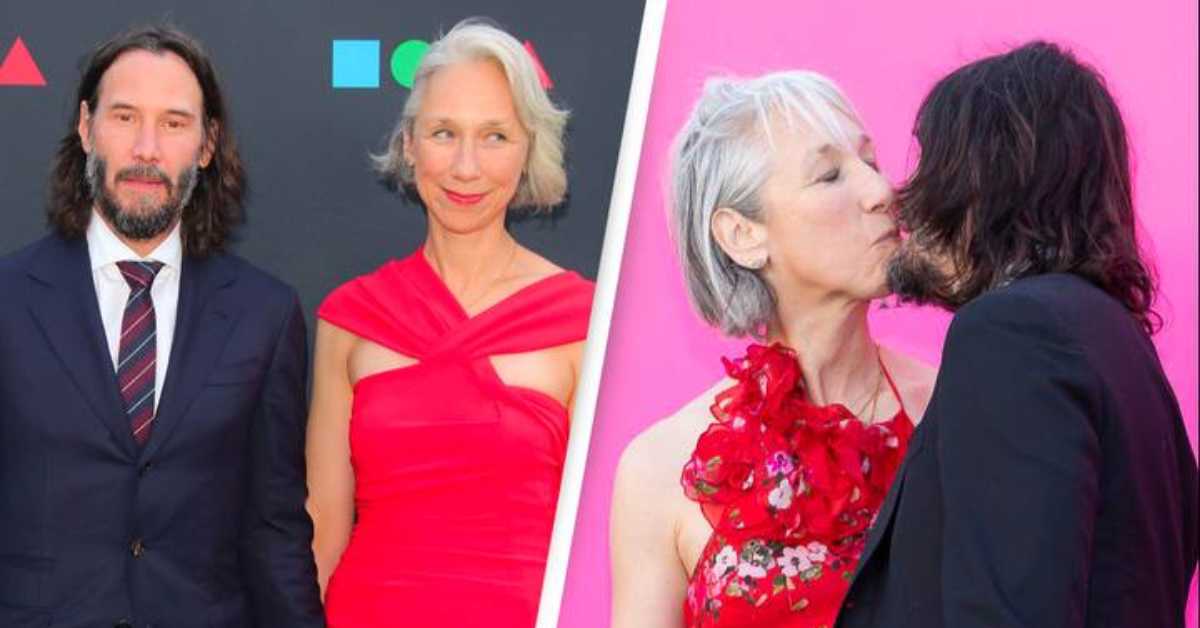 The couple k**sed and held hands while they were being photographed by paparazzi on the red carpet. According to reports, Keanu Reeves and Alexandra Grant showed equal devotion throughout the LA event's duration. While Keanu, who is frequently referred to as the "internet's boyfriend," wore a navy suit with a striped tie, Grant chose a red gown with a floral pattern.
For those who are unaware, the couple was photographed holding hands on the red carpet of the 2022 MOCA Gala in June of last year.
Please read the article below for more information about Alexandra Grant's Net Worth:
Keanu Reeves and Alexandra Grant Announced Their Romance in November 2019
While Reeves and Grant have apparently been dating since 2018, they only made their relationship public in November 2019. The two walked the red carpet at the LACMA Art and Film Gala together. The pair first met in 2009 at a mutual friend's dinner party and quickly bonded, initially keeping things platonic.
Alexandra Grant is a skilled visual artist who has worked in a variety of mediums such as painting, drawing, sculpture, video, and photography. Her work has mostly focused on translation, identification, dis/location, and social responsibility.
Keanu Reeves and girlfriend Alexandra Grant share a sweet moment on the red carpet at the @moca Gala in Los Angeles. #KeanuReeves #AlexandraGrant #MOCA thanks ontheredcarpet pic.twitter.com/HoKvwW7XyM

— Keanu Reeves TheClub (@Keanu_TheClub) April 16, 2023
Alexandra Grant has also worked with many artists, writers, and philosophers from throughout the world. Channing Hansen, Michael Joyce,  Hélène Cixous,  and even her partner Keanu Reeves are among them. Grant's art has also been shown in a number of galleries around the world.
Reeves is a well-known actor who has worked for nearly four decades. He has played legendary parts like Neo,  John Constantine, John Wick, Ted "Theodore" Logan, and many others over the years.
Among his credits are The Matrix series, Bill & Ted movies, the John Wick franchise, Point Break, Speed, Bram Stoker's Dracula, and Bernardo Bertolucci's Little Buddha.
Keanu Reeves and Alexandra Grant, who have been dating for several years, are eight years apart in age. The couple has made multiple public appearances together since their first debut at the LACMA Art and Film Gala in 2019. Surprisingly, the John Wick star's romance garnered a lot of public attention in 2019, with the actor's fans expressing their joy on social media.
Keanu Reeves recently reprised his role as the fearsome assassin in John Wick: Chapter 4. The picture received favorable reviews from both critics and audiences. It also became the series' highest-grossing film internationally, surpassing John Wick: Chapter 3 – Parabellum. However, Chapter 4 is still trailing the third iteration in terms of gross revenues in the United States and Canada.
Discover more fascinating insights into celebrities' backgrounds, and stay updated with our latest articles. Follow us on Twitter for the latest updates and stories.