Survivor has now aired 45 seasons, a remarkable achievement. The Emmy-winning reality series will stick to its popular concept, with a group of castaways embarking on an adventure of a lifetime in the hopes of leaving the island a million dollars wealthier.
Continue reading to learn everything we know about Survivor season 45, including when the new season will start, who will be in the cast, and much more.
When Does the Survivor 45 Premiere?
Survivor season 45 starts on CBS on Wednesday, September 27 at 8 p.m. ET/PT. Every Wednesday, new episodes are released at the same time. The next episode of Survivor will air on October 4th.
Survivor 45 is a watershed moment in the show's history. It will show 90-minute episodes between 8:00 and 9:30 p.m. This is the first time the series will contain episodes that are longer than 60 minutes.
Check out our 2023-2024 Primetime Schedule! What show are you MOST looking forward to watching with us? 📺 pic.twitter.com/1LCvz5NDs2

— CBS (@CBS) May 10, 2023
How Many Episodes Are in Survivor 45?
There are 12 episodes left in the season, making a total of 13.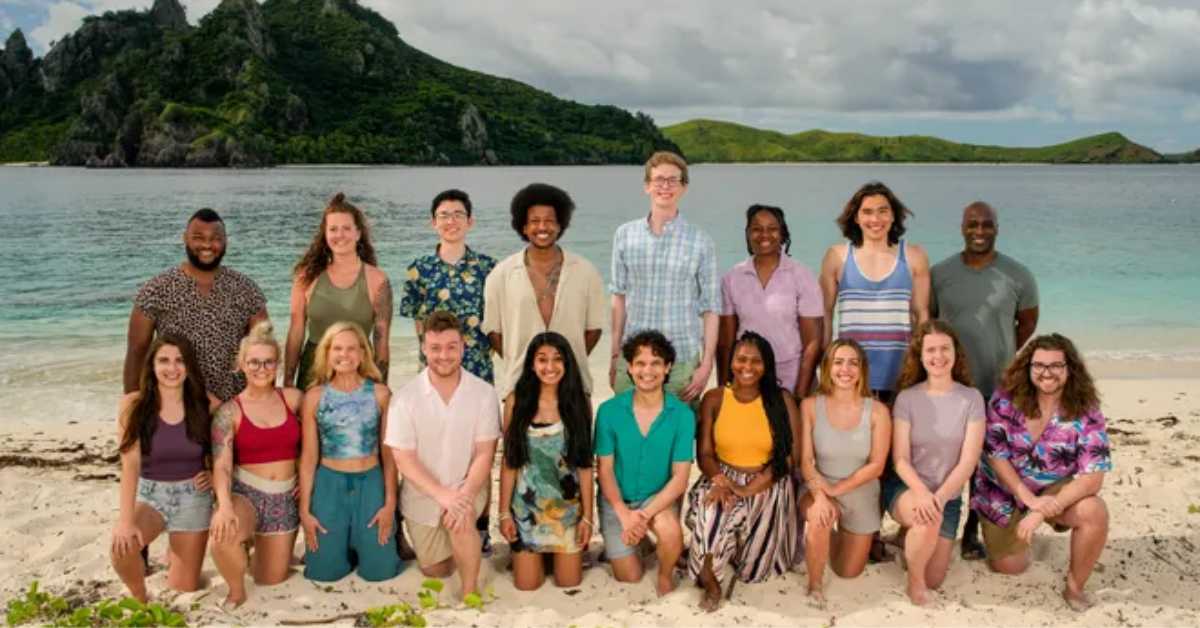 Here's the Official Survivor Release Schedule:
Episode 1: Airs on September 27, Streaming on September 28
Episode 2: Airs on October 4, Streaming on October 5
Episode 3: Airs on October 11, Streaming on October 12
Episode 4: Airs on October 15, Streaming on October 16
Episode 5: Airs on October 22, Streaming on October 23
Episode 6: Airs on October 29, Streaming on October 30
Episode 7: Airs on November 6, Streaming on November 7
Episode 8: Airs on November 13, Streaming on November 14
Episode 9: Airs on November 20, Streaming on November 21
Episode 10: Airs on November 27, Streaming on November 28
Episode 11: Airs on December 4, Streaming on December 5
Episode 12: Airs on December 11, Streaming on December 12
Episode 13: Airs on December 18, Streaming on December 19
'Survivor' Season 45 Cast
Bruce Perreault was the first person to be confirmed for the Survivor 45 cast. Fans will recognize the insurance adjuster because he was a cast member of Survivor 44 just one season ago. Unfortunately, Bruce only lasted twelve hours in the game after suffering a concussion in the first challenge.
According to CBS, here is the whole "Survivor 45" cast, including ages and occupations:
Austin Li Coon, 26, grad student
Brandon Donlon, 26, content producer
Dee Valladares, 26, entrepreneur
Emily Flippen, 28, investment analyst
Hannah Rose, 33, therapist
Brandon "Brando" Meyer, 23, software developer
Janani Krishnan-Jha, 24, singer
Drew Basile, 23, grad student
Bruce Perreault, 47, insurance agent
Julie Alley, 49, estate attorney
Katurah Topps, 35, civil rights attorney
Jake O'Kane, 26, attorney
Kaleb Gebrewold, 29, software sales
Nicholas "Sifu" Alsup, 30, gym owner
Kellie Nalbandian, 30, critical care nurse
Sean Edwards, 35, school principal
Kendra McQuarrie, 31, bartender
Sabiyah Broderick, 28, truck driver
People Also Read:
Where You Can Watch Survivor Season 45?
Jeff Probst, an Emmy Award winner, returns as the show's host and executive producer. "Survivor" will return to its original network, CBS. It will also be accessible for live and on-demand streaming on Paramount+.
Is Survivor available on Netflix?
Yes! Tocantins (season 18) and Kaôh Rng (season 32) are currently available on the streaming service. Because of this availability, which began in 2020, the show attracted a slew of new viewers during the epidemic, some of whom went on to play the game.
Is Survivor available on Amazon Prime Video?
Yes! But you won't be able to watch all 44 seasons of Survivor in one sitting. Seasons 1, 3, and 12–28 are available with an Amazon Prime Video subscription.
Is There a Trailer for Survivor 45 Available?
Yes! Survivor 45's first look debuted at the Survivor 44 finale. You can see it below.
Who Won Survivor Season 44?
In the words of Yam Yam Arocho, "Words are my weapons." The owner of the hair salon was aware of his gift for Gab and made a career out of cultivating friendships and making people laugh. However, he was working hard behind the scenes as a vital member of the Tika trio that controlled the endgame.
Yam Yam, who made it to the Final Three, boasted about his capacity to detect lies in others by reading their emotions, along with a few jokes. The individual who set up a vengeance story for anyone who put their name down was pleased to find that it occurred once more, this time garnering virtually all of the jury votes.
You can find out about our upcoming shows, ongoing series, and the most recent episodes of relevant material by following us on Twitter.