The Boys' universe has grown with the addition of the spin-off Gen V, which has launched its first three episodes on Prime Video.
The teen spin-off takes place between the third and fourth seasons of the original and follows a group of heroic college students at Vought's Godolkin University as they face challenges and compete for a chance to become one of The Seven.
The show stars newcomers Jaz Sinclair, Shelley Conn, Chance Perdomo, and Asa Germann, but it also reintroduces fans to some old favorites from The Boys.
If you're curious when episode 4 of Gen V will be available on Amazon Prime Video in the UK, keep reading to find out.
When Will Gen V Episode 4 Be Available on Prime Video in the UK?
While the first three episodes of Gen V debuted together on September 29th, fans will have to wait a bit longer for the next installment. Episode 4 will be available on Prime Video in the United Kingdom on Friday, October 6th at 1 a.m.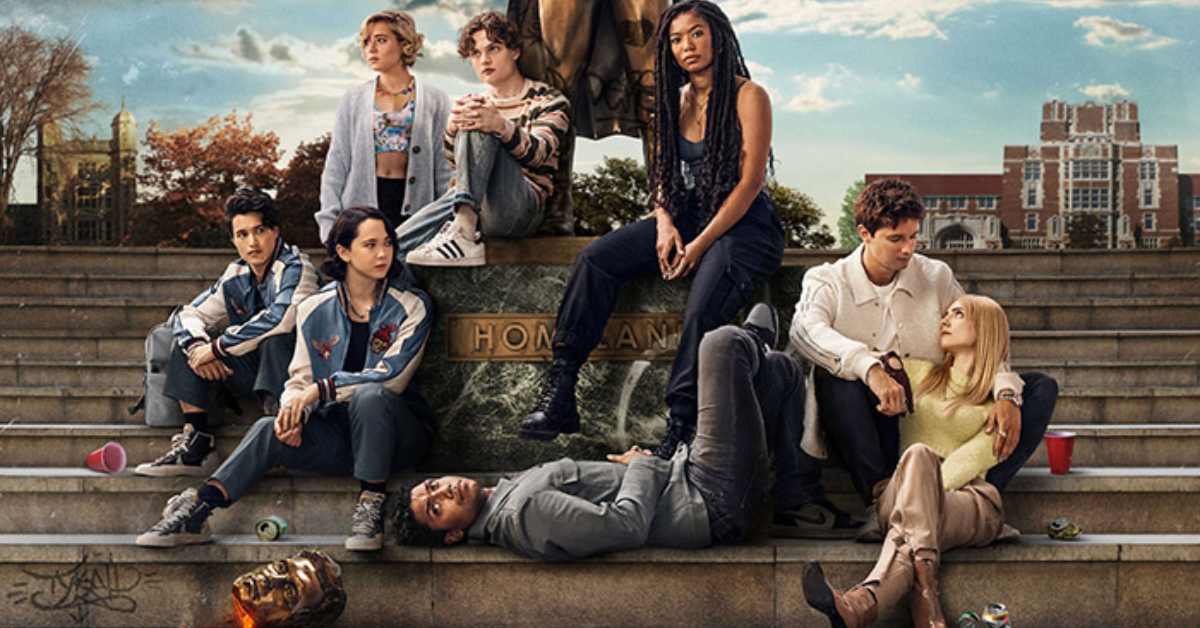 How Many Episodes of Generation V Are There?
Gen V has a total of eight episodes. However, the entire series has not been released on Prime Video all at once for fans to binge. Instead, the first three episodes debuted together on Friday, September 29th, with subsequent installments following weekly thereafter.
Superheroes. College. What could go wrong?? (Lots!)

Gen V, from the world of The Boys, September 29. pic.twitter.com/8zAxy4ejOC

— GEN V (@genv) July 24, 2023
Gen V Release Schedule
This is what the full Gen V release schedule looks like.
Gen V episode 1 – 29th September (available now)
Gen V episode 2 – 29th September (available now)
Gen V episode 3 – 29th September (available now)
Gen V episode 4 – 6th October
Gen V episode 5 – 13th October
Gen V episode 6 – 20th October
Gen V episode 7 – 27th October
Gen V episode 8 – 3rd November
What Time Are Gen V Episodes Released on Prime Video?
While the first three episodes of Gen V launched on September 29th in the United Kingdom, the series may become available sooner depending on your location.
Continue reading to find out the time (and on what date) the episodes will be available to stream in your time zone:
8 pm PDT – 28th September
5 pm EDT – 28th September
9 pm Brazil – 28th September
1 am UK – 29th September
2 am Central European Summer Time – 29th September
5:30 am India Standard Time – 29th September
10 am Australia – 29th September
12 pm New Zealand – 29th September
Where Can I watch Gen V?
Gen V is only available on Prime Video, so you'll need an Amazon Prime membership to see it. The streamer has also just announced modifications to its basic subscription, with adverts set to arrive in "early 2024." If you want to avoid advertisements, you'll have to pay an extra $2.99 every month.
Must check out some other articles on Upcoming series and movies below:
Gen V Episode 1, 2, and 3 Recap
The introduction of a well-known character in Gen V's debut episode establishes its relationship with The Boys. Other than A-Train, who would be a better choice to affiliate with?
The episode utilizes themes that fans of The Boys are accustomed to seeing and maintains a number of structural elements, including dubious characters, a focus on interpersonal relationships, and cruel corporate standards, among others.
Several of the main characters are introduced in the first episode of the television series "God U," which is an abbreviation for Godolkin University. Golden Boy (Patrick Schwarzenegger), who erupts like the sun while competing, is the most known of these.
Jaz Sinclair, who plays Marie Moreau, masterfully introduces the main character in the first episode. It almost seems as though someone from the real world is being thrown into the show's realism. She engages the audience in a decent manner.
In addition to setting up a mystery regarding a dubious top-secret institution, the first episode finishes tragically and unexpectedly.
Gen V's second episode, "First Day," is all about business planning, image-building, and disseminating numerous lies to the general public. The university goes into overdrive to restore its reputation after a horrific student suicide on campus and fabricates a full narrative around it.
The Boys-style adult politics are introduced to the kids in the third episode, "#ThinkBrink," which also makes numerous allusions to the first two seasons. The third episode came to an abrupt close, leaving viewers eagerly anticipating what would occur in Gen V Episode 4.
Gen V's first three episodes are available to watch on Amazon Prime Video. On October 6, 2023, Gen V Episode 4 will debut for the first time.