Miguel Cabrera, also known as "Miggy" and more popularly known as José Miguel Cabrera Torres, is a Venezuelan professional baseball player. He is the Detroit Tigers first baseman at the moment in Major League Baseball (MLB). He has won the American League (AL) Most Valuable Player (MVP) award twice since his debut in 2003. He has also won the AL batting title four times and has been selected to the MLB All-Star team eleven times.
This article contains information such as net worth, biography, age, wife, height, and weight, among other things on Miguel Cabrera.
What Is Miguel Cabrera's Net Worth?
A professional baseball player from Venezuela named Miguel Cabrera has a $145 million net worth. Cabrera is a two-time American League MVP and an 11-time MLB All-Star, and his fans also call him "Miggy."
He won the 17th MLB triple-crown in 2012. After joining the Florida Marlins in 2003, Cabrera started his MLB career, primarily playing first base and third base. He was moved to the Detroit Tigers in 2007 and kept up his outstanding play there.
Career: Miguel Cabrera's Journey to Baseball Greatness
Miguel Cabrera's remarkable baseball career began in 2000 when he made his professional debut in the Gulf Coast League. As he steadily climbed through the minor leagues, his batting average soared. In 2003, at just 20 years old, he made his major league debut with the Florida Marlins, immediately impressing with a game-winning home run.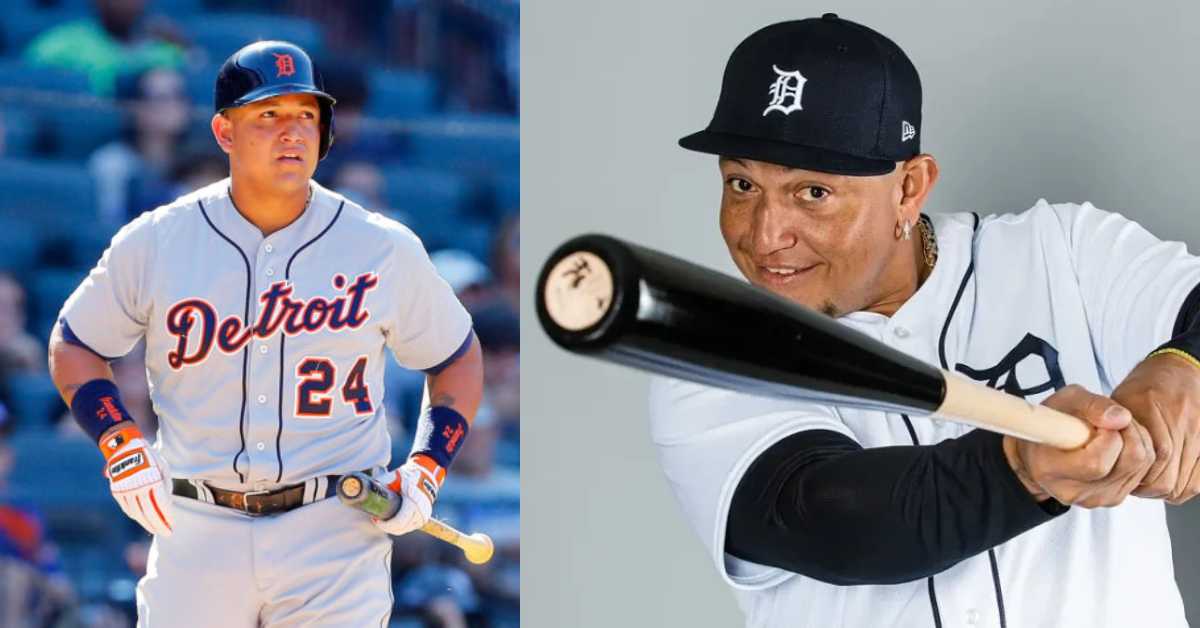 This marked the beginning of a storied career that included a World Series title in his rookie year. Cabrera consistently maintained a high batting average, finishing second in the National League for hits and home runs in 2005.
His journey also included representing Venezuela at the World Baseball Classic and joining the Detroit Tigers, where he secured numerous accolades, including a Triple Crown in 2012 and multiple MVP awards. Miguel Cabrera's baseball career has been a testament to his extraordinary talent and dedication to the game.
Miguel Cabrera's Salary and Career Earnings
Miguel Cabrera agreed to an eight-year, $150 million contract in 2008; this was the equivalent of a $21 million per year pay. He ultimately agreed to an eight-year deal extension worth $248 million.
Miguel became one of the world's highest-paid athletes after earning $30 million between June 2017 and June 2018 in pay and endorsements. Miguel Cabrera has had a salary of more than $330 million in total.
You can also read out other celebrities' wealth details we have covered recently:
Miguel Cabrera Investment in Real Estate
Cabrera offered his Birmingham property for $2 million in 2016. Many people refer to the house as a "modest mansion" because it has a movie theater, a library, and a big backyard. He spent $3.2 million on a Grosse Pointe Farms home in 2015.
This more recent residence has 11,175 square feet and looks out over Lake St. Clair. It has marble floors, a solarium, and six bedrooms. The house has a long driveway, gated entry, an eight-car garage, a swimming pool, and a putting green. It is situated on 2.5 acres.
In conclusion, Miguel Cabrera is a baseball icon whose accomplishments reach far beyond the field. His net worth of $145 million reflects his stellar career and unwavering devotion to the game. When we talk about "Miguel Cabrera net worth," we're genuinely celebrating one of baseball's all-time greats' financial achievements.
If you're interested in learning more about the financial situations of other celebrities, you can follow us on Leedaily.com.
Frequently Asked Questions
What is Miguel Cabrera's net worth in 2023?
Miguel Cabrera's net worth is expected to be $145 million as of October 2023.
When did Miguel Cabrera's MLB career begin?
Miguel Cabrera debuted in Major League Baseball with the Florida Marlins in 2003.
Which brands does Miguel Cabrera support?
Cabrera has endorsement partnerships with well-known companies such as Nike, Under Armour, and PepsiCo.
What major contract did Miguel sign in 2016?
 In 2016, Miguel Cabrera agreed to a two-year, $248 million deal extension with the Detroit Tigers.