Carroll is the Seattle Seahawks' head coach and executive vice president at the moment. He has won numerous titles while coaching USC, making him one of the most honored football coaches in history. He is also one of just three football coaches to have taken home both a Super Bowl and a national championship in college football. We will look at Pete Carroll's net worth in 2023 in this article.
Pete Carroll's Net Worth in 2023
In 2023, Pete Carroll's net worth is estimated to be $40 million. He was born in San Francisco on September 15, 1951. Despite being athletic as a child, Pete struggled to grow physically as a teenager, which annoyed him because he needed a special doctor's note to try out for football.
He eventually excelled in baseball, basketball, and football, turning into a multisport sensation. Even in 1969, he was named the school's Athlete of the Year.
The First Coaching Position for Pete Carroll
Carroll's former head coach at the University of the Pacific made him an offer to work as a graduate assistant after learning that he was interested in coaching. Pete concurred and enrolled as a graduate student at the university, where he graduated in 1976 with a Master's in physical education and a secondary teaching credential.
He worked on wide receivers and secondary defenders during his three years as an assistant at Pacific. Pete Carroll was admitted into the Pacific Sports Hall of Fame in 1995.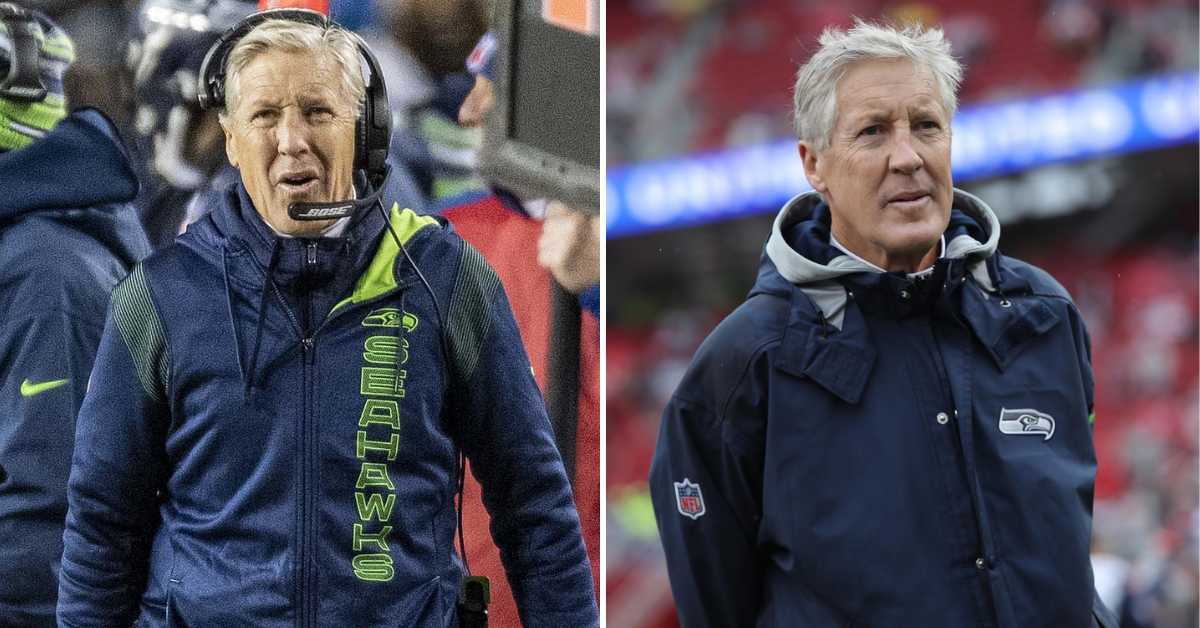 Carroll was employed by the University of Arkansas as a graduate assistant working with the secondary after graduating from Pacific, where he was paid $182 per month.
Carroll transferred to Iowa State the next year, where he worked as an assistant under Earle Bruce on the secondary. Bruce moved Carroll with him when he transferred to Ohio State University.
Pete Carroll was hired by North Carolina State in 1980 to oversee the defense. He went back to the University of the Pacific in 1983, where he worked as a defensive coordinator and assistant coach.
The First NFL Coaching Position for Pete Carroll
After a year, Carroll quit Pacific to join the Buffalo Bills as their defensive backs coach, making his NFL debut. The following year, he transferred to the Minnesota Vikings, where he played the same position from 1985 to 1989, for five seasons.
He was hired by the New York Jets to be their defensive coordinator under Bruce Coslet from 1990 to 1993 as a result of his strong performance with the Minnesota Vikings. The Jets elevated him to head coach in 1994. Sadly, he was let go after one season since the Jets had a 6-10 record.
You can also read about other celebrities' fortune that we have lately covered:
The Patriots Hire Pete Carroll as Their Head Coach
The San Francisco 49ers then employed him for two seasons as their defensive coordinator. In 1997, he was recruited to succeed Bill Parcells as the head coach of the New England Patriots after a successful tenure with the San Francisco 49ers.
The following two seasons saw a decline for the Patriots after a strong 1997 campaign in which they won the AFC East division. In 1998, they lost in the Wild Card round of the playoffs, and in 1999, they failed to qualify for the postseason at all. Carroll was dismissed by the Patriots following the 1999 season as a result.
Pete Carroll turned down numerous offers from NFL teams to act as a defensive coordinator in favor of consulting for professional and collegiate teams, volunteering for the league, and penning a pro football blog for CCNSI.com.
Pete Carroll is Appointed USC's Head Coach
Pete Carroll agreed to a five-year deal on December 15, 2000, to lead the USC football team. He wasn't the first pick, though, since the USC Athletic Department was searching for a well-known coach with recent collegiate experience under Director Mike Garrett.
Due to Pete Carroll's NFL coaching background and nearly two-decade absence from the college football game, the choice of Carroll as USC's new head coach was questioned by the media and many USC fans and alumni. Many of these people were pushing for Carroll's ouster before they started donating again.
Carroll and the Trojans had a sluggish start to the 2001 campaign, going 2-5, but they eventually picked up the pace, going 67-7 over the following 74 games. This contains several championships and won streaks that break records.
USC Trojans Coach Pete Carroll's Achievements:
Back-to-Back The Associated Press National Championship (2003-2004)
2x BCS Championship Game Appearance (2005 win over Oklahoma and 2006 loss to Texas)
6x BCS Bowl Victories
National Record – 33 Consecutive Weeks as the AP's No. 1 Ranked Team
Seven straight BCS Bowl Appearances
NCAA Record – 63 straight 20-point games
53 players selected in the NFL Draft – 14 in the 1st round
25 First-team All-Americans
2003-2004 season – 34-game win streak
Three Heisman Trophy Winners – Carson Palmer (2002), Matt Leinart (2004), Reggie Bush (2005, vacated)
Unfortunately, the NCAA imposed penalties on USC in 2010 that included a two-year bowl suspension, the abolition of thirty scholarships, the forfeiture of several victories from the 2003–2004 season, and every victory from the unbeaten 2005–2006 regular season.
Reggie Bush, a former USC Trojan, was recruited after it was discovered that he had taken inappropriate gifts.
On November 8, 2020, Pete Carroll extended his contract with the Seahawks for a further four years, making him the second-highest-paid coach in the NFL with a $11 million compensation. Naturally, everything mentioned here adds to Pete Carroll's wealth in 2023.
View this post on Instagram
Pete Carroll Investment in Real Estate
In 2015, Pete Carroll made a real estate move by selling his Hunts Point home in the Seattle area. Despite the sale fetching $6.1 million, it was a modest profit considering he had purchased the property less than a year earlier for $5.9 million. The property itself boasted three bedrooms within its 3,860 square feet, along with desirable amenities such as a detached guest suite, a moorage dock, and access to a private beach.
In 2016, Carroll also parted with his Manhattan Beach cottage, which he had owned since 1999 when he acquired it for just $540,000. This coastal gem eventually sold for $2.05 million, even exceeding its asking price.
Finally, in 2017, Pete sold his Rolling Hills, Washington home in a discreet off-market transaction for $3.05 million, wrapping up three years of notable real estate dealings. This spacious 1950s home, situated on a corner lot, featured four bedrooms, cathedral-style vaulted ceilings, French doors, fireplaces, skylights, and a wealth of outdoor amenities, including a patio, pool, putting green, spa, and breathtaking views of greenbelt and park areas.
For more information on other celebrities' net worth, earnings, and other topics, visit our website and read our most recent postings.