Joel Embiid, the star of the Philadelphia 76ers, just married his longtime girlfriend Anne de Paula, a Brazilian model. In this article, we will learn about Mrs. Embiid, how she met Embiid, what kept her busy before she drew the attention of the Cameroonian and much more.
Take a big breath and perhaps watch some Joel Embiid highlights to get you started, then return to this focused story on the woman who grabbed the heart of Joel. Ladies and gentlemen, allow us to introduce Joel Embiid's wife, Anne de Paula.
Who is Joel Embiid's Wife Anne de Paula?
Anne de Paula was born on March 31, 1995. She was born in Rio de Janeiro, Brazil, thousands of kilometers from Joel Embiid's native Cameroon in South Africa. Anne is a Roman Catholic, which is not surprising given her Brazilian heritage.
Anne grew up with a passion for soccer, a sport revered in Brazil. Embiid could certainly connect to this, as Cameroon is also a big soccer fan. Perhaps if Embiid hadn't grown up to be so tall, he would have chosen soccer instead of basketball. Nonetheless, Joel is a die-hard football fan.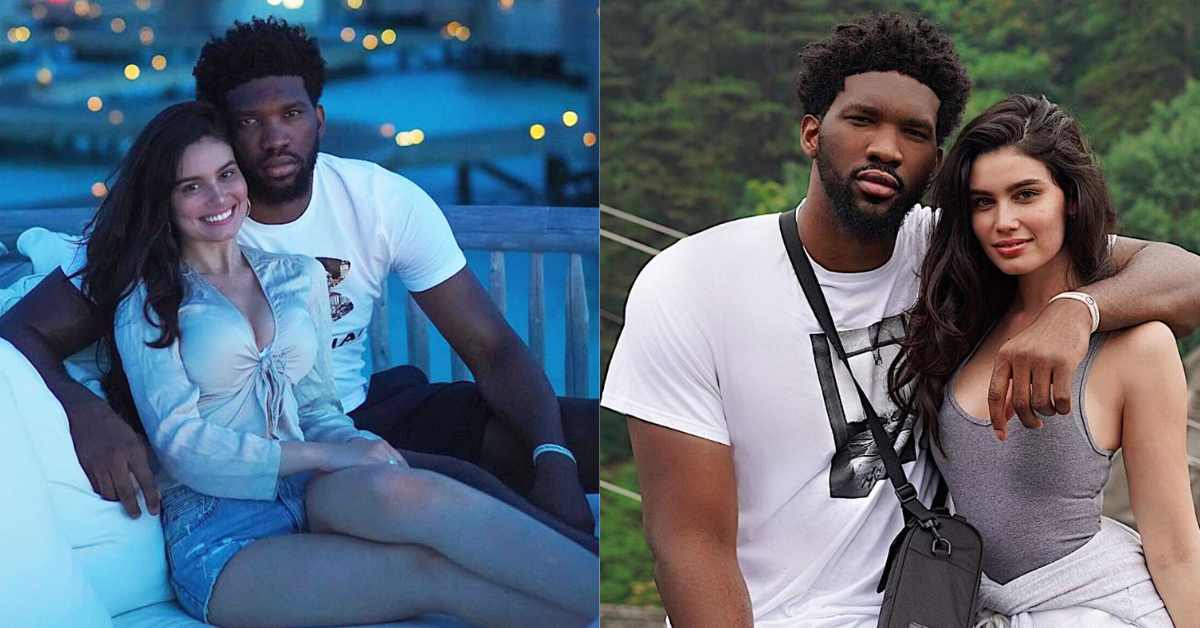 Also Read: Who is DJ Moore Wife? The Heartfelt Story of His Growing Family and NFL Stardom
How Did Joel Embiid and Anne De Paula First Meet?
When Embiid and Anne met for the first time, he wasn't looking for anything romantically serious. In fact, their first meeting was completely coincidental. When Anne first saw Embiid, she had no idea what he was interested in.
According to ESPN's Ramona Shelburne:
He met de Paula when he wasn't looking for anyone. They just happened to attend the same dinner with a mutual friend in New York City in 2018. And as she remembers it, neither of them really said much during dinner. She didn't even realize he was a basketball player until he stood up at the end of the meal and she saw how tall he was.
The Romance Between Joel Embiid and Anne De Paula is Blossoming
People began to suspect a romance between Embiid and de Paula the same year, but their relationship was revealed only after Sixers owner Michael Rubin shared an Instagram post congratulating Embiid and de Paul on their engagement.
View this post on Instagram
Joel Embiid's girlfriend was already doing swimsuit modeling for Sports Illustrated. SI described her in a brief profile as follows:
Brazilian model Anne de Paula made her SI Swimsuit debut as part of the 2017 SI Swimsuit model search, where she shot in body paint. She won the fan vote that year and became a 2018 SI Swimsuit rookie. Anne is a proud dog mom and splits her time between New York City and Philadelphia.
Being in New York City and Philadelphia most of the time meant she was always close to the hub of Embiid Mania, as the Sixers drafted him in 2014.
It's easy to see how the two fell in love because they had so many similarities. Anne and Joel both like playing soccer. They understand French. An excerpt from Shelburne's biography of Embiid reveals that the two shared the desire to have a family: "It started off as a beautiful friendship," she says.
They both loved soccer, spoke French, and desired a family above everything else.
We FaceTimed every day for a while. … He just has this personality where he wants to motivate you. His friends, his family and now with Arthur — he pushes all of us to be the best of ourselves.
If you want to know all details about Joel Embiid's injury then read the article below:
Do Joel Embiid And Anne de Paula Have Kids? 
Their dream of starting a family came true two years into their partnership when they welcomed Arthur Elijah de Paula Embiid into the world in September 2020.
Embiid, a social media sensation in his own right, wasted no time in showing the world how delighted he was to become a parent, posting an image of himself with Arthur on Instagram shortly after his son's birth. He also joked about Arthur being the first of 11 more children with de Paula.
View this post on Instagram
In fact, despite being three months pregnant with Arthur, Anne de Paula managed to appear in Sports Illustrated's 2021 Swimsuit Calendar. Talk about commitment to her craft. Anne has almost 248K Instagram followers as of this writing.
When Did Joel Embiid and Anne De Paula Tie the Knot?
Joel Embiid and Anne de Paula got married on Saturday, July 22, 2023. They married in Southampton, New York, and there were plenty of images and videos of their celebration on social media. Many of Embiid Sixers teammates were present, and they also had Brian McKnight perform.
View this post on Instagram