Unfortunately for Joel Embiid, his poor fortune in the NBA Playoffs has continued this season. The 76ers star was injured in Game 3 of his team's first-round series against the Nets. He could not play in Game 4, but Philadelphia still completed the sweep without him.
The concern is that Embiid's knee injury will keep him out of Game 1 of the Eastern Conference Semifinals – and potentially beyond. Here are the most recent updates on his condition ahead of the game against the Celtics.
What is Joel Embiid's Injury?
According to ESPN's Ramona Shelburne, the injury has been diagnosed as a sprained right LCL. According to NBC Sports Philadelphia's John Clark, Embiid may wear a brace on that knee in future playoff games.
Source confirms Joel Embiid has a sprained LCL. He may have to wear a brace for the knee when he returns. There is some hope that he can play towards the beginning of the Sixers second round series but he will be playing through a knee injury@ramonashelburne was first pic.twitter.com/JxirjN0vjA

— John Clark (@JClarkNBCS) April 25, 2023
Latest Information and Updates on Joel Embiid's Status for Game 1 Against the Celtics
According to head coach Doc Rivers, he is out for Game 1 against the Celtics. When questioned about Embiid's injury status for Game 2, Rivers responded, "We'll see moving forward," noting that Embiid had yet to run in practice. Game 2 is scheduled for May 2 in Boston.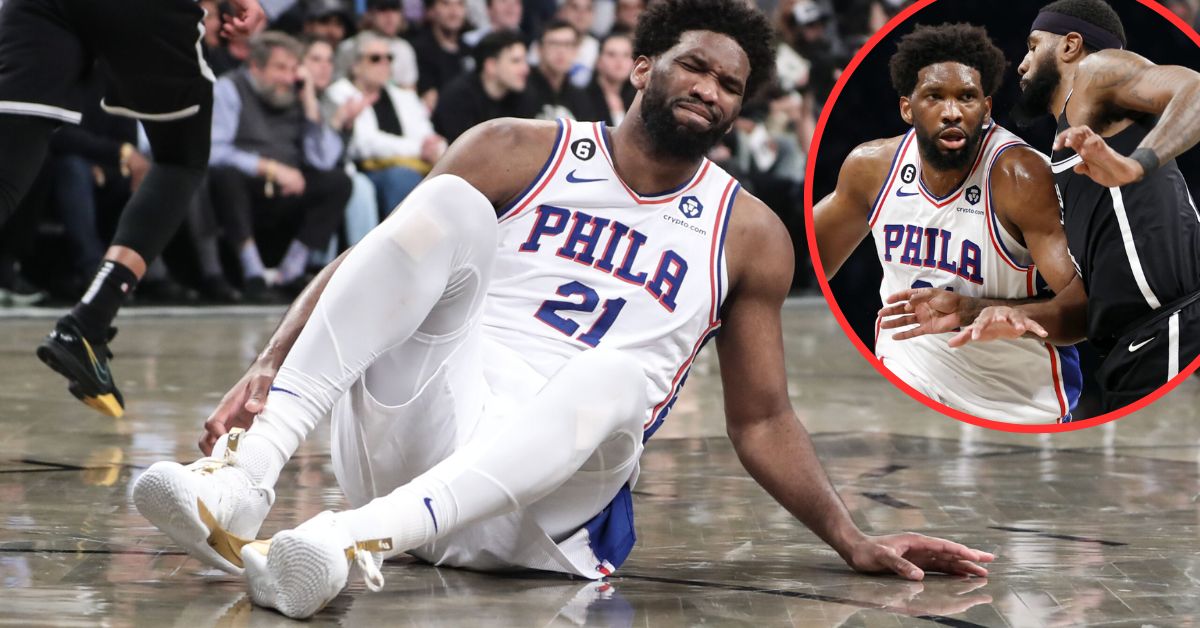 Time to Recover From an LCL Sprain
LCL sprains are graded as Grade 1 (injury to some ligament fibers), Grade 2 (damage to more ligament fibers), or Grade 3 (tear of knee ligament). Surgery may be required for the most severe LCL sprains.
According to The University of Pittsburgh Medical Center, the healing time for an LCL sprain can range from four to six weeks. However, this might vary depending on the degree of the injury.
We've recently written top posts about famous people who got injured. If you want more information, you should read the pieces below:
Schedule For the 76ers Versus. Celtics
The complete schedule for the second-round series between Philadelphia and Boston is as follows:
| | | | |
| --- | --- | --- | --- |
| Date | Game | Time (ET) | TV channel |
| May 1 | Game 1 | 7:30 p.m. | TNT |
| May 3 | Game 2 | 8 p.m. | TNT |
| May 5 | Game 3 | 7:30 p.m. | ESPN |
| May 7 | Game 4 | 3:30 p.m. | ESPN |
| May 9 | Game 5* | TBD | TNT |
| May 11 | Game 6* | TBD | ESPN |
| May 14 | Game 7* | TBD | TBD |
In the first round last year, Embiid was injured against Toronto and missed the first two games of the next series against Miami due to a concussion and an orbital bone fracture. Those two games were the beginning of the end for the Sixers, who lost the series 4-2 overall. If Embiid had been well enough to play in Games 1 and 2, the series' outcome might have been different.
According to Rivers, Embiid may be available for Game 2. Yet, as we saw last year with the Heat, missing just one or two games can change the course of the series. The Sixers have a more robust and balanced roster than in recent seasons, but they still can't afford to lose their star player for an extended period.
The extent to which Embiid's injury will affect his play, if any, is open to question. At his peak, he's in the conversation for best player in the NBA. The Sixers need him if they want to make the playoffs for the first time since 2001.