Get ready to dive into the magical world of Disney Lorcana as players across the globe eagerly await the release of "Disney Lorcana: The First Chapter." In this exciting article, we will unveil the release dates, characters, gameplay, and captivating card designs of this highly anticipated Trading Card Game (TCG).
With enchanting characters and a unique gameplay experience, Disney Lorcana promises to be a captivating addition to the world of TCGs. Let's embark on this adventure and explore what awaits in the realm of Disney Lorcana.
Disney Lorcana Release Dates for the First Chapter
Players will get a chance to test out the Disney Lorcana: The First Chapter for the first time at local game stores on Aug. 18. An official release of the TCG set will take place on Sept. 1 through all big box retailers according to Disney Lorcana.
The TCG is getting published in English, French, and German. At launch, players in the U.S., Canada, the U.K., France, Germany, Switzerland, Austria, Belgium, the Netherlands, and Luxembourg will be able to purchase Dinsey Lorcana TCG products.
Disney Lorcana: The Second Chapter Release Dates
The second set for Disney Lorcana called The Second Chapter will drop into local game stores on Nov. 17, followed by major retailers on Dec. 1. Ravensburger is releasing four chapters, or sets, over the course of the next year.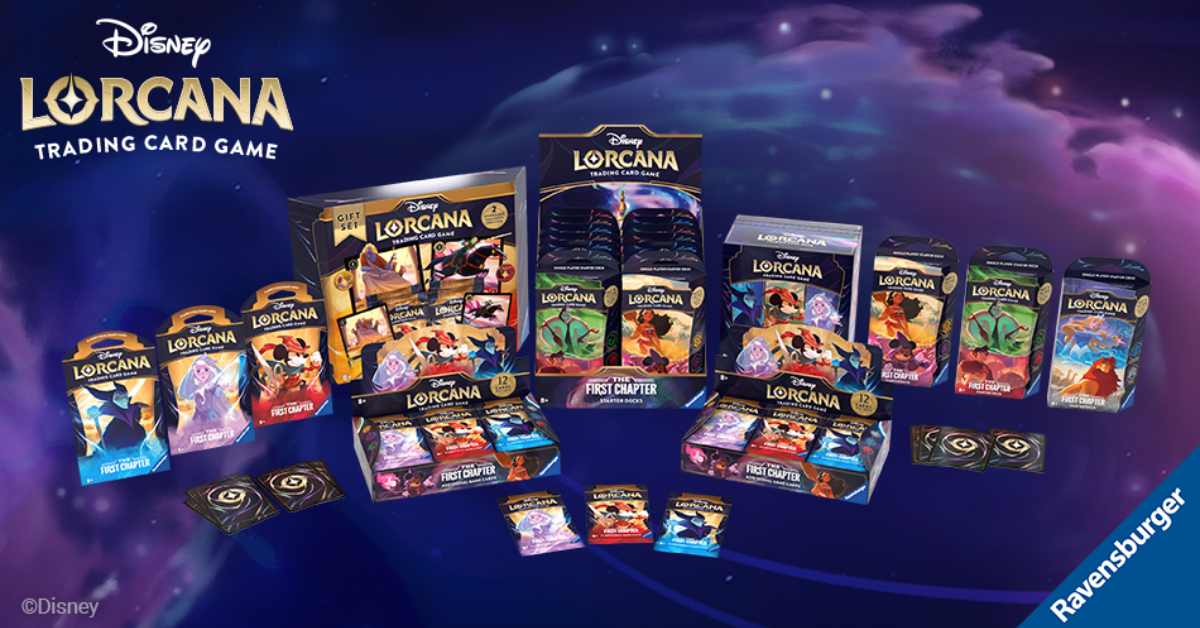 What Characters Will Be in Disney Lorcan?
The Disney catalog features a metric boatload of characters to collect. Captain Hook, Elsa, and Mickey Mouse will feature as the very first characters. Within The First Chapter, there are over 200 cards. Characters in The First Chapter range from villains and heroes to infamous side characters at all rarities.
The card game will take place in a location known as The Great Illuminary, according to brand manager Ryan Miller. This is a treasury home to all of Disney's greatest songs, stories, and characters. Players will take on the role of an Illumineer, "this powerful sorcerer that has the ability to bring these characters to life off the page," ultimately bringing a "band of their favorite Disney characters" together for an adventure.
All characters can show up in one of six Disney Lorcana colors: Amber, Amethyst, Emerald, Ruby, Sapphire, and Steel. In conjunction with the six colors are a variety of card types. And each character supports the color themes through spells and abilities.
What is the Gameplay Like in Disney Lorcana?
For the soft launch of Disney Lorcana on Aug. 18 at local game stores, players can learn all about the TCG through three preconstructed starter decks. The win condition for Disney Lorcana is built around collecting Lore counters.
Players will use Character cards to collect Lore or to Challenge an opposing Exerted Character. There are also Action and Item cards to support a variety of gameplay strategies. And cards are played by adding an Inkable card to the Inkwell. The first player to reach 20 Lore wins the game.
You might also like to read about these other upcoming games:
What Will Disney Lorcana Cards Look Like?
All cards will have one of six rarities in the Disney Lorcana TCG. Only the sixth rarity, Enchanted, will feature alternative art from an existing card with an Inkwash foil treatment. An early look at some Lorcana cards.
Tonight!!!! We're doing Pokémon 151 under MSRP ALLLL NIGHT

AND DISNEY LORCAN

COME JOIN THE STREAM AND RIP WITH US https://t.co/YdQn1T6r05 pic.twitter.com/wnarEH6Niw

— BreaksNGames (@BreaksNGames) September 22, 2023
The collection of cards will have a "modern storybook" art style, according to Polygon. Creative director Shane Hartley described it as being inspired by "storybook openings" of Disney's classic films, including visible line work and "vibrant" color washes. This will give it a hand-drawn fairytale look but elevated with advanced digital techniques.
We're delighted you liked our piece! Remember to return to Leedaily.com for the most recent tech news and educational resources.