Former NFL running back Marshawn Lynch has a massive net worth. Marshawn Lynch is a running back who was picked by the Buffalo Bills in the 2007 NFL Draft. He won his only Super Bowl with the Seattle Seahawks. He was dubbed "Beast Mode" because of his aggressive running style and ability to consistently break tackles.
Lynch, a two-time NFL running touchdowns leader, retired following the 2015 season but returned to action in 2017 after the Seahawks traded him to his hometown team, the Oakland Raiders. Marshawn Lynch is only the 31st player in NFL history to have rushed for over 10,000 yards and has been selected to five Pro Bowls. In October 2021, he made history by being designated the first National Football League Players Association (NFLPA) brand chief ambassador.
Marshawn Lynch is also having off-field success in his business activities, and although he is only 36 years old, he already owns many brands in addition to promoting many more. He is a minority owner of the NHL franchise Seattle Krakens and a 'burgeoning' cannabis entrepreneur as the brand owner of Dodi Blunts. This article contains information about Marshawn Lynch's net worth, salary, investments, cars, and houses, among other things.
What is Marshawn Lynch's Net Worth?
Marshawn Lynch is an American former professional football player with a net worth of $35 million. Marshawn Lynch played collegiate football at the University of California, Berkeley before being selected by the Buffalo Bills in the 2007 NFL Draft.
With 17 such games, he presently holds the Cal record for the most such games. Lynch also played for the Oakland Raiders and Seattle Seahawks, and he won the Super Bowl in Super Bowl XLVIII when the Seahawks defeated the Denver Broncos 43-8.
Marshawn Lynch Career Earnings
Marshawn Lynch made a total of $56.7 million in pay alone throughout his NFL career. He made at least $10 million and maybe as much as $20 million through sponsorships, giving him a range of $66 to 76 million in total career earnings.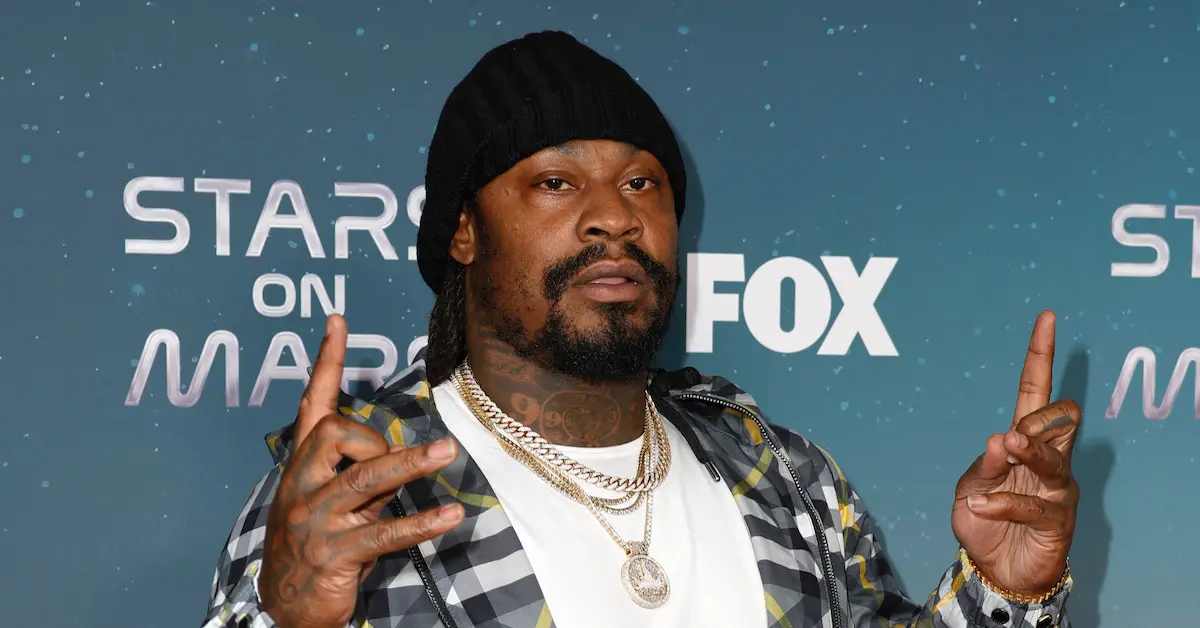 Marshawn Lynch Salary
According to the terms of his one-year contract with the Seattle Seahawks, Lynch last received an average annual pay of $1,030,000. He maintains that his endorsement deals are enough to support him, in contrast to other players in the league, and that he has not spent any of the impressive $56.8 million in professional football player salaries.
Marshawn Lynch Endorsements
Skittles are his favorite candy, and Marshawn enjoys eating them in between games. He was also fined $10,000 for sporting cleats with the candy on them. The corporation and this led to an official agreement in 2014. Lynch has also made over $5 million through endorsing companies including Nike, Microsoft, Pepsi, and others.
Here is a list of the endorsement contracts signed by Marshawn Lynch:
Nike
Microsoft
Pepsi
Activision
FritoLay
Subway
Progressive
Marshawn Lynch Investments
The hallmark move that gave Marshawn Lynch his moniker, "Beastmode," made him famous, and he converted it into a lifestyle brand with the same name that sells gear and merchandise in collaboration with online store Fanatics.
Additionally, Lynch is the mind behind Beast Mobile, a 2017 ad-supported mobile service. By interacting with adverts and offers, customers can pay their phone bills in this creative method.
Todd Lyons, a former professional BMX rider, discovered that Lynch is also an accomplished BMX biker and instantly produced a unique customized bike with the BMX logo in 2018.
In April 2022, Lynch invested in a portion of the NHL team Seattle Krakens. Rapper Mackelmore is one of the team's additional investors.
In 2018, Lynch became a co-owner of the Oakland Panthers of the Indoor Football League (IFL). Additionally, he shares ownership of the Beast team in Fan Controlled Football (FCF). In April 2021, he also became a member of Oakland Roots SC's ownership group for the USL Championship (soccer) league.
You can also read about other celebrities' financial details:
Marshawn Lynch's Other Earnings
Lynch is the originator and proprietor of the 'Beast Mode' brand, which encompasses a network of garment lines and retail locations with international brand partnerships. He also worked with BMX to build a limited edition 'Beast Mode Ripper' BMX bike.
Lynch founded his cannabis brand, 'Dodi Blunts,' in 2021, which operates in the Bay Area and donates earnings to the 'Last Prisoner Project,' a drug reform organization. Lynch also became an investor in a hologram firm called 'Portl Inc.' in November 2021.
Marshawn Lynch's Residence and Car
Marshawn Lynch's humble residence is a $1.1 million 2,831sq.ft estate in Waialua, Hawaii, with five bedrooms and three bathrooms.
Lynch's personal collection includes a '86 Honda Civic and a V12 Lamborghini Aventador Roadster, which he test-drove and reviewed in 2016. He also recently purchased a Toyota Prius and occasionally drives for Uber.
Marshawn Lynch Charity Work
Lynch has been a dedicated supporter of communities in his hometown of Oakland. He formed the Fam 1st Family Foundation alongside his cousins and fellow NFL players, Josh Johnson and Marcus Peters, to help needy youngsters in the state.
How Long is Marshawn Lynch Under Contract?
Marshawn Lynch is a former NFL player. His most recent contract was a one-year, $1.03 million deal with the Seattle Seahawks in 2019.
How Much Does Marshawn Lynch Earn Per Year?
Marshawn Lynch earns around $5 million to $7 million per year, which includes endorsement and business profits. If you are interested in reading about other celebrities' wealth details and more, then follow us on Twitter.