Scrub Daddy is the third-largest sponge supplier in the United States. Cleaning items such as smiling face erasers, scrubbers,  sink dispensers, sponges, and accessories are used by the company. Aaron Krause founded Scrub Daddy in 2012.
Scrub Daddy products are made from a polymer that changes texture depending on temperature, becoming stiff in cold water and mushy in warm water. It was the most profitable item successfully pitched on the ABC reality television show Shark Tank in 2019.
What is Scrub Daddy's net worth? Learn about the company and its founder, Aaron Krause.
Scrub Daddy's Net Worth
How much money has Scrub Daddy earned? As of 2023, the company's net worth is expected to be $310 million. It gained international prominence in 2012 after appearing on an episode of the reality television show Shark Tank, in which Lori Greiner agreed to a $200,000 equity investment with Aaron Krause in exchange for 20% ownership.
The deal was completed, and the next day, both parties sold out 42,000 Scrub Daddy sponges on QVC in less than seven minutes. Lori eventually assisted in the sale of the product at several retail shops, including Home Depot, Wal-Mart, and Meijer.
Scrub Daddy evolved into a multimillion-dollar corporation, distributing its products in retail shops across the country. It made a record for the highest income of any successfully launched item on Shark Tank.
Below are our most recent articles about other celebrities' net worth:
Scrub Daddy's Growth and Progress
Scrub Daddy's revenue had surpassed $100 million by the beginning of 2017, the highest for any Shark Tank venture. Scrub Daddy had produced approximately $670 million in retail sales since its debut five years later, according to a chapter of the 14th season of the show.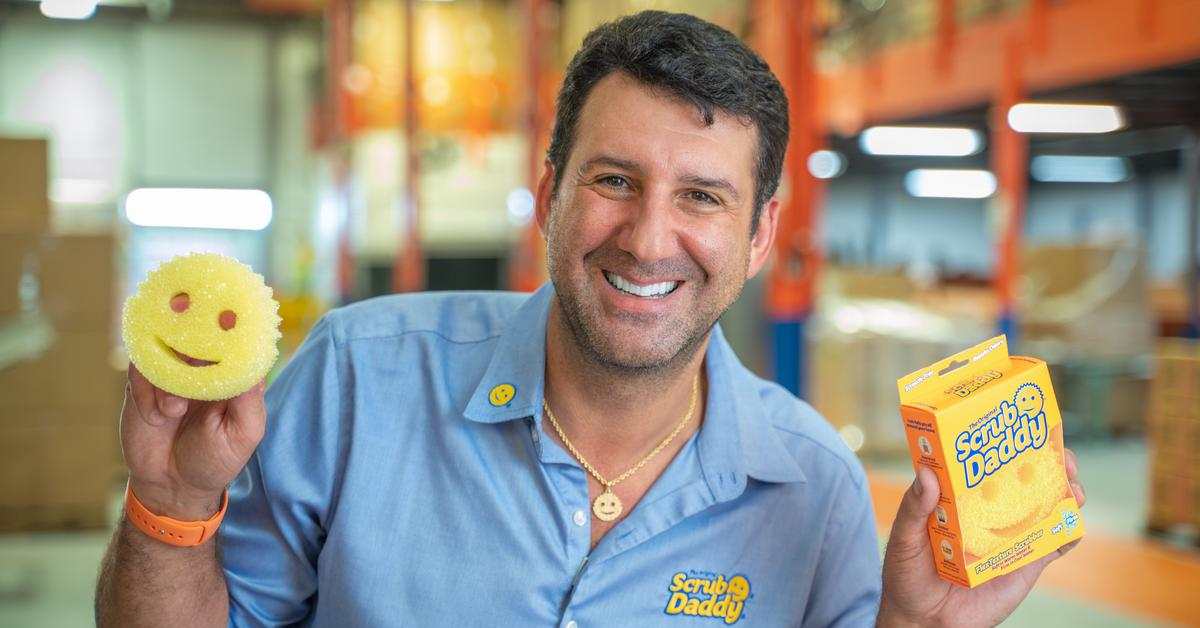 Who is the Owner of Scrub Daddy?
Aaron Krause is the company's owner. Aaron is a successful entrepreneur and inventor with more than 20 years of experience in patenting and developing cutting-edge products. He was born on February 1, 1969, in Wynnewood, Pennsylvania, USA. Aaron is 54 years old in 2023. In 1992, he earned a Bachelor of Science in Psychology from Syracuse University.
What is Aaron Krause's Net Worth?
The owner's net worth has been estimated to be $100 million. He makes a living from his business and inventions.
Scrub Daddy's Invention and Success
Aaron formerly ran a global buffing pad and car detailing company that he founded after graduating from university. He had filthy hands from the time he spent operating machines, which was a constant pain, and the only way to clean them was to use the abrasive ointment GOJO.
Krause set out on a mission to create a more pleasurable way of washing his hands, building on his decade of experience in manufacturing urethane foam buffing pads. He invented and patented a very advanced polymer foam hand scrubber with a groove on one side and two holes cut out in the middle in 2007.
View this post on Instagram
Some people initially disliked the product because they thought it was superfluous and overpriced. As a result, Krause abandoned the project and relegated the scrubbers to his garage. Meanwhile, the transnational behemoth 3M purchased his buffing pad company.
Aaron salvaged his previously abandoned foam scrubbers from his garage and used them to clean his lawn furniture and dishes in 2011. When everything came out faultless and unscratched, he realized he had a profitable product on his hands.
Krause eventually added a cheerful mouth to the scrubbers, paving the way for another creation. He then initiated a grassroots marketing campaign for the product, which culminated in a piece published in the Philadelphia Inquirer.
It aroused the eye of a private broker, who ordered the items from QVC. Scrub Daddy was initially introduced in 2012 and has since appeared on four further QVC shows.
Scrub Daddy Products
Since the first Scrub Daddy sponge, the company has launched over 20 other products. Additional options include scouring pads, soap dispensers, cream cleaners, sink organizers, and dual-sided sponges. Scrub Daddy sponges are available in a variety of colors and shapes, including seasonal shapes such as pumpkins and snowflakes.
Below are our most recent articles about other celebrities' net worth:
In conclusion, Scrub Daddy, formed in 2012 by Aaron Krause, has not only revolutionized the cleaning sector but also achieved extraordinary financial success. Scrub Daddy became the most profitable product in Shark Tank's history, with a net worth of $310 million as of 2023.
Aaron Krause, the inventive owner, is expected to have a net worth of $100 million, indicating his success as an entrepreneur and innovator. Scrub Daddy's rise from a garage invention to a multibillion-dollar enterprise exemplifies the power of perseverance and inventiveness in business.