We've all heard about Miley Cyrus. She was the star of the Disney Channel's Hannah Montana. In her ten years in the music industry, she has released banger after banger. And her father is Billy Ray Cyrus. Miley Cyrus' dating history has been kept under wraps since she first came to public attention more than a decade ago.
Miley Cyrus is best known as Liam Hemsworth's longtime girlfriend, then fiancée, then wife. The couple, who dated on and off for roughly a decade, split up in August 2019. Miley has had several high-profile relationships since then. And, while the Disney Channel alum was in a long-term relationship for the majority of the time we knew her, she did have brief flings with other celebrities during her time with Liam.
Miley's dating life may be difficult to track after more than a decade in the business. She is one of Hollywood's most talked-about stars. We attempt to retrace her dating history. Miley Cyrus' admirers know that the "Wrecking Ball" singer is one-of-a-kind. So, who is Miley Cyrus currently dating? Continue reading to figure it out.
We have recently covered top articles on Miley Cyrus. If you wish to learn more about her, we've included some links below:
Who's Miley Cyrus Dating Now?
Miley is currently dating musician Maxx Morando, who is six years her junior. "We got put on a blind date," she explained to British Vogue in May 2023. "Well, it was blind for me and not really for him. I thought, 'The worst that can happen is I leave.'"
She didn't, however. Although this was an unexpected pairing, it appears to be still going strong. They've been to Mexico, celebrated milestone anniversaries (Cyrus' 30th birthday), been photographed out and about in L.A. together—with lots of kissing to keep them going—and shared a performance on New Year's Eve 2022.
Sources told E! News, "Miley is really happy. Everyone in her family loves them together and thinks they mesh really well."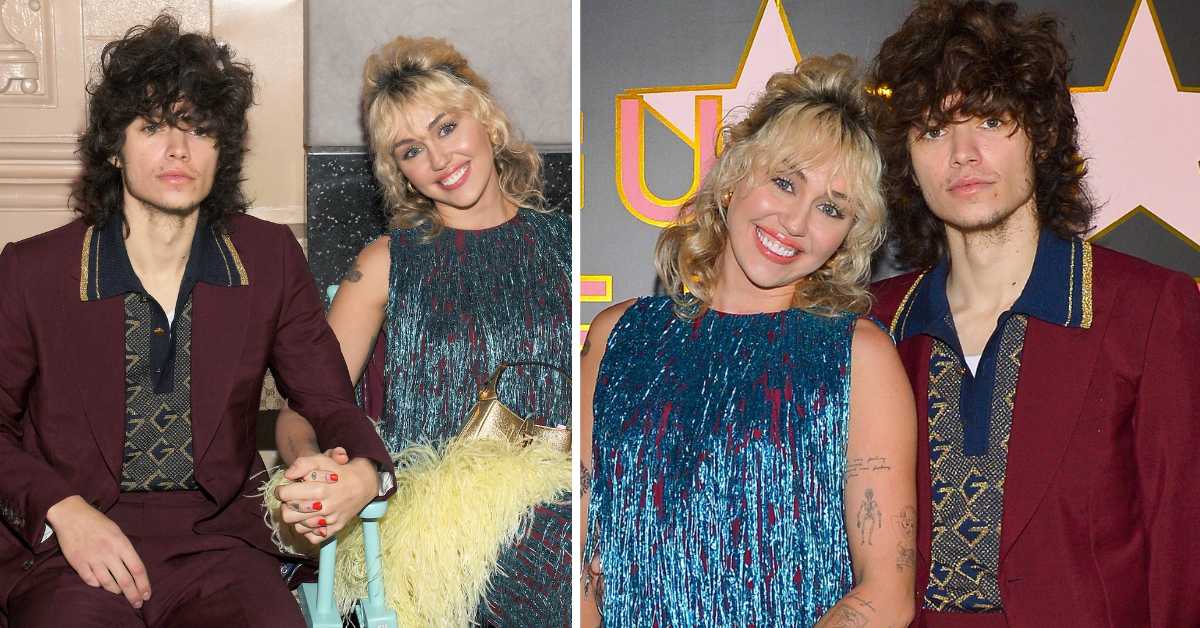 Miley Cyrus' Dating History And Past Relationships
Though her dating life was once a little more public than it is now, Cyrus has had a lot of memorable encounters over the years. Here are some of her most notable romantic relationships…
Liam Hemsworth (on and Off From 2010-2019)
They became inseparable after meeting on the set of The Last Song in 2010. However, they encountered a tough period around 2012-2013, resulting in a split and some chaos on Cyrus' end. (Yes, it's been ten years since her divisive VMA performance.) They reunited and eventually married in 2018, only to divorce a year or two later.
Despite her sadness, Cyrus told British Vogue that she wouldn't alter a thing about the person she considered her first love.
"I wouldn't erase my story or want it to be erased," she told me. "Having an interesting life makes for interesting storytelling."
Cody Simpson (2019)
The friends-to-lovers romance began shortly after Cyrus' divorce, and though they didn't date for more than a year, it appears the two concluded their relationship on a happy note.
"Like everybody else at this age, we're just deciding who we wanna be with our lives, what we wanna do with our lives," Cyrus remarked after their breakup in 2020. "And so, don't make it some drama story if next week we're out hanging out or getting pizza. We've been friends for 10 years and we're gonna continue to be friends."
Kaitlynn Carter (2019)
Thanks to Cyrus and Carter's 2019 relationship and passionate Italian holiday, "Hot Girl Summer" became a thing. Despite the fact that things appeared hot and heavy at the time, the two eventually parted ways.
A source told People, "They've been friends forever and were there for each other when they were both getting separated, [but] they're just not in a romantic relationship anymore."
Stella Maxwell (2015)
Cyrus met the Victoria's Secret model in 2015 and enjoyed getting to know her and taking photos for Instagram, but the two did not pursue a long-term relationship.
"We met through mutual friends via Instagram, which is where Cheyne [Thomas] contacted me about taking some photos. It's been a trip to hang out and see a little of their world. Felt very organic and right," Maxwell told V Magazine.
Patrick Schwarzenegger (2014)
Schwarzenegger took notice of Cyrus when they first crossed paths in 2011 when she was in the early stages of her relationship with Hemsworth. But it wasn't until 2014, when they were both single, that they were free to pursue something. They only dated for five months.
We have recently covered top articles on Miley Cyrus. If you wish to learn more about her, we've included some links below:
Who Else Was Miley Cyrus Linked With?
Though we have information on a huge list of Cyrus' romantic relationships, she was also reported to be dating producer Mike Will Made-It, Jared Leto, and, back when she was at Disney, Joe Jonas.
In conclusion, Miley Cyrus' relationship past is as varied as her musical career. Cyrus has handled the difficulties of love in the public glare, from her long-term relationship with Liam Hemsworth to brief flings with Cody Simpson and Kaitlynn Carter. Cyrus, who is currently dating musician Maxx Morando, continues to exceed expectations in her personal and professional lives. Her journey serves as a reminder that love, like her music, is an ever-changing adventure.