As the Indian Premier League (IPL 14) will commence on April 9, 2021, You surely want to know the Playing 11 for both of the teams before it begins. Here is the complete analysis of playing 11 of both teams.
Mi vs rcb 2021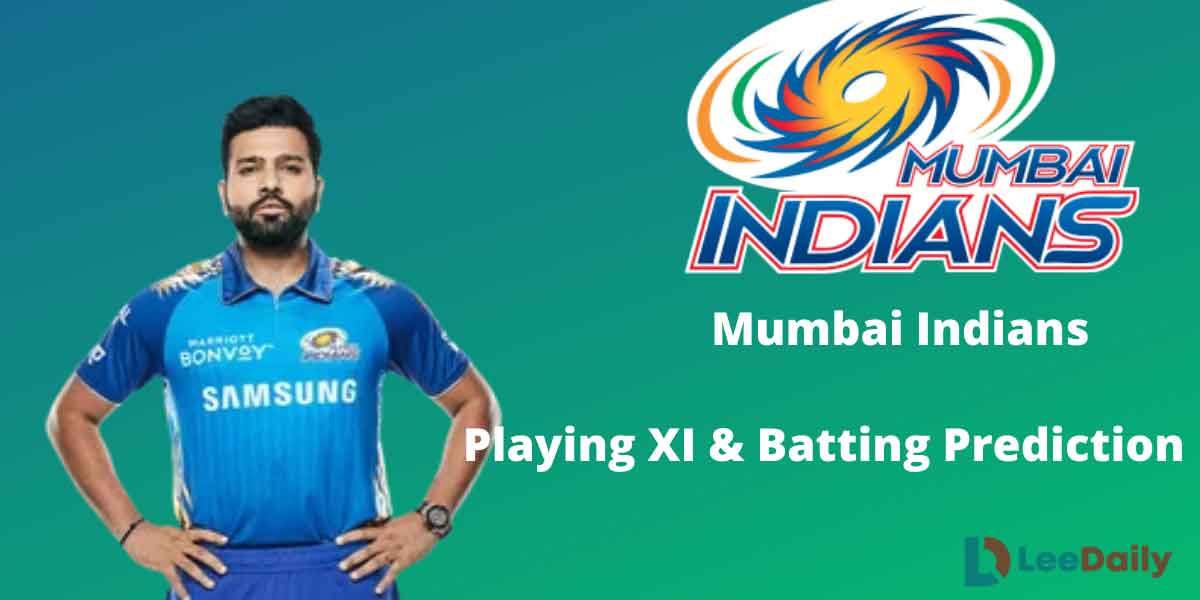 MI Playing XI
Mumbai Indians have emerged as the most successful IPL team from the last few IPLs. It has managed to make it to the finals six times and won the title of Champion 5times. The winning of any team entirely depends on its players. Therefore, selecting the right players is the first step towards winning. Let us analyze the best 11 players, which helps the teams to make the metric by winning IPL 2021.
Mumbai Indians won the tournament all five times under the leadership of Rohit Sharma. So, definitely, he will be the captain of the team. Other major players are in the squad and contributed to winning include Kieron Pollard, Jasprit Bumrah, and the Pandya brothers Suryakumar Yadav and Quinton de Kock.
We must not forget the contribution of youngsters like Ishan Kishan and Rahul Chahar, who managed to spread their charms when given the opportunity.
Well, Mumbai Indians prefer not altering the team working for it. So, we are not expecting any major changes in playing 11.
However, veteran IPL players like Piyush Chawla, youngsters like Marco Jansen, and Arjun Tendulkar are added to the squad. It must be interesting to see their roles in IPL 2021.
MI Playing XI(First choice)
Rohit Sharma
Quinton de Kock
Ishan Kishan
Suryakumar Yadav
Hardik Pandya
Kieron Pollard
Krunal Pandya
Nathan Coulter-Nile
Rahul Chahar
Trent Boult
Jasprit Bumrah
Above is the first choice of Mumbai Indians, but seeing the present scenario, Rohit Sharma has to take a few big decisions before April, 9,2021.
Opening partner of Rohit Sharma? As we know, Quinton De Kock plays as an opener with Rohit Sharma. However, he will not play the 1st match as he is busy with his wedding. So, Rohit Sharma has to decide which player will fill Quinton De Kock's place.
Well, he has left with two suitable alternatives: Chris Lynn or Ishan Kishan. Chris Lynn is a top-order batsman. He performed fiercely in the 2019 IPL. However, he did not get any chance to repeat his brilliant performance in IPL 2020.
On the contrary, Kishan is a middle-order batsman but gave a high voltage performance in India vs England. Personally, I prefer to see Chris Lynn as an opener with Rohit Sharma.
Whom do you want to see as an opener? Tell me in the comment section.
Piyush Chawla or Rahul Chahar? Another question is regarding the choice of Spinner. Rahul Chahar is a prime blower of MI, who has proved his worth in the last three IPLS. But, Mumbai Indians has acquired an experienced IPL spinner, Piyush Chawla by spending 2.4 crores. Here is the dilemma?
However, there are very least chances of Piyush Chawla playing in the 1st match. Clearly, Chahar is the preferred option.
Who will be the 3rd Seamer for the first match?
The team has two-seamers: Bumrah and Trent Boult. In 2020, Rohit Sharma picked James Pattinson as the third seamer. But he is not in the MI squad this year. So, who will take place as a seamer?
Well, plenty of options are available from the MI squad. It includes Adam Milne, Jimmy, Dhawal Kulkarni, Neesham, Nathan Coulter-Nile, or just recruited Marco Jensen.
The decision of Rohit Sharma and MI Management depends on a few conditions. Milne had troubles against Bangladesh, and Neesham was not picked to play. Out of all the above players, Coulter-Nile has a strong chance. He had played well in Big Bash League. So, he is likely to be preferred to fill the place of the third seamer.
Batting Prediction
Undoubtedly, Mumbai Indian has lethal batsman. Here is the batting line-up.
Top Order
MI has one the best opening pair, Rohit Sharma, and Quinton de Kock. Moreover, it has a solid backup, Chris Lynn. Wait! the list does not end here. To add to its deadly top-batting order, MI has other T20 stars, Suryakumar Yadav and Ishan Kishan.
Middle-order
West Indies Kieron Pollard and talented Pandya brothers — Hardik and Krunal, constitute intimidating middle-order.
Bowlers prediction
MI also possesses a few of the finest bowlers. Its fast bowling department includes the killer bowler, Jasprit Bumrah, and New Zealand's Trent Boult. When it comes to pace attacking, Australia's Nathan Coulter-Nile holds the front. However, every team has a weakness, MI is no different. MI has a weak spin department. Though the team is armed with Rahul Chahar and Krunal, there is a scope of lots of improvement.
However, MI tried to overcome it by signing leg-spinner, Piyush Chawla. He is a veteran T20 player and played IPL for almost a decade. You can judge his skills by looking at stats. He is 3rd highest wicket-taker in IPL. So far, he had taken 156 wickets.It will be interesting to see where they adjust him in the tournament.
RCB Playing XI
Royal Challengers Bangalore (RCB) is also a strong contender this year. It has managed to reach finals three times but unfortunately failed to win the ultimate trophy. Despite having a sound batting order, Why RCB lose every year? Well, here is the answer. It was due to their bad bowlers. They need to work on the bowling skills.
Last year, Devdutt Padikkalfell emerged as a rising star. He did make the most out of the given opportunity. Now, RCB has a core member as a good opener. Now, the team can focus on its bowling. Last year, RCB reached very close to the title but sadly lost in the Eliminator. RCB keeps doing experiments in hope of selecting the perfect winning team.
This year also RCB acquired few great players in an auction last month. RCB added Kyle Jamieson, Glenn Maxwell, Dan Christian, and Mohammed Azharuddin.
Royal Challengers Bangalore (First Choice) Playing XI
Devdutt Paddikal
Mohammed Azharuddin
Virat Kohli (c)
AB de Villiers
Glenn Maxwell
Dan Christian
Washington Sundar
Mohammed Siraj
Navdeep Saini
Yuzvendra Chahal
Kyle Jamieson
Batting prediction
RCB had few star players in the squad and acquired few in the auction. Devdutt Padikkal, AB de Villiers, Virat Kohli, and Mohammed Azharudeen were included in the best batsmen in the team.
Top Order
The Duo, Devdutt Padikkal, and Virat Kohli will play in as the opener. Virat Kohli, the skipper of RCB, confirmed that he will be the opening player. Well, it can be a matter of concern seeing the stats. No doubt, Virat Kohli is an excellent opener, but he keeps underperforming from last IPLS. Due to his poor performance, the pressure generally falls on the subsequent players. It happened last year also. I hope this decision will be proved fruitful for RCB.
Devdutt Padikkal is the second opener. He was the hidden diamond RCB found only last year. The left-handed batsmen served as an opening partner of Aaron Finch. Padikkal scored 473 runs in 15 innings and became the top scorer Of RCB. However, he will not play the first match due to his extended quarantine period
AB de Villiers and newly acquired Mohammed Azharudeen, and Glenn Maxwell, is the powerful addition in the top order.
AB de Villiers is one of the star batsmen. He continued to perform well. Last year he scored 454 runs with an exceptional strike rate of 158. He generally performs in 3rd place.
RCB acquired Mohammed Azharudeen this year. He came to the attention of RCB because of his performance against Mumbai in the Syed Mushtaq Ali Trophy. He hit the century in just 37 balls and ultimately scored 137 runs in just 54 balls. His magical performance compelled RCB to bid for him in the auction. He will most probably play at 4th position
RCB acquired allrounder player Glenn Maxwell this year who will play at number five. Maxwell's bats are well and also capable of picking few wickets on his day.
Middle Order
Newly acquired allrounder Dan Christian and Washington Sundar make remarkable middle order
Dan Christian is a wonderful batsman and deadly bowler as well. He is capable of striking balls out of the ground and taking a few wickets as well.
Washington Sundar performed poorly in the IPL. However, he is confident this year given his performance in the recent Test series against Australia and England. He proved he could be a great batsman.
Bowling Prediction
The fast bowling department includes Mohammed Siraj, Navdeep Saini, and Kyle Jamieson. The Spiner department includes RCB's gem Yuzvendra Chahal.
Mohammed Siraj is an Indian bowler. The confidence level of Siraj is high due to exceptional performance in test cricket. RCB is expecting the same form from him. If we look at the figures of the past performance of Siraj in IPL, then it is convincing. He takes 11 wickets in 9 matches.
Navdeep Saini is an emerging depth bowler king for RCB. In IPL 2019, He bowled very well in-depth as well as in powerplay. The contribution of the young bowler is remarkable in IPL 2019. He is not only a good bowler but also one of the best fielders in RCB. He is a significant part of the team for the past two years.
Yuzvendra Chahal is one of the key players in the RCB squad. He is the highest wicket-taker in the RCB bowling squad. Last year, his contribution was remarkable. It was fair to say that RCB makes a place in the quarter-final due to his magical bowling spell in the end matches. The leg spinner takes 21 wickets in 15 matches, which reflects how good he is!
Last year, Kyle Jamieson( Newzeland player) made a debut in IPL. He performed very well in IPLcricket. In a year, He becomes part of the Internation team of New Zealand( In all formats). He performed excellently in Internation cricket as well. Seeing his excellent performance, Teams bid large amounts for Kyle Jamieson, but finally, it landed in the RCB squad. RCB paces become strong with the presence of
Kyle.
Match Venue and Match Timing
A high Voltage match between MI Vs, RCB will happen at the iconic MA Chidambaram Stadium in Chennai on April 9, 2021. The match will begin at 7:30 pm. Analysis of the venue
It is a low-scoring ground. So batsmen find it difficult to score well. However, when they settle once, playing becomes easy. Fast bowlers are also of no help. However, Spinners play a crucial role in this ground. Both RCB and MI possess talented spinners. So it will be an interesting match to watch.
Related Article:  IPL Schedule 2021: venues, dates, timings- All you need to know
Final Words
So friends, are you all set to watch the blockbuster match between Mumbai Indians vs Royal Challengers Banglore 2021? Well, I am. I am just counting days.
Well, I am supporting my favorite team, Mumbai Indians. Which team do you support? Do tell me in the comment section.
We are covering all the news related to IPl 2021. You will get the latest updates on our website. So, if you are a die-hard fan of IPL, bookmark our site to know every detail regarding it.
If you have any queries or questions regarding IPL 14, feel free to ask it in the comment section below. We are here to help you.
Do forget to share your favorite team with us. We are waiting for your comments.
Covid-19 Hit IPL 2021: 14 Members Found Positive in Bio Bubble