After zealous season 4, Haikyuu! season 5 is on the way to treat your eyes.
The sports anime series Haikyuu has created a buzz among anime lovers since it arrived in 2014. The anime is based on a manga series of the same name. Written by and Haruichi Furudate, the manga began serialization in Shueisha Weekly Shōnen Jump in February 2012. More than 20 million copies of the manga were sold within a few years of release. With a total of 45 tankōbon volumes, the manga had concluded on July 20, 2020. More than 50 million copies of the manga have been sold so far.
Given the craze and love of the fans for the manga,  Production I.G adapted it as anime. Haikyuu season 1 made its debut in April 2014 and concluded in September 2014. Like the manga, the anime received applause and warmth from the fans. Consequently, three more seasons were released.
The fourth season of the series concluded in 2020. Now the fans are looking forward to watching season 5. Well, friends, we have complete updates regarding Haikyuu season 5. 
Also look at –
Peacemaker Season 2 Release Date, Cast, Trailer And More
Keeping Up With The Kardashians Season 21: Release Date, Time & Tv Channel
What About Haikyuu Is?
Haikyuu is a sports anime and follows the life of Hinata Shoyo, a teenage boy who became determined to play volleyball after watching the play "The Little Giant"  Well, the series is not limited to the protagonist only.
It depicts the evolution of all the players of volleyball, including Hinata. You will see how volleyball has affected every aspect of their life. Though most of the episodes are volleyball-matched-centric, you will find more in them. 
The Cast of Haikyuu season 5? Who will we see in it?
The voice cast of season 5 will include-
Kaito Ishikawa as Tobio Kageyama

and Yuu Hayashi as Ryunoksuke Tanaka

Ryusei Nakao as Tanji Washijo

Jun Nazuka as Aran Ojiro

Hideaki Kabumoto as Osamu Miya

Nobuhiko Okamoto as Yu Nishinoya

Nobuyuri Sagara as Hisashi Kinoshita

Mamuro Miyano as Atsumu Miya

Yoshimasa Hosoya as Asahi Azumane

Hiroshi Kamiya as Ittetsu Takeda

Yu Miyazaki as Sachiro Hirugmai

Ayumu Murase as Shoyo Hinata
 When Will Haikyuu Season 5 Premiere? Renewal Status
The showrunners have not given the green-lit to Haikyuu Season 5 so far. But worry not friends! 
Season 4 concluded on April 3, 2020, and only a year has elapsed since then. As we know, the global pandemic of coronavirus has hit the industry hard. Therefore, it may take a while for the renewal of the series.
The Plot Of Haikyuu Season 5: What to expect from it?
There are rumors that Season 5 will not start from where season 4 concludes. In the finale of season 4, Karasuno High unexpectedly won against the brilliant player Inarizaki. But, in season 5, we might probably watch the commendable match between Kejayama, and Hinata. There are also rumors that Hinata will play for the nationals.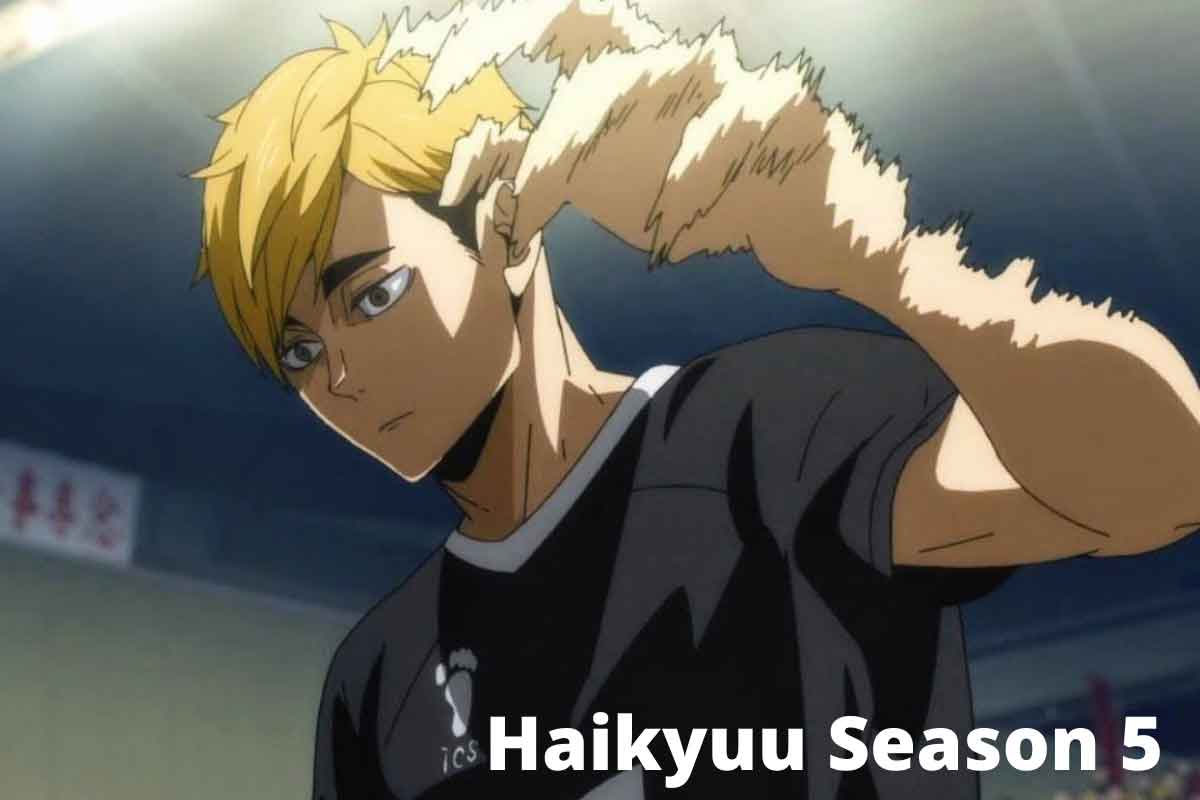 Well, if you wish to know more about the series before the release of season 5, you can read the last volume of the series released in July 2020. However, for the anime, you must hold your horses for a while. 
Also look at –
Ben Affleck Could Come Back as Batman in Aquaman 2
Scream 6 Release Date, Plot, Cast and Much More (UPDATED)
The Trailer Of Haikyuu Season 5
Well, the trailer for season 5 is far away, so we have to wait a little longer. Till then, enjoy a few memorable moments from the series here.
IMDB rating of the Haikyuu series.
You can see how viewers shower their lovers by giving such a fabulous rating. It scored an excellent rating of 8.7 out of 10.
Where can we watch Haikyuu Season 5?
It is available on Netflix, Amazon Prime video, Anime-Planet, Hulu, Crunchyroll, and Funimation to watch.
Read More:
Will There Be a "Zombies 4"? Animated Series, Recap and More
Is Ultra Violet & Black Scorpion Renewed for Season 2?
Conclusion 
The Haikyuu series has performed amazingly. The animation, visual effect, and storyline has improved with each passing season. I hope that season 5 will be the best season of the series. Oh, I said that because season 5 will be the last season of the series. The manga had concluded in July 2020, and now it's time to end the anime as well. 
So friends, stay tuned for the last season and do not forget to bookmark our website for similar articles.