Customers engaged in Apple's beta testing programmes for system software have received the fifth beta version of iOS 14.7, iPadOS 14.7, and macOS Big Sur 11.5. tvOS 14.7 and watchOS 7.6 have both been updated to their fifth beta releases. 
These releases are distinct from concurrent beta testing programmes for anticipated major system software updates, such as iOS 15, ipadOS 15, and macOS 12 Monterey. Apple seeded the fourth round of beta builds on June 29. Therefore the fifth wave of betas arrived around a week later.
Apple Watch and Apple TV beta testers can also use their respective Settings applications to update the latest beta versions. Apple usually releases many beta versions before releasing a final version. Thus iOS 14.7, iPadOS 14.7, and macOS 11.5 are all likely to be released shortly.
Are you receiving the update?
 You won't see the beta versions (or final versions of iOS 14.7, iPadOS 14.7, or macOS Big Sur 11.5) if you're currently on iOS 15 public beta or MacOS Monterey public beta.
Details of the newest beta release
Here are all of Apple's latest beta releases today:
Big Sur 11.5 beta 5 (macOS)

5th beta of iOS 14.7 (18G5063a)

iPadOS 14.7 beta 5 is now available (18G5063a)

beta 5 of watchOS 7.6 (18U5561a)

tvOS 14.7 beta 5 is now available (18M5559a)
What's included in the update
Apple released the first beta of iOS 14.7 to developers today, and while it doesn't appear to have any major improvements, it does include a new function for HomePod users. Users will set timers on the HomePod using the Home app on the iPhone, iPad, and even the Mac with this latest version of iOS.Although the new iOS and iPadOS 14.7 updates are fixated on under-the-hood bug performance improvements and bug fixes for concerns that were not acknowledged in iOS 14.6, a few minor aspects are being discovered.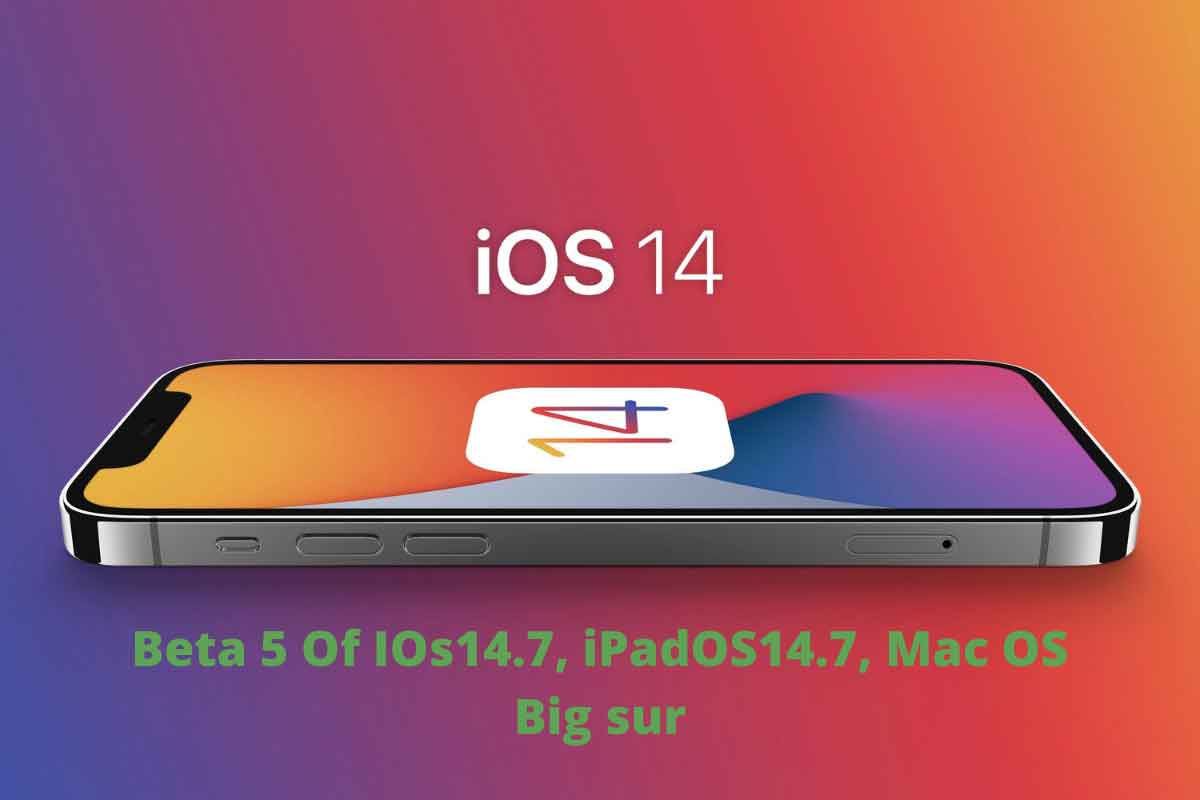 Apple will develop the Air Quality Index feature in iOS 14.7, including the Netherlands, France, Italy, Spain, and Canada.
How to download the updates with Beta 5?
After installing the appropriate profile on an iPhone or iPad, iOS and iPadOS 14.7 can be downloaded from the Apple Developer Center or over the air. After installing the profile from Apple's beta website, public beta testers can download it. As always, if the update does not show up right away for download, keep making sure to check, as it can take a few minutes for all registered developers to receive it. 
Participants in beta testing programmes can get the newest upgrades for their iPhone and iPad by going to Settings > General > Software Update and looking for iOS 14.7 beta 5 and iPadOS 14.7 beta 5 – unless they're on the other beta track of iOS 15 and iPadOS 15. 18G5063a is the build number for today's update.
Except for those running the Monterey beta, the macOS Big Sur 11.5 beta 5 update is available for download under > System Preferences > Software Update. 
Must Check: Mandalay: Mind Control Headset Launching On Kickstarter
Are these updates available to the public? 
It's still unknown when Apple will release these latest changes to the public, but given that we're in the fifth beta and iOS 15 is now accessible in version. Beta, we expect them to be released as soon as feasible.
Since these are just released, it will take time to know and explore more about them. Stay tuned with us for further fixes.