After being in the news ever since it was known, the Samsung Galaxy Z fold 3 is finally unveiling itself in a launch event managed by Samsung. From the release date to every aspect of its specifications, we have jotted it down for you. Glue down and know about the all-new world-changer Samsung Galaxy z fold 3 here! 
Samsung Galaxy Z Fold 3 Release date
Samsung is hosting a Galaxy Unpacked event on August 11th, according to the company. Samsung revealed that new versions of its foldable phones would be the focus of the presentation just a few days after establishing the date. (As if the motto on the event invitation, "Get Ready to Unfold," wasn't enough to make our reaction smirk)
Now that we know the Galaxy Z Fold 3 will be released on August 11, it's evident that it will be followed by the Galaxy Z Flip 3 and maybe the Galaxy Watch 4. In India, the device is rumoured to be around 1,16,000. The exact value will be known when the launch event happens. 
How do I make a phone reservation?
Customers can pre-order the future smartphones by paying Rs 2,000 on Samsung India's e-store or Samsung's Shop app, according to the company. Customers would receive a 'Next Galaxy VIP Pass' after making a purchase, which will entitle them to a free Smart tag worth Rs 2699. Notably, a small sum of Rs 2,000 would be reduced from the smartphone's actual price for those who pre-order it.
Eager to know about the brand new beast's specs? Here they are! 
Looks
The phone has been slimmed down by Samsung. It will be 6.4 mm thick when opened (down from 6.9 mm). It will be 14.4 mm thick when closed (down from 16.8 mm). Other than the specifically designed casing, there is no place to insert an S Pen. It will also be a little lighter at 271g (down from 282g).
Display
The new Fold will have two Dynamic AMOLED 2X panels, each with a refresh rate of 120 Hz (and smoothly adjusting to lower rates). The external display will have a 6.2-inch diagonal and a resolution of 832 x 2,260 pixels (24.4:9) and will be protected by Gorilla Glass Victus, like before. A conventional 10 MP selfie camera will be punched into the display.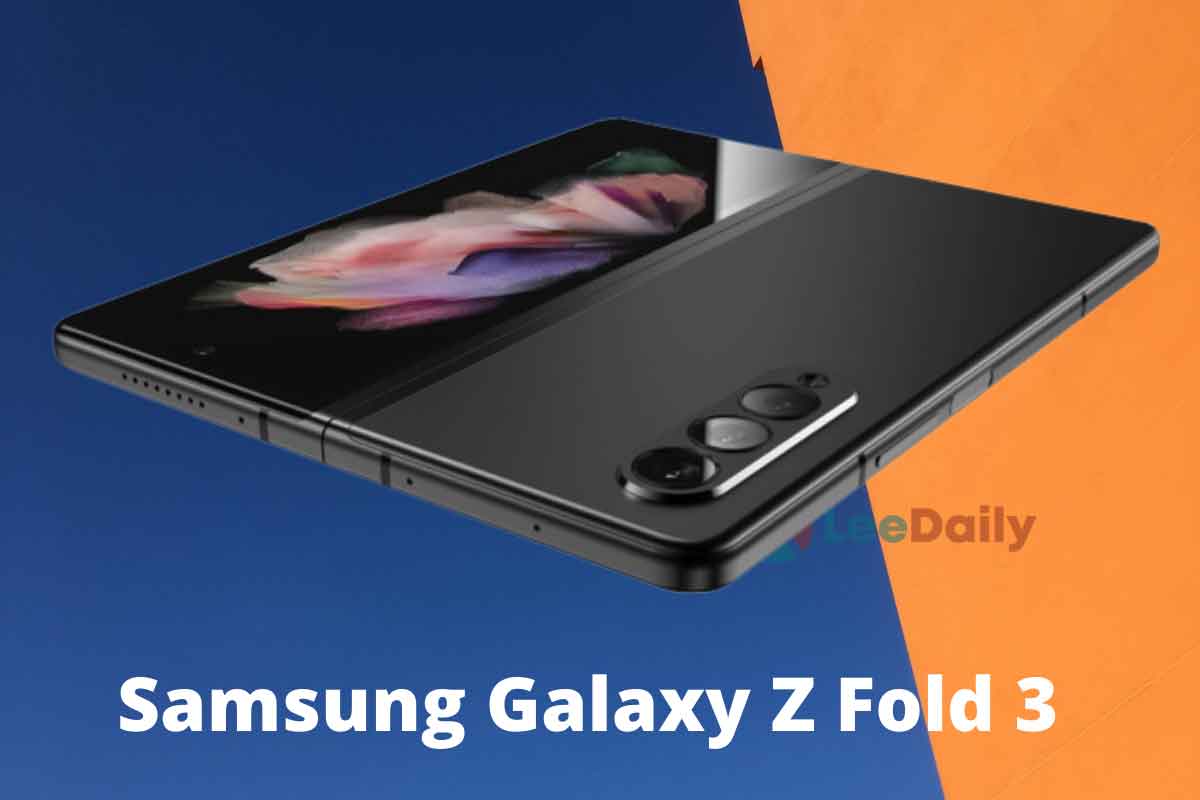 Must Check: Aho girl season 2: Release date, Cast & Plot
The internal display retains its size, with a diagonal of 7.6" and a resolution of 1,768 x 2,208 pixels. This indicates that both panels have a pixel density of over 370 pixels per inch. This screen will hide Samsung's first under-display camera, which will have a resolution of 4 MP (with 2.0 m pixels, implying binning). This module will have a brilliant f/1.8 aperture despite being behind the screen.
The Snapdragon 888 (non-plus) will power the Galaxy Z Fold3 5G, with no mention of an Exynos variant in the anticipated specifications. The chipset will be combined with 12 GB of RAM and 256 or 512 GB of storage, much like last year (non-expandable).
Camera
Moving on to the other set of cameras, the Galaxy Z Fold3 will almost exactly replicate its predecessor's triple 12 MP configuration. With an f/1.8 lens, the main module will offer Optical Image Stabilization (OIS). The sensor will have lower pixels, 1.4 m (down from 1.8 m), but the Dual Pixel autofocus will remain. The telephoto module follows, with an f/2.4 lens with 2x magnification and OIS, as well as a 1.0 m pixel sensor. Finally, the f/2.2 aperture of the 123o extreme wide-angle lens will illuminate a sensor with 1.12 million pixels. Samsung will support 8K video recording, which is a significant improvement over last year. However, with a 12 MP sensor (unless it is 12 MP after binning), that is not conceivable. Therefore this information could be incorrect.
Packed Water resistance abilities
 Despite the addition of IPX8 water resistance, this and the Z Flip3 will be the first foldable to be water-resistant.
Battery
The battery capacity will be reduced slightly to 4,400 mAh (100 mAh down from last year). Samsung will continue to offer both wired and wireless charging at a rate of 25W.
Connectivity
 Samsung also claims to have put the Galaxy Z Fold3 through 200,000 open/close cycles. The phone will have a 5G modem for connectivity, as well as an eSIM in addition to the conventional SIM. Wi-Fi 6, Bluetooth 5.0, and NFC will all be supported, as always. Although UWB is not included in the anticipated specifications, we doubt it will be left out. Aside from that, there's a fingerprint reader (on the side) and stereo speakers to note.