What Is This Tweet All About?
EXCLUSIVE NEWS: Today, i.e., on November 30, 2021, when it was announced that the new Twitter Chief Executive Officer would be Parag Agrawal, the public started to bring out his previous tweets to reflect that how he was using the Twitter platform after all this time before becoming the Chief Executive Officer.
The previous Twitter Chief Executive Officer was Jack Dorsey. Hence, one of the tweets of newly appointed Twitter Chief Executive Officer Parag Agrawal was related to racial discrimination and radicalism and was posted on October 26, 2010, an eleven-year-old tweet, became the topic of discussion for everyone.
The tweet which has become a hot topic is: "If they are not going to make a distinction between Muslims and extremists, then why should I distinguish between White people and racists."
About Twitter Chief Executive Officer "Parag Agrawal"
Twitter CEO Parag Agrawal was born on May 24, 1984, in Ajmer, India. His parents belonged to an educated background that is why he also participated in and won several international science and technology competitions.
The Real Omicron Fear Factor That's Moving the Market: Morning Brief
Later on, he completed his graduation in 2005 in the computer science and engineering field from the Indian Institute of Technology, which is located in Mumbai. Afterward, he shifted to the United States to complete his higher education at Stanford University.
He joined Twitter in 2011 as a software engineer, and by 2017 he became the chief technology officer of Twitter. Currently, he is a technology executive and the Chief Executive Officer of Twitter.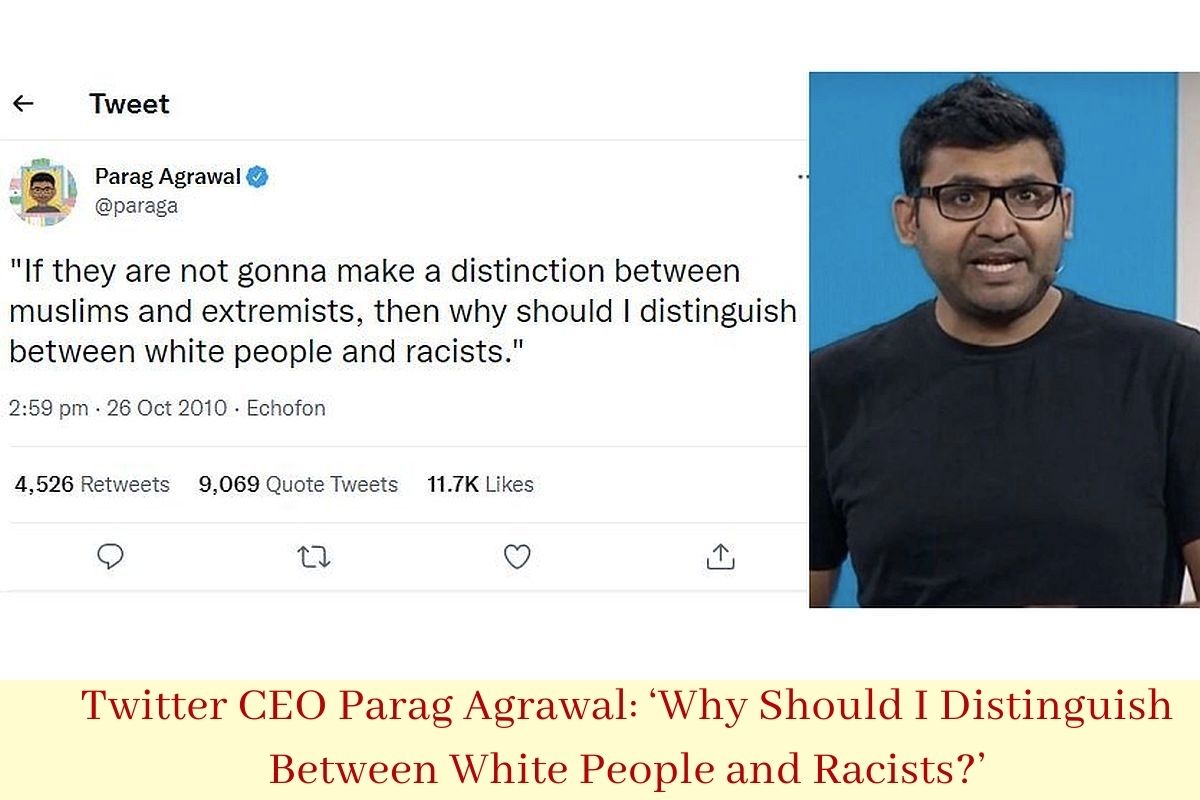 Twitter Ceo's Reply on His Previous Tweet and Appreciation From Other Indian Giants
The citizen named Joylita retweeted Twitter CEO Parag Agrawal's earlier tweet, and immediately after that, the Twitter CEO explained the reason for posting that tweet and shared his point of view and perspective.
He mentioned in his new tweet that he was quoting an actor, Asif Mandvi, from The Daily Show and that he could not understand the logic behind the decision of that citizen to repost that tweet. 
Twitter CEO posted his views about Facebook, saying that Facebook is a waste of time totally and is of no such productive use. All you can do is write comments on each other's Facebook timelines and put up a profile picture. 
Republicans Politicize Inflation While Dems Work to Fix It. Let's Tackle This Together
The Google Chief Executive Officer, Sundar Pichai, also appreciated and congratulated Parag Agrawal on Twitter by saying good luck to former Twitter Chief Executive Officer Jack Dorsey and by saying congratulations to the new Twitter Chief Executive Officer, Parag Agrawal, and hoping for a bright future for Twitter. 
Hence, partially it was correct to let the world know how the upcoming leaders and corporations' heads were in their past and are capable of their positions but up to some extent.
One should not start making someone's present unbearable and toxic due to their past mistakes or misfortunes. People change with time, so others do not have the right to spoil someone's today.
Although the current Twitter CEO, Parag Agrawal, did not post anything so controversial, people are trying to drag him into a controversy that is not connected with him. The Twitter team must have decided on making Parag Agrawal the new CEO on some solid grounds and important reasons. Therefore, we are looking forward to new and interesting developments in Twitter.