Elliot Page, the actor who came out as a trans man last December, posted another topless mirror selfie on Instagram, joking about his new phone. 
Elliot Page and His Transformation
Elliot Page is a Canadian actor and producer who presented himself as a woman but later identified himself as gay in February 2014. However, in December 2020, Elliot came out as transgender and announced his pronouns like he/him.
Since then, Elliot has been an inspiration to many trans and non-binary people. In his article in a news company, he then shared that he was going through a top surgery, a sex reassignment surgery that involves reduction of breast size and especially adjusting certain elements of one's chest.
He described the surgery as life-saving, rather than life-changing. He also revealed that he even asked his mum if he could ever be a boy, at an age of nine. Page claimed that his decision to come up about his identity was somewhat evoked by the pandemic partially and partially by the anti-trans talks going on in the politics. 
Bipolar Response of the Public
Elliot says that he was expecting a massive amount of love and support, as well as a lot of hatred and transphobia, and that is exactly what he got. Page's announcement made him the most open and famous trans person out there and he had not anticipated how big this story would be.
Now, as a person that people looked up to, Page had this responsibility to express himself fully and truly tell the world about the experiences he has gone through. He says that he is very disappointed by the influential people who have created this image that being trans is something rhetoric.
He wants to create an atmosphere of acceptance, and his top surgery and expressive attitude are taking it all on the right path. He says that he has this privilege of being white and wealthy and he is going to use this as an opportunity to protect trans rights.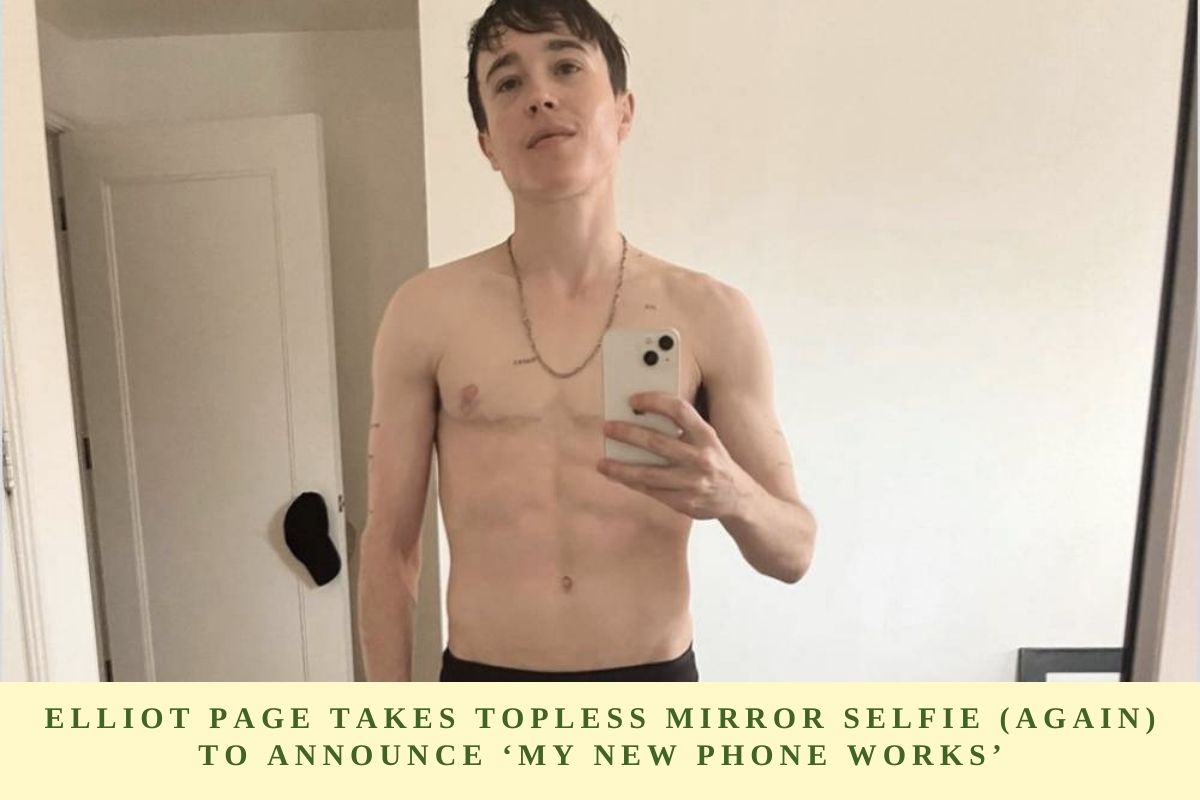 Instagram Posts and Their Response
After going through the procedure, Elliot posted his picture on Instagram wearing swim trunks. The picture was widely praised and appreciated. Recently, Elliot posted another shirtless mirror picture while joking about his new phone.
The actor received a lot of love and support from his friends and fans for the picture. Some said that he looked amazing and happy with his new look. Some said that he looked very comfortable in his new skin. 
The Real Omicron Fear Factor That's Moving the Market: Morning Brief
Elliot Talks About Privilege
When talking about the surgery, he says that he cannot even express how happy he is to pursue his life and career as his true self. He claims that there is very restricted access to trans healthcare, and him being a white, famous, and wealthy person had the privilege to perform the surgery and come out completely as a man.
But numerous people do not even express themselves fully due to societal pressure and also, according to a survey, mostly people of color face verbal harassment and unemployment issues when they come out as trans.
He says that he had the privilege and resources to get through things and he would be using this platform to help others too. Having no role models while growing up, he felt like he was the odd one out but he believes that he can be a role model to many people.
He also thanked the trans community that is endlessly working to make the world a peaceful and accepting place for people like him. 
Florida's Lowest Coronavirus Case Rate in the Nation Drops Even Further
Ellen Page's transformation to his new self, Elliot Page is a revolutionary advancement in the trans community as it provides a recognizable personality, a role model for people who are afraid to come out and express themselves fully.
Elliot's efforts as a trans male will prosper the community and help a lot of people like him. What we expect from Elliot is to keep giving us performances like Interstellar and mirror selfies like these!