49 and that's the body she got. Sofia Vergara, the 49-year-old Colombian beauty couldn't stop everyone from making their jaws drop when she posted a photo of herself on Saturday. The Modern Family star has always been known for having the right proportions and the hourglass figure of Sofia Vergara has stunned everyone. Rocking that body at the age of 49 is not a matter of joke. Sofia Vergara still continues to remain the nation's heartthrob as she poses for some hot photos. 
Sofia Vergara in a Leopard-Print Swimsuit
Summer got hotter and Sofia Vergara made it possible. She posted multiple pictures in her high-cut Dolce & Gabbana bathing suit. To complement the entire look, the oversized Foster Grant black sunglasses are just the right fit for the chic look. And the racy backless with the thong-style cut, Sofia Vergara looked incredible in this. In fact, this leopard-print swimsuit perfectly accentuated her curves.
You may also like:
Kim Kardashian Holds Pete Davidson Tight as They Arrive in London
What Did Amber Heard Do With Alimony Given by Johnny Depp?
She captioned the photo, "Finally the weekend!! solecito #hm #gettingreadyforsummer".
Quite understandably, she freaked out the entire Instagram. Sofia Vergara has over 25 million followers and it received over 700,000 likes.
Sarah Hyland, the alum of her former show, Modern Family commented,   "ARE YOU KIDDING ME?!?!??"
One fan commented, "Goalssssss."
And, Sofia Vergara has truly become the goal as she is aging like a fine wine.
Sofia Vergara's Fitness Game
Sofia Vergara is all about fitness. America's Got Talent judge's fitness trainer, Jennifer Yates once said to Marie Claire in 2017. She always prefers excess walking at a high inclination. Yates stated, "She doesn't like to run," "Sometimes she'll get on the spin bike for 15 minutes, but she prefers to walk on a high incline."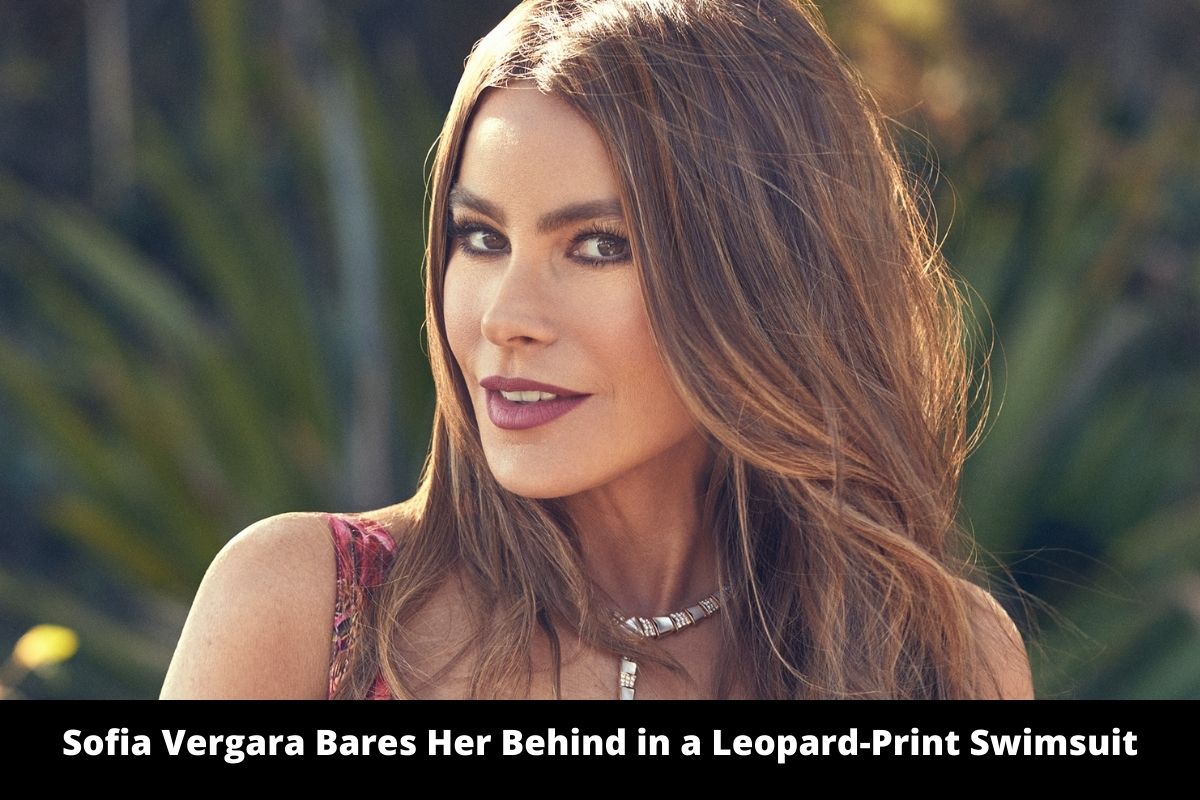 However, the star never misses her routine and is extremely consistent. She works out seven days every week and even at 49, she follows that routine. Sofia Vergara just loves her curves and aims to maintain her body shape. Yate further added, "Sofía wants to build muscle and have that look—she likes curves," "She'll spin to get cardio in, but walking is effective for her." 
Sofia also worked with the talented trainer Julio Cruz for attaining that sculpted booty. He always suggested her high-intensity exercises such as reverse lunges, toes-out squats, and also high bridges.
On the other hand, Pilates-style workouts are also incorporated into the workout schedule. She practices the low-impact Lagree Method which Yates explained as "bodybuilding morphed into Pilates." 
You may also like:
When Amber Heard Will Pay 15 Million USD to Johnny Depp?
Amber Heard Issues a Statement Following Defamation Verdict
Her routine also includes exercises on the Megaformer machine. Yate kept explaining, "She loves working the butt," "We do a lot of squats and deadlifts and lunges, and we do a lot of things off the machine as well. Recently we've been combining some of the heavier weights for the lower body because she's trying to put a little more mass on, so we've been doing a lot of work with kettle bells. She's really strong."
The actress is quite a sweet tooth but she eats a lot of healthy ingredients and "everything in moderation."
Once Sofia told Self about her meal when with her husband Joe Manganiello. "I do have a lot of fruits and vegetables, and we cook fresh meats," "But I also have ice cream and dessert and we do that during the weekend."
View this post on Instagram
So, if you want to be as fit as Sofia Vergara, you need to have a routine like her.
Is Her Toned Figure Due to Her Next Series?
It was reported that Sofia Vergara will be present in Netflix's new limited series, Griselda. The series is going to show the notorious lifestyle of Griselda Blanco, a Colombian drug kingpin. She had nicknames such as Cocaine Godmother and Black Widow. But we are sure that Sofia has the body of dreams as she wanted it for herself.
The Colombian beauty will always be a stunner and remain evergreen. For more updates do follow us only on leedaily.com