More often than not, musicians have always made their mark on the world with their incredible sense of music and abilities. And when it comes to a drummer of a rock band, the fan following is always quite overwhelming. Tommy Lee is an American musician and the founding member of the highly famous and raging heavy metal band Motley Crue.
Over the years, he has been involved with multiple projects that have helped him grow his popularity and remain at the top of the league. Apart from forming the heavy metal band and being the long-term drummer for the band, he has also created another rap metal band called Methods of Mayhem, and has been quite popular in his solo musical projects.
Is Tommy Lee A Good Drummer?
A lot of people wonder, Is Tommy Lee a good drummer? Well, a direct answer to that is Tommy Lee is just not a good drummer, but he is also a great showman. He had the reputation of not overplaying a song and carrying a solid backbeat in his signature style.
Although he formed the Motley Crue band, he never wanted to steal the limelight from his band members and always had a knack for playing what the song needed.
His groove and swings are to die for, and the unique sound and feel he brings to his set make him one of the best heavy metal drummers ever. No wonder, in 2005, Motley Crue finished top #9 on the Top Concert Money Earners list and earned over $33 million, according to Billboard Boxscore.
So, yes, Tommy is definitely a legendary drummer!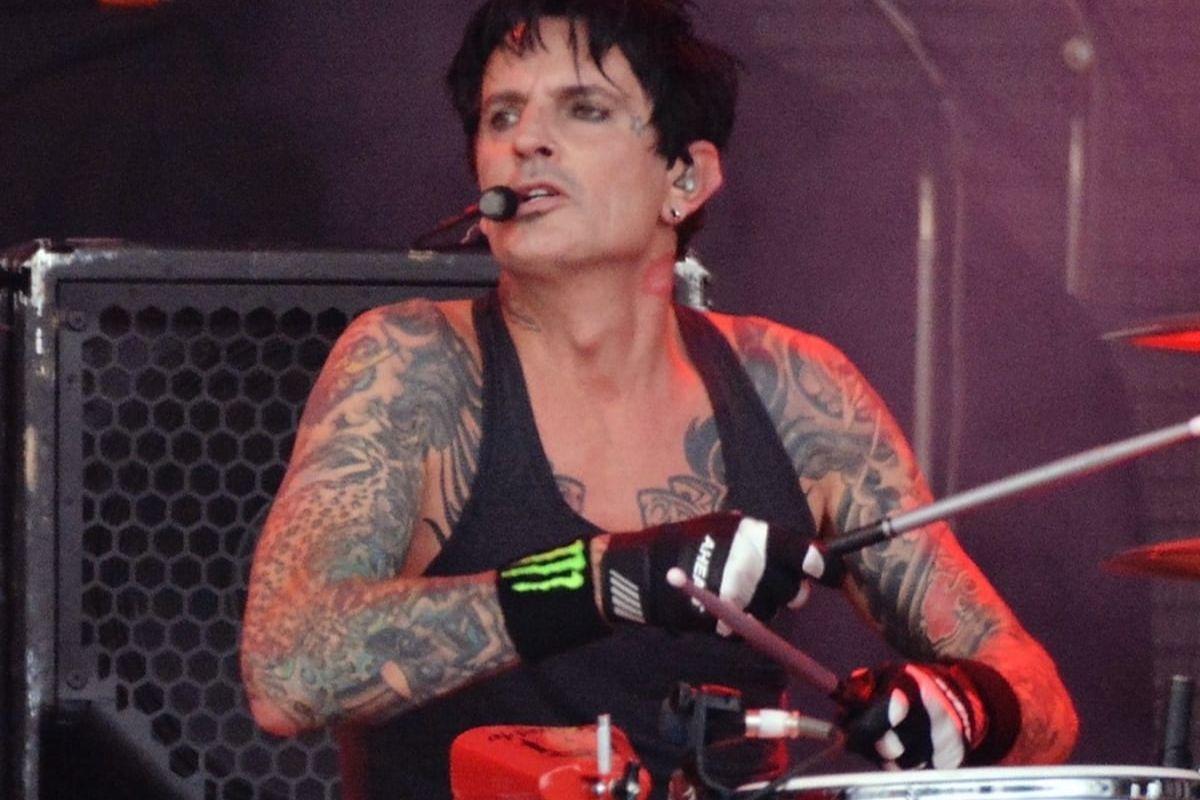 Exciting Facts About Tommy Lee?
Born as Thomas Lee Bass on October 3, 1962, in Athens, Greece, Tommy Lee has never failed to captivate his audience and fans with his insane energy and taste for good music. His father was an American U.S. Army sergeant named David Lee Thomas Bass, and his mother's name was Vassiliki, who was also a contestant in the Miss Greece beauty contest in 1957.
He has a sister named Athena, who also shares his passion for drumming, and the entire family moved to the United States in California when Tommy was just two years old. 
At just four years old, he got his first drumsticks, and as soon as he was a teenager, Tommy Lee got his first proper and professional drum kit. Though he started his academic career, he dropped out of high school to pursue a music career and started with an L.A. club band suite.
Growing up, he enjoyed listening to great musicians like Led Zeppelin, Cheap Tricks, Kiss, and AC/DC. Still, his significant influence and passion for drumming grew from his idols like John Bonham, Tommy Aldridge, Alex Van Halen, and Terry Bozzio.
Tommy Lee's Career in Music Industry
Tommy Lee's incredible career in music started in the late 1970s with Suite 19, and while performing around this time, he earned the nickname "T-bone" owing to his tall and lean physique. From here, he, Sixx, Mick Mars, and Vince Neil got together to form Motley Crue. In 1981, the debut album of Motley Crue, "Too Fast for Love," was released, which helped them sign a deal with Elektra Records. 
Throughout the decade, they continued to grow their fanbase with one after another string of hit releases. By the end of the 1980s, they were one of the. Biggest hard rock/metal bands. His signature styles and gimmicks at the concerts made him even more popular with the fans, and the entire crew was infamous for consuming excessive amounts of drugs, heroin, pills, and alcohol.
Besides his career with Motley Crue, revived in 2004, Tommy Lee became quite famous in his solo career too. He formed a band called Methods of Mayhem and made guest appearances on multiple albums by other artists.
In addition to his popular musical career, he was a star of the NBC reality show titled "Tommy Lee Goes to College." In 2008, he and rapper Ludacris got together to film the reality T.V. show Battleground Earth, and in 2019, Tommy Lee starred in an episode of The Goldbergs as Professor Lee. Throughout October 2020, he played the Devil in four episodes of Halloween in Hell.